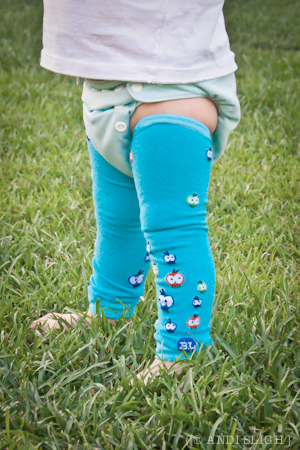 I've been sorta obsessed with BabyLegs ever since I decided to cloth diaper two years ago.
I first came across an adorable striped pair, made to perfectly match the color palette of the BumGenius diapers
I was buying, and decided to buy them. I loved them!
If you aren't familiar with BabyLegs, they are leg warmers made for children. Not 80's Flashdance-style leg warmers that puddle up around your ankles above your Reebok hightops – useful and cute leg warmers that keep your little one's legs both warm and scrape-free. They can also be used as arm warmers for older children.
Cloth diapers not required. 😉
Where we live on the coast, it doesn't get too cold here, but what does happen – three seasons out of the year! – is that our mornings will often start out cool and it'll warm up considerably. BabyLegs have been great for those days, because I put them on Nathan with shorts (or just a diaper) and then quickly remove them once it warms up. Easy peasy.
What I didn't realize about BabyLegs until recently (because I had stocked up on them early on) is that they've added new products that we NEED. One of those is a bug-repellent line ("BabyNoBugs") of BabyLegs. The company sent me a pair to try, as well as one of their sun protection UPF 50+ ("Baby Cool") styles, and some cute Jurassic Stripe baby socks. (True confession: I'm a big fan of fun socks – when I was in high school I had different colors and styles for every outfit, no joke.)
Nathan tried out the BabyNoBugs pair this weekend, and they worked great.
The gulf coast humidity is a breeding ground for all sorts of vicious insects, so I know of which I speak. In fact, there's no doubt that said insects were in the vicinity, because while I was photographing Nathan for this blog post, I was bitten numerous times while he remained unscathed.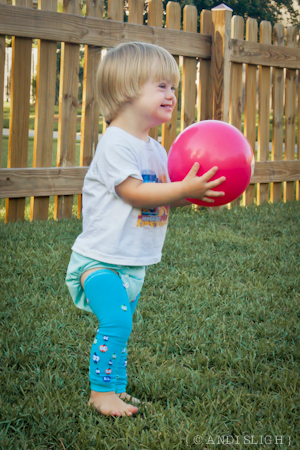 We tried the Baby Cool ones at the beach a few days ago – they are super cute – but between arriving late and leaving early (Sarah Kate had a stomachache), I wasn't able to get any good photos in the harsh sunlight. I was a little nervous about using them without bottled sunscreen at the beach for an extended period of time, anyway (gulf coast sunshine + white sand beaches = cautious Andi), so I plan a few test runs in the yard this week. I'll be sure to post some sunny BabyLegs photos on Violet Film as my photo of the day when I do.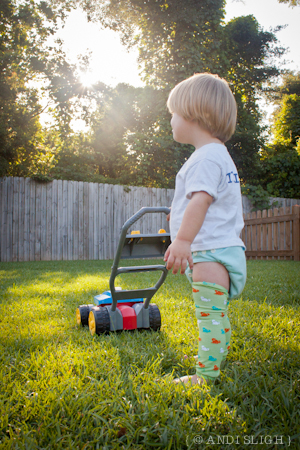 But enough of my gushing over BabyLegs…
…(although I know you are uber-excited about the toddler legs eye candy, right?) and on to the fun stuff: a giveaway! BabyLegs has graciously offered to send a grab bag of BabyLegs products ($50 worth of product) to one of my readers.
How to Win?
Required Entry: Visit the BabyLegs website and leave a comment in the form below telling me which BabyLegs product you'd like to have.
Bonus entries if you:
… follow BabyLegs on Twitter:
@BabyLegs
… "Like" BabyLegs' Facebook page:
facebook.com/babylegs
…
subscribe
to Bringing the Sunshine
via email
(don't forget to"verify" your subscription!)  
NOTE: This giveaway opens June 19, 2012 and will end on June 29, 2012 at 11:59 pm CST. A winner will be selected using Random.org and contacted by email within 48 hours. The winner has 48 hours (2 days) to respond, so if you enter, make sure to check your inbox! An alternate winner will be selected if I don't hear from you within 48 hours. This giveaway is limited to US residents 18 years or older.
Disclosure: This giveaway is sponsored by BabyLegs. No monetary compensation was provided. All opinions are MINE MINE MINE and I was happy to provide them because I was already a happy customer of BabyLegs products long before today!