I jokingly told someone recently that having a toddler doesn't make me feel young – instead, I feel a lot older than I did before Nathan was born.
The constant running and chasing after a kid that gets quicker and more evasive with each passing day hour is enough to put me over the edge sometimes. Often, I long for the day when Nathan will be more containable (is that a word?) and have a clearer understanding of my expectations of him (that day will come, right? RIGHT?!?)
But other days I realize that I'm the one holding him back, and that both of my kids are growing up before my very eyes. A few days ago, Nathan was playing in the yard with the dogs – running around with the Kong frisbee in hand because he knows without a doubt that they'll chase him/it. I grabbed my camera, certain I'd be able to snag an awesome photo for my 365 project.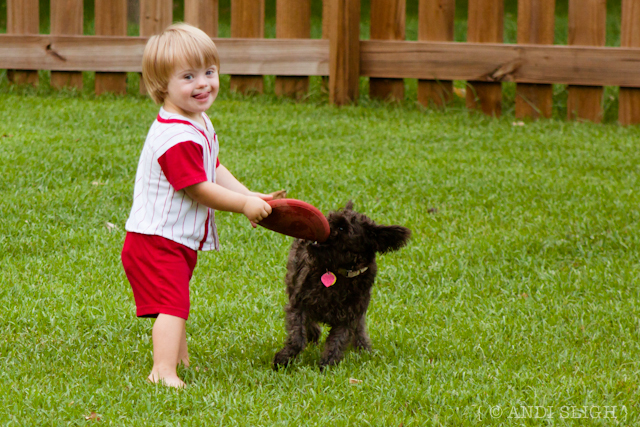 When I downloaded the images, I saw a little boy I didn't quite recognize. Gone are the rolls of fat and the unsteady legs, replaced by lean extremities that race across the yard with confidence. Even the outfit he wore told an unfamiliar story. I've never been a fan of this particular set, because I thought it made him look wide and chunky, but on this day he looked tall and lean. He's not tall, of course – most people with Down syndrome aren't – but he LOOKED taller.
This same weekend, time took a gigantic leap forward with Sarah Kate.
Without revealing details that could embarrass her in the future, I'll just say that circumstances led Mr. Andi and I to decide that it was time to share some information about what she should expect in the next few years. The cold reality struck me that my little girl is growing up. On average, kids with cerebral palsy reach puberty later than their peers, and while I have hoped against hope that would be the case with my little girl – so she could stay a little girl as long as possible – it's still an average with a broad range, and I don't think I'm going to get my wish.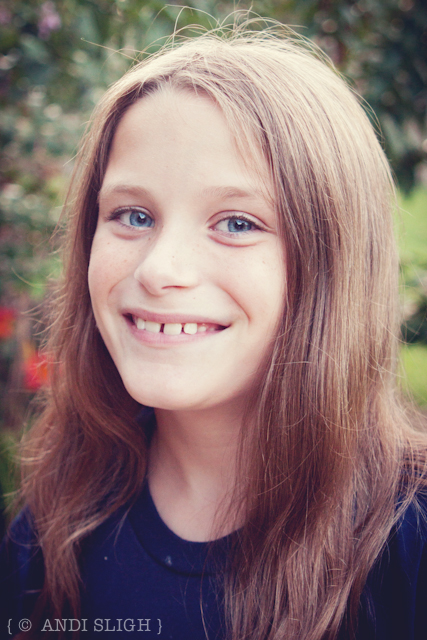 Regardless, evidence that my little girl is no longer the tiny girl I see in my mind is all around me. She's curious about bras and boys (a little) and wants to hang with the big girls at swim meets. She enjoys grown-up music, but will sit and watch Sesame Street with Nathan. She got annoyed at times with her younger cousin when they visited last week, but still wanted to sleep in the tent with her in her room and buy matching Barbie toothbrushes.
So while there are days I wish I could escape from the daily grind of mothering, the feeling rarely lasts very long. Most days I wonder at how quickly the time is passing and what I will do when my babies aren't babies anymore.
Don't (or didn't) you?