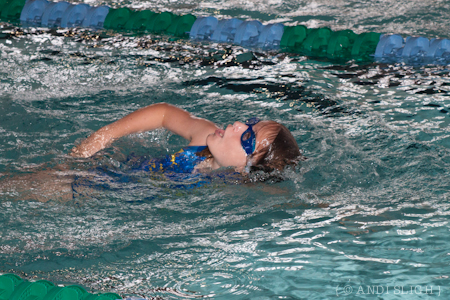 Those of you who've been reading for awhile likely noticed that blog posts about swim team are conspicuously absent this summer. Gone are the days when I celebrated every tiny achievement and wrote ad nauseum about the trials and triumphs of having a daughter with cerebral palsy who swims competitively ("competitive" being understood to mean "in a competition").
Sarah Kate did swim again this summer, and has improved a great deal over last year. Her 25 yard backstroke time has more or less hit a plateau, but she swam the 25 yard breaststroke for the first time and moved up to the 50 yard freestyle this season. She even dropped her 50 free time by a lot – at the intrasquad in June, she swam it in 2:11; at the year end area meet last weekend, her time was 1:46.
It's okay not to have the champion swimmer – we have a few of those on our team, which has won the area championship eight years out of the last eleven (including the last four in a row), and everyone finishes behind them sometimes, if not always – and I'm proud of what Sarah Kate has accomplished these past three seasons.
But just once, I'd like her to beat someone other than herself.
Each time she lines up to swim, I'm nearby, ready with my camera and my high school cheerleading voice, resurrected for the express purpose of cheering her on. Cheering parents are the norm, of course, but because of Sarah Kate's lack of speed, I'm always the last one yelling, and I often hear the echo of my impotent voice long after the next-to-slowest swimmer is finished.
And I hate it.
I hate that I am consumed at each meet with her doing just a little bit better, even though I know she'll finish last no matter what. I hate the sound of my voice – loud, obnoxious, and eerily similar to uber-competitive sports parents that I despise. I hate that when I hear myself yelling, I'm wondering at the same time if the opposing team's parents think I'm crazy – pushing my obviously slow swimmer who'll never achieve what it appears to them I want.
When the heat ends, I hate wondering if those same parents notice Sarah Kate's disability and feel sorry for her, if they feel sorry for me that I have a disabled child, or if they pity Sarah Kate for having to deal with an obviously deranged mother. And most of all, I hate it when Sarah Kate asks me, as I help her out of the pool, what place she got.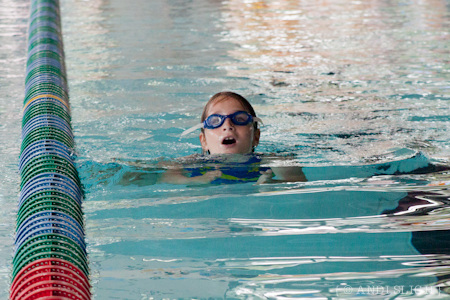 When she started swim team, she stood out because of how slow she was. As she improved, she was still slow, but much closer to the other swimmers than before. This year, with the addition of the 50 free to her repertoire, the difference in speed was conspicuous again. Last Friday when we arrived at the meet, we learned she would be swimming the second leg of a 200 yard freestyle relay. At the halfway point for Sarah Kate's team, when she was done, the other five teams were already at or very near the finish. It took them over four minutes to swim their heat – the other teams' times all started with a two.
It was her first event, and I was already miserable.
I know what you're thinking. Swim team is about Sarah Kate, not me. Many kids with disabilities never participate in sports with their abled-bodied peers. Swimming is a benefit to her no matter where she finishes. She's an inspiration to her team just for being out there.
And there's the rub.
Her first year of swim team, I think she was an inspiration to her teammates. The past two years, though – and especially this year – I think she's just another kid to most of them (but not all). It's exactly what I've always wanted for her – to be fully included without qualifiers. It's a good thing.
But having her be included doesn't make ME any less of an oddball. In Bizarro World, sports can't be just a diversion that my child does as a way to find out what she's good at or to burn off excess energy – she'll never be good at any of it, and I know that. When she jumps into the pool (or steps up to the plate), she's there to have a good time with her friends, but I've brought her there to supplement her physical therapy.
No matter what she achieves, I'm always going to be The Mom of The Girl That Walks Funny.