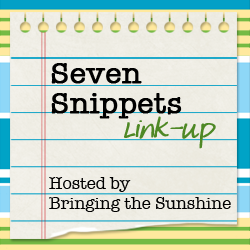 This week, my second and final term as national vice president for communication for my sorority, Sigma Kappa, comes to an end. My children may have been my inspiration for Bringing the Sunshine, but serving in this role for Sigma Kappa was a springboard for my labor of love. I felt that an appropriate seven snippets for this week would be to pay tribute to the seven women I've worked with on national council these past two years.
For Laura, who made me believe at every turn that I was doing things to better the organization and move it forward.
For Amy, my soul sister who served as my sounding board (and I hers) when it felt like things weren't moving forward as quickly as I (or she) would like.
For Missy, who could always be counted on to "tell it like it is" when eight women occasionally struggled to see the forest for the trees.
For Sara, who handles everything thrown at her with grace and a warm smile.
For Sarah, who is more Southern than I am and has way more energy than I do (even if she is retired!), and who loves my babies like family.
For Jennifer, a kindred spirit on the race course, who takes everything in stride and perfectly personifies "Keep calm and carry on."
For Cheri, the person who sold me on Sigma Kappa sisterhood way back in 1988 at the Loveliest Village on the Plain, who has been guiding me quietly for over two decades.
Have a great weekend!
Link up your own Seven Snippets below! Be sure to link to your post, not the main page of your blog.
Looking for a Seven Snippets template or graphic? Go here for some quick tools to create your own Seven Snippets post.