bus·y   [biz-ee] adjective:

full of or characterized by activity:
I'm starting to get a little paranoid. Well…maybe not paranoid, but at least a bit concerned, about a scenario that's being repeated over and over and over again involving Nathan.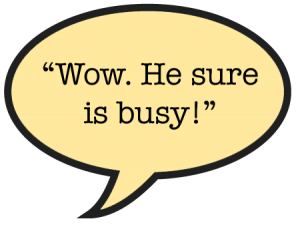 The first few times I heard someone say it, I didn't think much about it. After all, Nathan is a boy, unlike Sarah Kate, and isn't physically disabled, unlike Sarah Kate, so I expected him to be a lot more active than she was at the same age. But it's gotten to the point now where even people who have two-year-old boys say it. So now I'm uneasy.
Is "busy" just a benign-sounding word for "holy terror"?
This summer, I met a mom of an older boy with Down syndrome. As she watched Nathan do laps around the pool deck, she mentioned to me that her son was labeled a "flight risk" at his school. I've come across articles that say, among other things, that kids with Down syndrome tend to be wanderers.
wander [wän-dər] verb:

walk or move in a leisurely, casual, or aimless way:

move slowly away from a fixed point or place:
But "wandering" implies someone who ambles. Someone who moves slowly. By those criteria, Nathan isn't a wanderer at all.
He's more like a sprinter.
Sometimes it's a mad break for open skies when he thinks no one's paying attention. Sometimes it's an evasive maneuver because he's just commandeered something he isn't supposed to have. Sometimes it's a scamper through the house or down the driveway, looking over his shoulder, anticipating the chase.
Even when he isn't running, he's moving – dragging Sarah Kate's backpack from the mudroom to the kitchen, playing Pied Piper with one of the dog toys, or bringing me every toy in the basket and piling them all in my lap (then reversing the process).
It's tempting to blame Down syndrome for the running – it's troublesome, so it must be a Down syndrome thing, right? Maybe it is, but…maybe it's not. Maybe it's an ADHD thing, which would make it more of a Mr. Andi thing. The truth is I have no clue.
I just know that I'm tired. 🙂