At the end of Monday night's game, I should've known by the frighteningly close lightning strike followed almost immediately by thunder loud enough to set off a few car alarms that Tuesday wasn't going to be quite as painless as Monday had been.
Day 4: Tuesday
In our continuing efforts to disrupt Katie's life up to, but not including, the line of causing her to be fired, we left the house with The Fairy Godmother again on Tuesday. Nathan will be making his Ring Bearer Debut at Katie's wedding in October (Sarah Kate is also participating as flower girl, but she's a flower girl veteran), so we decided to see if the wedding chapel was free.
We were in luck! The wedding chapel was empty and unlocked, so we went in to let Nathan "practice" his walk down the aisle. The chapel is lovely, with lots of natural light and a view of Cinderella's castle in the window behind where the officiant stands. As for the practice?
It went about how you'd expect.
Nathan ran at breakneck speed up the aisle, climbed up the stairs, and ran around. Sarah Kate tried in vain to keep up, at one point sacrificing her personal safety in an attempt to keep him off the dais. We set him up in the back again, with The Fairy Godmother attempting to both instruct him (…Go slow, Nathan….Slow….Hold on…Nathan. Nathan. NATHAN…) and block him like a goalie. We texted blurry photos to Katie and shared the nervous laughter of two people who know it's funny today but may not be quite as awesome on The Most Special Day of Katie's Life.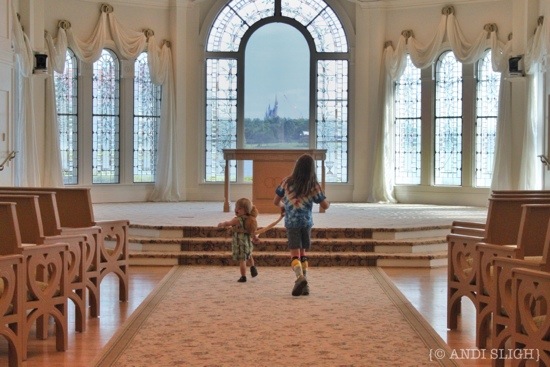 After the faux wedding rehearsal we went to Downtown Disney and hit the LEGO Imagination Center. Sarah Kate sat quietly with The Fairy Godmother, constructing a colorful brick masterpiece. Nathan chose a Seek and Destroy Mission instead. Duplo bricks flew across the room, placing other LEGO patrons in constant peril. I decided it was stroller time again.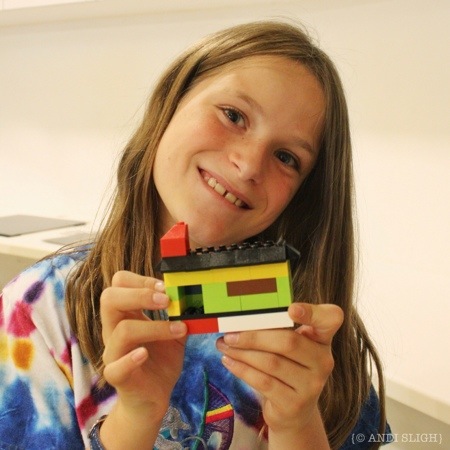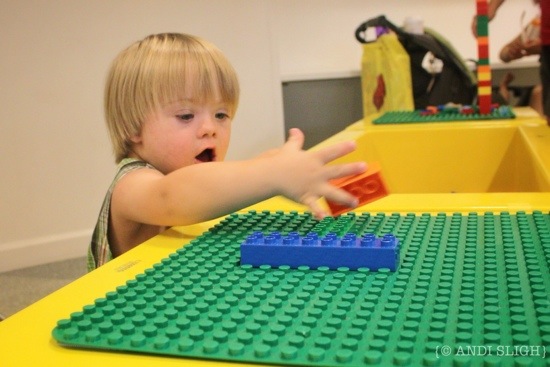 Next we went to World of Disney, which went surprisingly well. Unable to wreak havoc any longer, Nathan promptly fell asleep in the stroller while Sarah Kate found 5,000 different Disney trinkets to ask me to buy. I capitulated on a Sorcerer Mickey outfit for her bear Duffy, and as I was paying I saw a man with a stroller talking to The Fairy Godmother.
And in his stroller was a sleeping buddy.
As is customary in the T21 community, we chatted for awhile, exchanged war stories, and "talked shop" about our kiddos. Both boys slept through it all, and I snapped a quick photo of the sleeping beauties.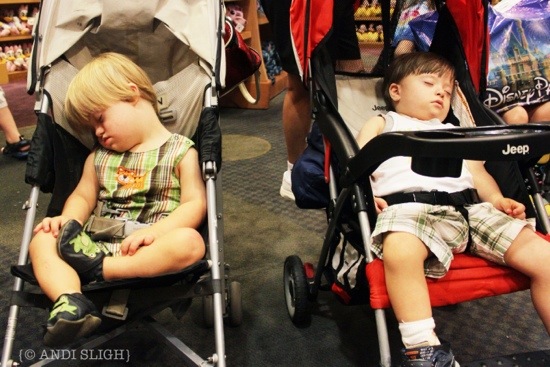 Next up was Once Upon a Toy, where they were just beginning Story Time With Duffy. I wasn't optimistic that Nathan would sit still for it, but he surprised me at his ability to sit still and pay attention. For about two minutes, anyway, at which point he waited for me to appear distracted and bolted for the Mr. Potato Head Bar.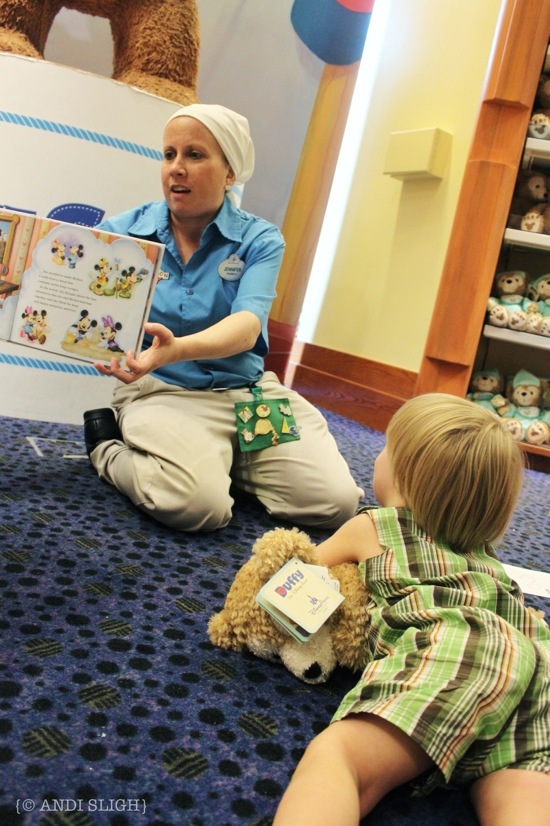 By this time, we were all starving and went to grab lunch. Near the end of our meal, I began to breathe a sigh of relief – no messes had been made, Nathan had eaten without the need for tricks or admonishments, and it appeared we were actually going to make it out of there in a timely manner and without incident.
Silly me.
I held Nathan's carton of milk so he could drink it (I know better than to give him free reign over juice boxes, Capri Suns, or similar containers). As he was drinking, he reached for the carton and gave it a little squeeze. I pulled it away, and, sensing his window of opportunity was limited, he closed his fist into an iron grip. Milk shot up into the air in a fantastic display that would have been impressive had it not been so horrifying.
The Fairy Godmother had milk dripping off her hair.
I held my head in shame as I retrieved an armful of napkins to clean up the mess. We returned to Mickey Manor (The Fairy Godmother's house) so Nathan could get a nap and then headed out in the late afternoon to watch the Mayberry All-Stars. Unfortunately, they lost, knocking them out of the tournament, but they had a good run. I hope that one day Coach Jeremy leads a team with Nathan as one of its players – but it has nothing to do with winning games.
…to be continued.
UPDATE: Read the Finale here.
Have you voted for Nathan yet in the Most Beautiful Eyes Contest? If not, do it now! And do it again tomorrow! And keep on voting until the end of August! 🙂