Day 2: Sunday
Although we didn't go to bed until around 1am, Sarah Kate set the alarm on her watch to wake up in time to watch the women's Olympic marathon on Sunday morning at 6am. I got up with her and we settled in on the couch where she promptly fell back asleep (of course!) I woke her up for the last three miles then she went back to bed.
I wasn't going back to sleep at that point, of course, and Nathan woke up a short time later. The next few hours were what I dubbed his Oh, Wow! Phase. It consisted of him doing his best impersonation of a pinball machine, bouncing around from item to item in Chris and Mark's house exclaiming, "Oh, wow!" over and over.
I'm pretty sure Chris said, "Oh, wow." after we left.
The Mayberry All-Stars played their second game at 2:30, and while I'm accustomed to heat (we do live on the gulf coast, after all), I don't usually choose to sit out in it for two+ hours in August. If hell is anything like Bartow, Florida, on August 5, 2012, at 2:30 pm, I don't want to be there.
All of the games of the tournament are being live streamed on the Internet, so once we found out that Mr. Andi was watching the game back in Mayberry at the local Irish pub, we couldn't rest until we had grabbed fifteen seconds of faux fame. We found a spot that we were pretty sure would be on camera and waved to the folks back home. Mr. Andi texted me that he had seen us and waved back – not that we could see him.
And yes, I did feel kind of ridiculous waving at the window above the concession stand.
In the bottom of the last inning, with Mayberry leading and all of our fans on edge, a lady tapped me on the shoulder and asked if Sarah Kate was my daughter (um, well, it depends…what did she do…and excuse me while I watch this pitch). As it turned out, her grandbaby has spina bifida and will be fitted for short braces soon, and she was curious about Sarah Kate's. I chatted with her for a moment and gave her my card. (Note for those who may be wondering, like I was, why – for the love of Pete! – she didn't wait until the game was over: she was going to be a radio announcer for the game after ours and didn't have time.)
Our boys won their game (WOOT!) and we headed to The Fairy Godmother's (my friend Katie's mom, Darlene) house in Winter Garden. When we arrived, Sarah Kate and Nathan got to spend some time with their long-distance friends Emma and Gabe, and we all got to enjoy some of The Fairy Godmother's delicious baked ziti.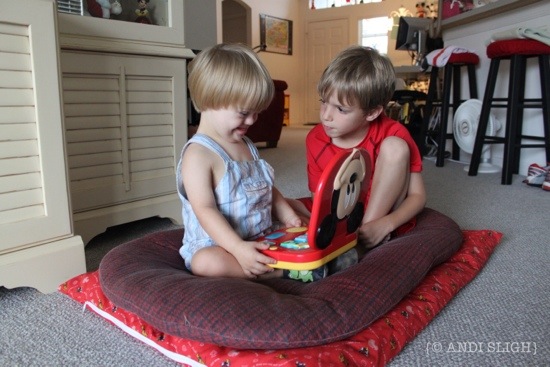 Because the secret to a successful road trip is to have friends in the vicinity of your destination. 🙂
….to be continued.
UPDATE: Read Day 3 here.
Have you voted for Nathan yet in the Most Beautiful Eyes Contest? If not, do it now! And do it again tomorrow! And keep on voting until the end of August! 🙂