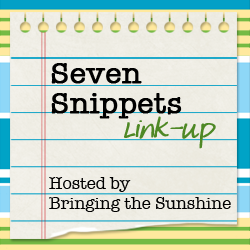 Sometimes Facebook makes me a little crazy. In fact, I very nearly gave it up awhile back, and I've spent a lot less time on there this year than I used to. As much as I'd love to keep up with what all my friends are doing all the time, it gets to be information overload. But just yesterday, when I was feeling frustrated that all of my rants and writings here weren't going to make any difference at all in the world, I saw something my mother-in-law had posted:
"If you think you're too small to make a difference, you haven't spent a night with a mosquito."           – African proverb
As someone who has battled mosquitoes for 42 years, I could relate to this little gem.
The Gardner family is a few steps closer to meeting their son! You may remember that I mentioned them a couple of months back because they live in our area and are adopting a little boy named Keegan (he's featured in my right sidebar, too). Their dossier is in the country and they are now just waiting for a travel date, which they hope to have next month (WOOT!)
They Gardners are still fundraising – they have a little over $6,000 in their fund through Reece's Rainbow, but they are still about $11,000 short of what they need. Please consider sponsoring them!
If you're a local, please spread the word about an upcoming golf tourney to help them out:
Where: Timbercreek Golf course
When: September 8th
Time: registration starts at 11 and tee off is 1:30
Details: 4 person teams – best ball $400 a team which includes dinner for each player and a spouse. There will be a silent auction after the dinner.  
Grab This!
Update on Baby Megan: She's doing well and the doctors are still suggesting she could go home as early as Monday. The family has another problem now, though. Because the predictions they were given were so dire – they were given no hope that she would ever leave the hospital – they are struggling now with what lies ahead. They have spent the past few months preparing for Megan's death, so they are not ready for her to live. In addition to the unexpected logistical complications of jobs, finances, etc., they also must adjust to a new reality. Please keep them, and Baby Megan, in your thoughts and prayers.
Sarah Kate starts fourth grade on Monday, which means she'll be moving up from the Fantasyland of elementary school to the Adventureland of intermediate school. Nathan will be in preschool two days a week, so on those days (in order not to have a cranky toddler who didn't get an afternoon nap because we had to pick up Sissy at school), she'll be riding the bus.
I'm trying not to think about Ellen Stumbo's recent post about special needs and the school bus. We'll see how it goes, but in the past this route has dropped off our neighborhood kids at about the same time I was returning from car line, so I'm optimistic.
Despite only having been once to pick Nathan up at preschool, Mr. Andi was immediately identified as Nathan's dad at parent orientation this week. I wasn't sure if that meant Nathan is famous or notorious, but Mr. Andi assured me it was not notorious. I'm thrilled to know they are so enthusiastic about him – I've heard of cases where children with Down syndrome weren't so warmly received in private preschools.
Bonus: Mr. Andi was talking to three of the teachers at the preschool and mentioned in passing his concerns about Nathan's speech delays. His "old" teacher quickly responded, "Oh, I'm not worried about that at all!" Here's to hoping she's right.
I just recently joined a group for parents of children with mosaic Down syndrome. Although that's the diagnosis we were given for Nathan when he was an infant, I've never spent a lot of time thinking about it or connecting with other families – in my mind, mDs was a good thing, because he'd probably dodge a lot of the health problems and such, but it didn't really matter otherwise because he still has Down syndrome.
It was eye opening for me this week when some of the moms expressed concern about attending Buddy Walks and other events because of the fear they might be looked down upon or singled out because their child was different. How sad! It was even more sad to me when a few of them chimed in and mentioned specific instances where other parents quizzed them about their child and made them feel judged.
I mean, if you can't go to a Buddy Walk without being judged…
There are only two Fridays left for me to harass you in the Snippets about voting for Nathan in the Most Beautiful Eyes Contest! Please vote every day!
Have a great weekend!
Link up your own Seven Snippets below! Be sure to link to your post, not the main page of your blog.
Looking for a Seven Snippets template or graphic? Go here for some quick tools to create your own Seven Snippets post.

This post is also linked to Conversion Diary's 7 Quick Takes.