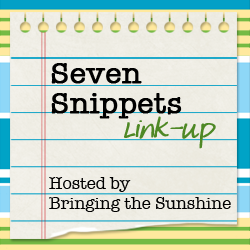 Every time I saw the radar of our area on The Weather Channel this week, conditions looked much worse on TV than they really were at my house. Many of you who know (or at least have a pretty good idea) where we live checked up on us, and I appreciate it. As it turns out, Isaac wasn't nearly as bad as the tropical storm (whose name I have already forgotten) that came through last fall.
Thursday nights are Dance Party Night at our house! Not really. But this Thursday night was (impromptu) and both the kids got in on the action. My dad was voted Best Dancer back in high school – I think they've got Papa's genes.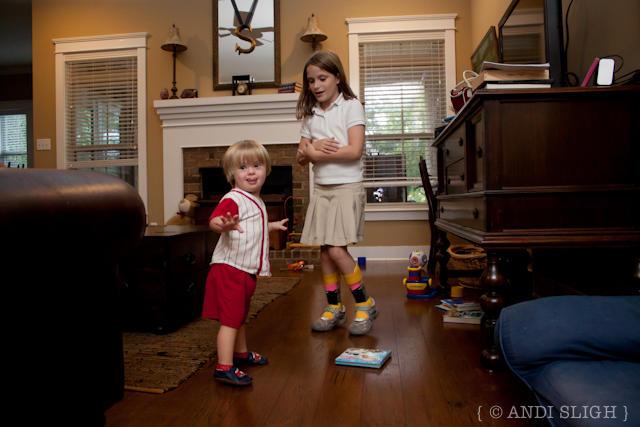 Wondering what song they were grooving to? I don't remember – there were several.
However, shortly after the above photo was taken, I shot a little video. I think you'll hear
a familiar tune
, so eliminate it from the list of possibilities. Click to watch.
When he isn't dancing, Nathan amuses himself in other ways. I'm fairly confident he will one day author a How-To book entitled, "How to Torment the Good-Natured Family Dog." It will almost certainly include a chapter on hugs and another on stealing toys and running squealing through the house with them.
It was jarring to hear of the cafeteria shooting earlier this week of Daniel Borowy, a student at Perry Hall High School in Maryland. But it was uplifting to see the immediate outpouring of support on Twitter of his classmates. Their support launched two hashtags: #PrayforDaniel and #GagaVisitDaniel. Daniel is a huge fan of Lady Gaga and his classmates are trying to get her to visit him. THAT is what inclusion will do.
Keep Daniel and the rest of the Borowy family in your prayers.
Great news! Baby Megan came home earlier this week! She, her parents, and her big brother have a long row to hoe, but what a miracle she is! Please pray for them.
Have a great weekend!
Link up your own Seven Snippets below! Be sure to link to your post, not the main page of your blog.
Looking for a Seven Snippets template or graphic? Go here for some quick tools to create your own Seven Snippets post.

This post was inspired by and is linked to Conversion Diary's 7 Quick Takes.