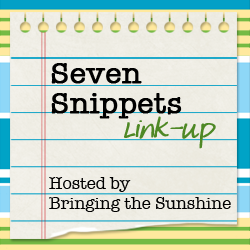 Great News! Hussain's surgery is coming up in September.
You may remember when I began following
Hussain's story
through the Preemptive Love Coalition earlier this year. Visit
his page
where you can post photos, videos, prayers, or words of encouragement.
Nathan is going to be a cover model again!
This time it's for a parenting magazine published in our area. The photo won't be one of mine, but was taken instead by a real pro photographer, Janel of
Janel Gay Photography
. I'll be sure to link to the online version (assuming there is one) once it's up, or if you just can't wait for some super cuteness, check out one of the photos she took
on her Facebook page
.
I'm goal oriented, no doubt about it. I've struggled to make myself run just once or twice a week all summer, and even when I did run it was half-hearted. Cross training? Forget about it! But once I signed up for the 20th anniversary running of the Walt Disney Marathon and created my training plan, I got motivated. I even did speedwork this week, which I loathe. Go, me!
Fall softball registration is this week,
and it looks like we're in for another season of
Sarah Kate being totally awesome
and me being a complete wreck. Who wants tickets? 🙂
One of my guilty pleasures for awhile now has been Dance Moms, but I believe I'm going to have to stop watching it. Used to be, I'd watch just to reassure myself that I wasn't like one of those crazy moms, but these folks are CRAZY. I'm beginning to feel really sorry for the kids, so continuing to watch seems like an endorsement of what they're doing on the show. No, thanks.
Last Sunday, the pastor at Mr. Andi's mom's and uncle's church preached a pro-life sermon, inspired by Baby Megan.
Although I wasn't there, Mr. Andi's uncle snapped a quick photo and texted it to us – the photo was of the pastor at the pulpit, and
Nathan's viral photo
was on the big screen behind him. He also told us that the pastor quoted my blog (I'm not sure what he used). I was flattered, but mostly thrilled – not because I need validation, but because I was encouraged that something I said touched people. Every life has value. Every. One.
Speaking of Baby Megan, I do have a brief update. Unfortunately, she was not allowed to go home this week as they had hoped. They found a new break which required her to be placed on pain medication; pain meds make her lethargic, which means she doesn't eat well, which means she needs to hang around in the hospital a little longer. I have a number of photos of her with her mom, dad, brother, and by her cutey-patootey self, and I hope one day to share them here.
And a tremendous THANK YOU to reader Maggie! After reading about Baby Megan last week, and how her parents were not prepared for her because she was not expected to live, she generously offered to ship her daughter's baby things – items she had been planning to sell – to Colorado. I'm so thrilled that this little blog of mine has brought them together – even if they never use a single item Maggie sent them this week, just the act of sending shows them that people care. Thank you, Maggie! I hope we get the opportunity to meet in person one day!
Have a great weekend!
Link up your own Seven Snippets below! Be sure to link to your post, not the main page of your blog.
Looking for a Seven Snippets template or graphic? Go here for some quick tools to create your own Seven Snippets post.

This post was inspired by and is linked to Conversion Diary's 7 Quick Takes.