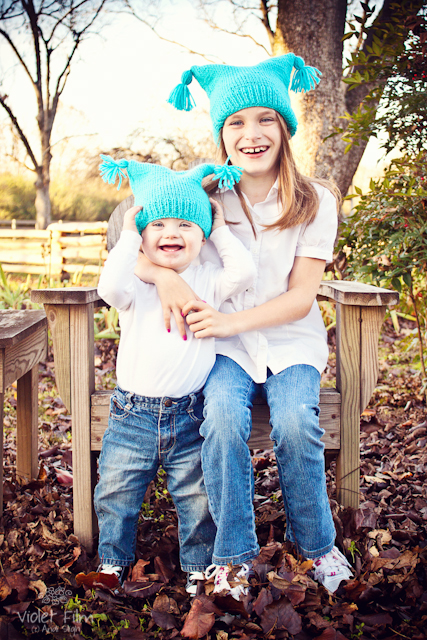 If you've spent more than, oh…two minutes here on Bringing the Sunshine you know that I spend a lot of time behind a lens. I love taking photographs and although I do spend some time post-processing my digital images, I prefer the kids (mostly) as they are without a lot of touching up.
The images I treasure don't just appear on the blog; they also grace the walls of our home. Most of them are in plain skinny black frames – a holdover from my days as a black & white film photographer – but something I've been wanting for awhile is a few of my favorites on canvas.
Recently, Photo-Canvas.com contacted me and asked me to review one of their products (no need for arm-twisting!) I agonized over which photo to have printed, made a decision, then…changed my mind again. Because that's how I roll.
The image I ended up with is the one you see above (and in the header of the blog), and you can see the finished product hanging on my wall below.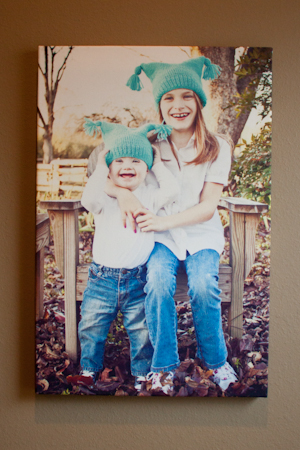 Photo-Canvas.com has a wide variety of standard sizes, beginning with 12″x12″ (30x30cm) and going all the way up to 79″x60″ (200×150 cm). Larger custom sizes are available, as well. I went with a standard canvas, but other options include multi-panel sets (triptychs and quarters), panoramic sizes, photo collages, and an array of pop art inspired services.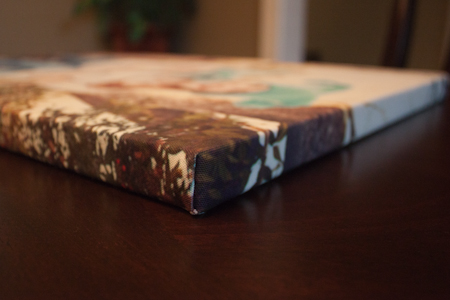 The tricky thing about photo canvases is the edges. Because the image will be wrapped around, your favorite image won't always look right since part of it will be effectively cropped. Photo-Canvas.com offers three edge options: the typical gallery wrap, a mirror image wrap, or a solid color edge (you pick the color). I went with the gallery wrap.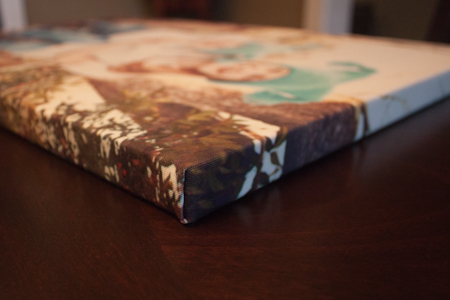 Most people will never notice how neat the corners of the canvas are, but I fall on the OCD end of the spectrum so I immediately checked mine out. And took a photo of it so you could, too. 🙂 The canvas also came with a hanging kit and extra corner wedges if I want to stretch my canvas just a bit more.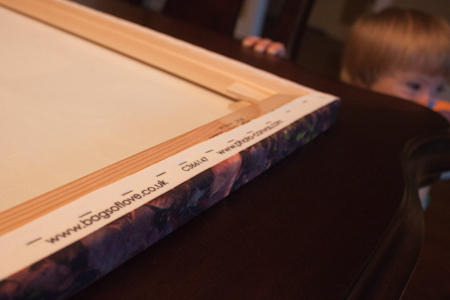 Photo-Canvas.com is located in the UK, but don't let that scare you off if you live here in the States. Yes, the standard sizes are in centimeters, but one click converts to inches for the metrically-challenged. Delivery was quick, too – I ordered mine around midday on a Wednesday and it was on my doorstep less than 48 hours later.
I'm very pleased with the quality and customer service I received from Photo-Canvas.com. So pleased, in fact, that I'm considering ordering a triptych of this photo. 🙂
** Note: I received my Photo-Canvas.com product free of charge for the purpose of this review. I do very few reviews here on Bringing the Sunshine because I am only willing to post reviews of products I would (or do) purchase myself, and I will never recommend a product to my readers that I feel is of inferior quality. For more information, check my Disclosure. **