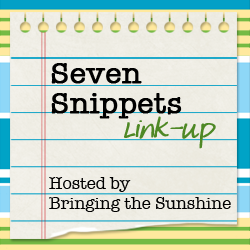 Just a few hours after I posted last week that I didn't know when we'd hear something about the Most Beautiful Eyes contest, we heard: Nathan is our state winner! He's moving on to the next round, which is a panel of judges who will select the finalists. See Nathan and all the state winners here.
A reader shared the blog post with me, "The Obsessive Joy of Autism," this week and I thought it was so beautiful that I wanted to share it here with you. I'm not an expert on autism by any stretch, but one issue I've heard repeated is that kids with autism are often "molded" into "normal" in a way that is harmful to them. I don't know if that's true or not, but this post did make me pause.
If you were one of those friends of mine back in college who made comments to me such as: "You're lucky you have classes with mostly guys" and didn't understand when I replied that it was not all it was cracked up to be, I present to you Exhibit A: The Big Bang Theory. I was an electrical engineering major and spent many long hours with the likes of Sheldon, Leonard, Howard, and Raj. Great guys, but not exactly what my friends had in mind, I don't think.
Finding Nemo is being re-released in 3D this weekend, and while I probably won't go see it (not a fan of 3D), I love that it's getting new life. Finding Nemo is an excellent film about disability, quirkiness, and being a parent. Best Pixar film EVER.
I was contacted this week about a new non-profit, Lifting Lila, which is seeking to help families with children who have rare or undiagnosed potentially terminal conditions. They are working to connect families – often the most difficult part of raising a child with special needs is feeling isolated – and plan to promote research and provide financial support.
For the past two years, I've participated in 31 for 21. It's a commitment for bloggers to publish every day in the month of October to promote Down syndrome awareness. I'm not sure if I'm up to the task this year – what do you think? Want to hear from me every day for 31 days straight?
Have you wondered if I ever have trouble coming up with seven snippets every week? The answer is yes (sometimes). 😉
Have a great weekend!
Link up your own Seven Snippets below! Be sure to link to your post, not the main page of your blog.
Looking for a Seven Snippets template or graphic? Go here for some quick tools to create your own Seven Snippets post.

This post was inspired by and is linked to Conversion Diary's 7 Quick Takes.