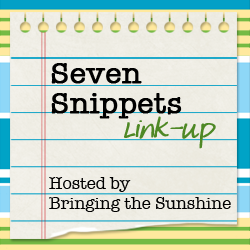 After obsessing for months about Nathan's perceived speech delay, I realized this week that he can recognize the letters of the alphabet. My friend Beth tells me that letter recognition is an emerging skill at age 3. I have to say…I feel a good better now, even if he still can't articulate many words.
Here's the deal. I'm tired. I've been sick. My brain is not functioning on all cylinders. So this week's Snippets are going to be of the photographic variety. If you follow Violet Film, you'll recognize the photos I'm about to post. If you don't…Yay Me! for giving you fresh content! 🙂
Just a bunch of toys lined up, until you realize that Nathan lines them up this way each time: backed in to their spaces. Mr. Andi, who is a regular "backer" showed him how to do it that way one time, and he's done it ever since.
This time last year, Mr. Andi built a fence to contain Nathan. Um, yeah…about that….
I have nothing to say about "My Listening Ears." When I picked him from school one day, he was wearing them. I could Not. Stop. Laughing.
Nathan has a talent for photo bombing. Yet, he rarely is still for a photo I want to take. Sigh.
Monday's softball game got rained out, so tomorrow's tournament will be the first game of the fall season. Wish us luck!
Have a great weekend!
Link up your own Seven Snippets below! Be sure to link to your post, not the main page of your blog.
Looking for a Seven Snippets template or graphic? Go here for some quick tools to create your own Seven Snippets post.

This post was inspired by and is linked to Conversion Diary's 7 Quick Takes.