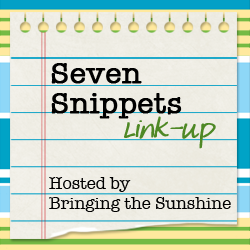 Mr. Andi was alerted via 6am text that the Eastern Shore Parents magazine with Nathan's cover photo came out yesterday. I also ran into The 6am Texter at the gym and she promptly pointed the magazine out to me (not to make it seem like we were bothered – we weren't, we love her!) The digital version isn't up yet, but I'll link to it when it is. In the meantime, here's a photo I took with my iPhone of the cover on the table at the gym. Please note that he is not a strawberry blonde and does not look like one on the real cover. 🙂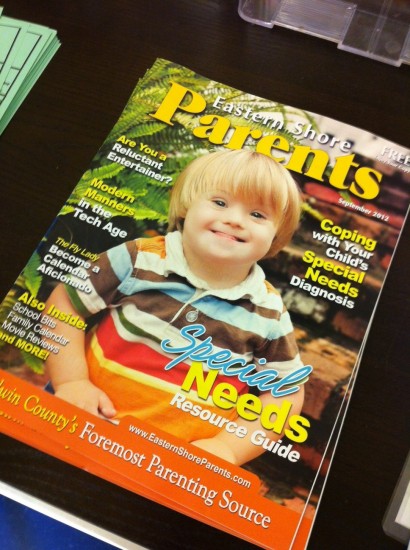 Now if only these magazine covers (remember, this is number two!) would lead to a modeling contract…
I posted the photo above on Facebook and I think a couple of folks got excited thinking it was Parents magazine. Sadly, no, it's a regional mag. However, the day before the magazine came out, I was quoted in a piece by Ellen Seidman on the Parents website, and Sarah Kate's photo accompanied the article.
So that's something, right?
My running playlist is whacked.
Or, as I prefer to say, I have eclectic tastes in music. Green Day, Aerosmith, and U2 should never be combined with Demi Lovato, Earth, Wind & Fire, and The Go-Go's. Am I right?
Did you see the story this week about the young man with Down syndrome who was kicked off the American Airlines flight? He was supposed to fly first class, but was denied boarding altogether. His mom began filming right after the declaration was made – watch for yourself and tell me if it appears to be discrimination to you.
Oh, and the story didn't end when the family was rebooked on a different airline.
A couple of people have asked me about the Most Beautiful Eyes Contest, and the answer is "I don't know." The finalists are supposed to be notified within six weeks of the end of the contest, but I don't know when the state winners are to be notified. Odds are, he won't win, but it's fun to try!
Fall softball starts on Monday for Sarah Kate. She will have a different coach this time; I'm not sure if any of her previous teammates will be back in the fall or not. Once play starts, there will only be one game per week. Boo-ya!
Oftentimes, I wonder what, exactly, people are thinking when they attempt hare-brained schemes. I try to put myself in their shoes and pinpoint the exact moment when they thought what they were doing was a good idea. However, sometimes there are no words. Click to watch, but don't say I didn't warn you.
Side note: I actually saw the original movie in the theater when it first came out back in 1983. Other than the person I went with, I have never known another individual with that dubious claim to history.
Have a great weekend!
Link up your own Seven Snippets below! Be sure to link to your post, not the main page of your blog.
Looking for a Seven Snippets template or graphic? Go here for some quick tools to create your own Seven Snippets post.

This post was inspired by and is linked to Conversion Diary's 7 Quick Takes.