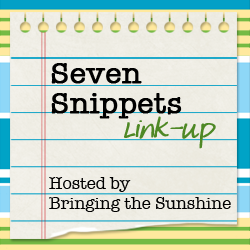 Baby Megan has a blog! Miss Megan Clara: A journey through the world of OI was created to share information about Baby Megan, osteogenesis imperfecta and the family's journey with both. I've been so touched by those of you who have inquired about (and generously assisted) them along this two-month long journey (yep, that's right – Megan will be two months old on Sunday!) Go visit, say hi, and tell them I sent you!
Wouldn't you know it? SK fielded five balls at Tuesday night's game when I wasn't there because I was home sick. I'm taking Emergen-C every day for the rest of softball season. It seemed to work to kick my cold when I took it this week, though not quick enough for me to make the game.
Speaking of Emergen-C, serious question – have any of you ever taken it before? I started feeling a little yuck Monday night and bought some midday on Tuesday – never had it before but as I was dragging my miserable self through Publix I noticed it was on sale. I felt HORRIBLE that night, but had improved significantly by Wednesday morning (I never recover that quickly from respiratory junk, which I am prone to getting). So I've continued taking it, but…both Wednesday and Thursday night I had a hard time falling asleep. Wondering if it's related?
It's the end of the world as we know it. Nathan is getting a Big Boy bed…today. It's already put together, but we still need to take the crib down so he slept in it last night for what will presumably be the last time. My last refuge for peace and sanity is headed out the door on its way to the crisis pregnancy center. Yes, it's the end of the world as we know it.
And I don't feel fine.
Did you catch my guest post at About the Small Stuff? Cary asked me to contribute about our experience with selective dorsal rhizotomy (SDR) surgery to a series of resources for other parents considering the procedure for their kids with CP. It just happened to go up this week, which dovetailed nicely with the questions in yesterday's Ask Me Anything.
I've been enjoying Ask Me Anything this month, and I hope you have, too. If I haven't yet answered your question, don't worry – I'll get to it, I promise. There are still several in the backlog but not so many that you'll have to wait months. 🙂 Something you want to know but haven't yet asked? Send me an email or use my contact form, or go completely anonymous by dropping your question in the form below.
As long as you keep it clean, nothing is off limits – Down syndrome, cerebral palsy, birth stories, parenting, photography. What do you want to know?
Don't forget…it's BUDDY WALK time! Our local walk will be held next weekend and we'll be walking as team "Powered by Nathan" again. We'd like to have you donate to us, but we'd love it even more if you'd join us.
Have a great weekend!
Link up your own Seven Snippets below! Be sure to link to your post, not the main page of your blog.
Looking for a Seven Snippets template or graphic? Go here for some quick tools to create your own Seven Snippets post.

This post was inspired by and is linked to Conversion Diary's 7 Quick Takes.