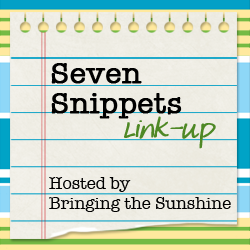 No snippets this week – I'll explain why later, though if you know me IRL you probably already know. 🙂 But I didn't want to leave anyone hanging who might want to link up!
Have a great weekend!
Link up your own Seven Snippets below! Be sure to link to your post, not the main page of your blog.
Looking for a Seven Snippets template or graphic? Go here for some quick tools to create your own Seven Snippets post.

This post was inspired by and is linked to Conversion Diary's 7 Quick Takes.