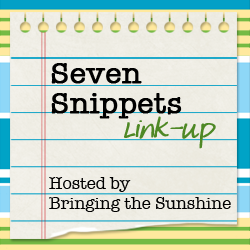 We're still waiting to hear if Nathan is a finalist in the Most Beautiful Eyes Contest. The last time I posted in a Snippet that we were waiting to hear about the state winners, we found out later that day that he'd won, so…
My book club just finished reading "Wonder" by R.J. Palacio
, and I enjoyed it. The book is about a fifth grader attending school for the first time after being homeschooled. The catch is that he has a condition that has caused his face to be disfigured (he was homeschooled due to all of the surgeries and other interventions he underwent). It's written for a YA audience, and as such the story is tied up rather neatly with a bow at the end, but I felt the author really got into the different characters' heads. The ending of the book was, I'll say, familiar to me and much less saccharine than I was expecting. I definitely recommend it for kids and adults like.
She's going to kill me when she reads this, but guess what? My oft-mentioned friend Dawn has started a blog. It has absolutely nothing to do with special needs and very little to do with parenting, but I'm mentioning it here because I think it's gonna be awesome. Dawn has a knack for thrifty fashion, food, and furnishing her house, and I encouraged her to consider blogging it. She just started this week, but it already shows some potential. Go show her some love and tell her I sent ya! 
Speaking of D, that's one of the few letters of sign language Nathan knows. Courtesy of D herself. She's also the one that pointed out to us at Sarah Kate's softball game a couple of weeks ago that Nathan knows his numbers.
Softball is not going that well this fall. I'm not sure what's up exactly, but Sarah Kate can't hit a ball to save her life…in a game. In practice, she does fine. Since she's still in coach pitch right now, I think maybe it is at least partly because her spring coach was very good at pitching exactly where she needed the ball to be. Spring will be a whole different ballgame. 😉  We don't think she's ready to move up to 10U, but neither Mr. Andi nor I want to tell her.
Don't forget that October is your month to Ask Me Anything! You can send an email or use my contact form, or go completely anonymous by dropping your question in the form below. Click to read the first two installments – Stretching and My Typical Day and Adoption Prospects, Disability World, and Cameras – if you missed them earlier this week.
As long as you keep it clean, nothing is off limits – Down syndrome, cerebral palsy, birth stories, parenting, photography. What do you want to know?
Don't forget…it's BUDDY WALK time! Our local walk will be held on October 20 and we'll be walking as team "Powered by Nathan" again. We'd like to have you donate to us, but we'd love it even more if you'd join us.
Have a great weekend!
Link up your own Seven Snippets below! Be sure to link to your post, not the main page of your blog.
Looking for a Seven Snippets template or graphic? Go here for some quick tools to create your own Seven Snippets post.

This post was inspired by and is linked to Conversion Diary's 7 Quick Takes.