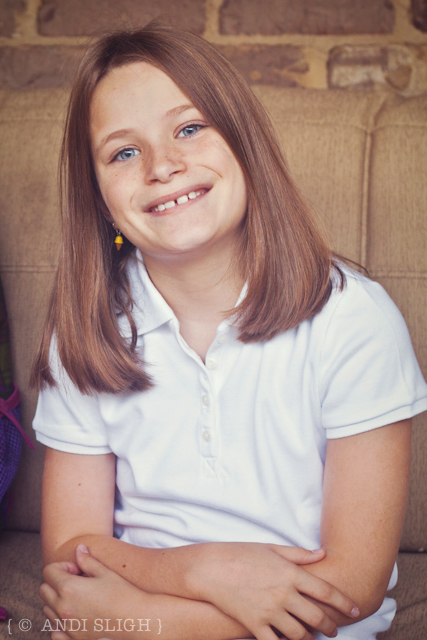 Here in Mayberry, the kids wear uniforms to school.
Uniforms are a parent's dream. No grousing over what to wear in the mornings, no arguing about what to buy in the store during back-to-school shopping, and it's pretty easy to find inexpensive tops and bottoms that fit the dress code.
Because we live in a warm climate, Sarah Kate has worn khaki skirts (with undershorts) and navy polos almost exclusively for the past few years (I learned the hard way to avoid white shirts when she was in kindergarten, though now that she's a fourth grader I've relented somewhat). The nice thing about skirts is that they're cool when it's hot and she can pair them with tights on cooler days. We always had a backup pair or two of pants for the rare day when it was actually cold, but otherwise it was all skirts, all the time.
When Sarah Kate moved from an SMO back to an AFO a couple of years ago, the foam caused her to break out, so we had to buy knee socks to wear with the braces. Instead of basic white, I bought her a few pairs of brightly colored ones with patterns, which she loved. She became known around school as Crazy Sock Girl and she was proud.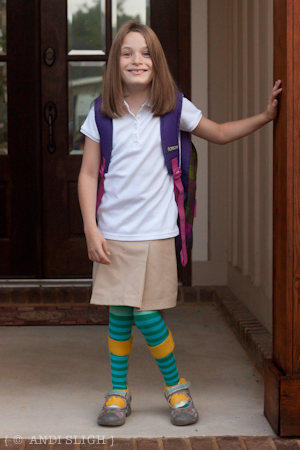 Back in the spring, Sarah Kate had to get new braces, and she opted for a design that made me cringe a little: Tweety Bird. Instead of the typical decorative ribbon sewn onto the straps, Cascade DAFO began transferring designs onto the plastic. It wasn't my first choice – especially with the coordinating "caution-tape yellow" straps – but I'm not the one who has to wear them and I figured she should be able to get what she wanted.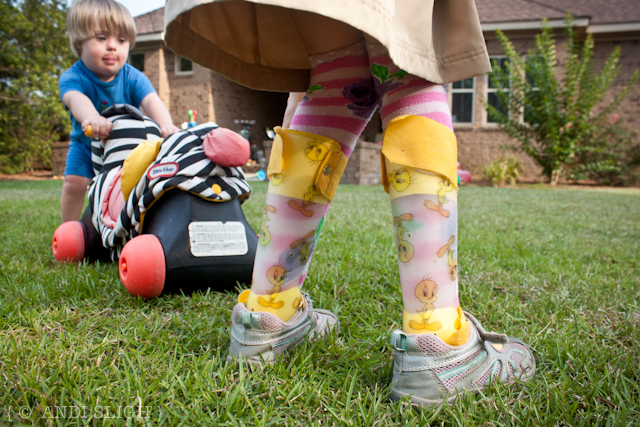 It's been cooler here the past few weeks (which is to say that our mornings are cool…most days it still hits 70 or better by the afternoon), and I noticed that Sarah Kate was wearing pants every day – including some corduroy pairs that were handed down to her by a friend (I can assure you that it's not cold enough for corduroy here yet). That's not such a big deal, but I also noticed she wasn't wearing a sweater or jacket most days. I didn't think much of it at the time.
Then one day last week she asked me if we could get her some new shoes to go over her braces; the ones she wears most days are the only pair she can get on without help (shoes are the final symbol of independence, as evidenced by the recent Nike story). They are a Mary Jane style of athletic shoe so they're easy to get on and off, although the strap on the top of her foot bulges out of the top of the shoe.
She also tried to wear her lace-up boots (that also zip up the back – another bonus for fitting over the braces) for weeks before it turned cool, but I put my foot down. They're lined with fleece, for goodness sake! But on Tuesday afternoon, when we were at therapy, it dawned on me what was going on.
She's embarrassed by her braces.
I asked her if that was why she'd been wearing pants every day, and she admitted that it was. She told me she's tired of people asking questions and commenting on them. My heart broke for her, because I know the braces are just the beginning. She'll turn ten next month, and the hormones are starting to kick in. She's approaching the age where kids don't want to be different, and it's harder to fit in when you've got a highly visible difference that's the first thing people notice when you walk into a room.
So on Wednesday morning, right after car line, Nathan and I headed to Target to buy her some new school pants and look for some shoes that might work. I found a pair of purple Converse XX-high tops (with a zipper, hallelujah!) for $37.99. We didn't need those things, and with the Christmas holidays coming up, I'd normally be reluctant to spend any extra money right now (and I have never spent that much on shoes for Sarah Kate, because she's very hard on shoes). But the new pants and purple shoes are like the Tweety Bird brace design.
Since there's no way around wearing the braces, I owe it to her to make the experience as painless as possible.
Have I completely confused everyone with my posting schedule this week? Mr. Andi, for one, was perplexed that there was a Monday post but no Tuesday post, so in case you missed Wednesday's post, too, check out What I Want, Bonus Edition: To Burn the Pedestal. I'll be back to my regular Tuesday/Thursday (plus Snippets and Sun-Beams) schedule next week.