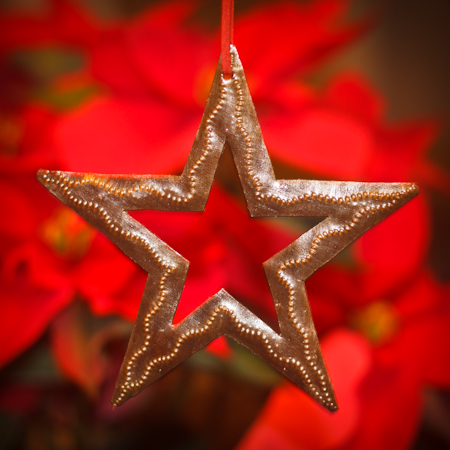 Like a lot of people, I'm resistant to the "Christmas creep" – the way that stores (and people!) begin decorating before the Thanksgiving turkey has even been defrosted for cooking. The weeks including the four Sundays leading up to Christmas Day are what is known in many Western Christian churches as Advent, which is intended to be a time of preparation for Christmas – the celebration of the first coming of Christ, and anticipation of His second coming.
As I've gotten older and grown to appreciate Advent more, I've become more and more resistant to many of the trappings of the Christmas (shopping and decorating) season. I think that's one of the main reasons why I haven't pressed to get the tree and other decorations up yet (the other, of course, is fear that the tree will meet an unfortunate Demise by Boy well before the first gift is opened). I want my kids to appreciate both Christmas AND Advent for their true meanings, and it's hard to do that when Advent is crowded out altogether.
Nathan, of course, isn't quite old enough to "get" Christmas yet which is in many ways a blessing, because he also isn't old enough to focus on what he's going to receive. Sarah Kate has been putting things on her Christmas list since at least April, though, so I was concerned that this year would be the one that she asked for way too much and was disappointed (after all, I do want my kids to enjoy Christmas). Her birthday is also next week, so that's tough for a kid, because she gets all the "loot" for the year in one fell swoop.
I was pleasantly surprised that Sarah Kate was modest in her requests again this year. She's a happy kid who doesn't focus a lot on fashion or toys, so I guess I shouldn't be, but I was. All of those things she'd been proclaiming she wanted for months fell by the wayside when list-making time arrived. In fact, when I began compiling my Christmas list, I had a good many more ideas listed for Nathan than I did Sarah Kate, so I had to come up with a few surprises of my own for her.
But the real kicker came when we were discussing her birthday party.
She'll be ten this year, and with a birthday so close to Christmas, she's never had a very big party. We've tried a couple of times to celebrate in the summer on her half-birthday in June, but the summers are always so busy with travel to grandparents (and many years, intensive therapy sessions), that it never worked out very well. She decided she wanted to invite friends (twelve of them!) to eat at the local Japanese steakhouse and then spend the night. I'm not uber-excited about a dozen girls sleeping over, and we'll probably have to rent a van or large SUV (or borrow one from a friend) just to transport everyone to and from the restaurant, but if that's what she wants, that's what we're going to do. She's never asked for a big shindig before so I think she deserves it.
As we were creating the invitations, she told me she didn't want her friends to bring gifts. We talked about why for a few minutes, and she told me that she doesn't need any more stuff, and that she'd rather they use their money to help someone else who needs it. I've always known my girl had a big heart, but I wasn't expecting her to come up with something like that out of the blue. After discussing it for a few more minutes, we decided that she would ask her friends to donate to Reece's Rainbow in lieu of gifts, sponsoring Dayna, a little girl with Down syndrome whose adoption is being sought by a family who already has a child with cerebral palsy.
It seems my little "star" has learned what it really means to give, after all.
In honor of my little "star", I'm giving away the beautiful handcrafted star ornament you see in the photo above, as well as one other item that you'll learn about tomorrow. The star was given to me by Macy's as part of their Heart of Haiti collection, which features more than 40 home decor items including quilts, metalwork, jewelry and paintings all made almost entirely from recycled and sustainable items. The Heart of Haiti initiative allows opportunities for the artists to work with US designers, helping strengthen international artisan relationships and making their products viable in the US market. The Heart of Haiti campaign pays in excess of fair wage to the talented artisans who create the product, giving them the dignity of work and economic self-determination – "trade, not aid."
I was selected for this opportunity as a member of Clever Girls Collective, and the content and opinions expressed here are all my own. #CleverHaiti