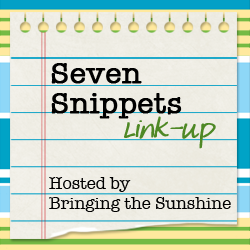 We finally put the Christmas tree up last Saturday. As expected, Nathan was enthralled with it and liked removing the ornaments and then attempting (unsuccessfully) to put them back (now you know why we waited so long). However, beginning the day after Christmas, he stopped removing the ornaments, because he found a new way to decorate it: with Little People and Letter Factory pieces.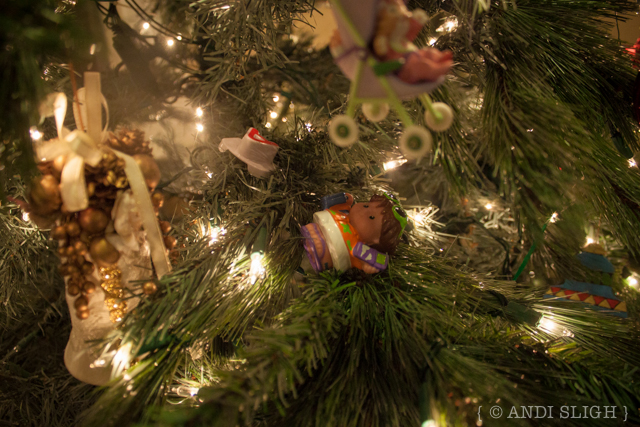 I'm rolling with it.
It's tough to photographically capture the magic of Christmas morning when one kid is jaded about the whole Santa bit and the other doesn't really get it yet. And so, I present to you a very unmagical photo that is a pretty fair representation of our day.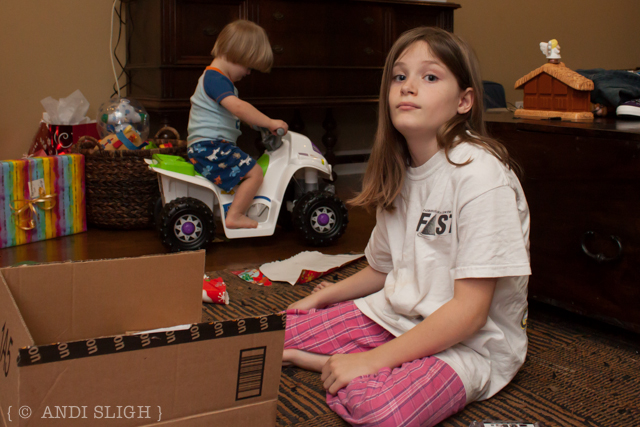 And in case you're wondering about the Buzz Lightyear ATV in the background…  I actually think it'll make it easier to chase him when he makes his grand escape. Think George Costanza trying to outrun the senior citizens on scooters.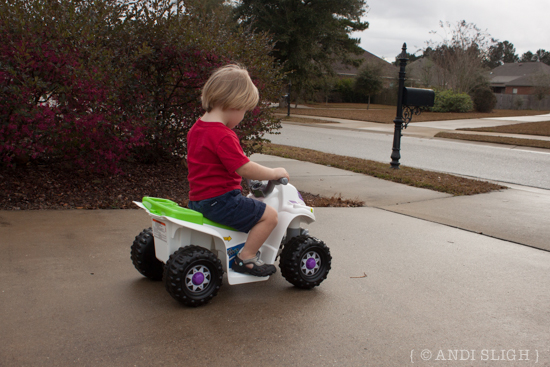 Yesterday was Sarah Kate's tenth birthday. Wow. I don't usually get all sentimental about birthdays and such, but this one hit me hard. The preschool years seemed to pass so slowly; the school years are flying by. One day soon she'll take flight out of the nest. It makes me want to say…I love you, Mom. 
Last night was Sarah Kate's Big Birthday Bash. I'm actually preparing my snippets on Thursday afternoon for fear that I won't have the strength or brainpower left on Friday morning to hit "publish." NINE fourth-grade girls for hibachi and a sleepover. I'm in a state of panic right now because I confused everyone on the invitation and fear they're all going to show up at the restaurant at 5:00 when they're supposed to come here first.
Oh, and did I mention that my in-laws are coming in from Memphis this afternoon? Say a prayer for us, will ya? I need to be able to stay awake for their visit.
Just a little more than two weeks until I run the Walt Disney World Marathon for Research Down Syndrome. I'm closer to my goal, but not quite there yet…

And finally, a poignant reminder about a little girl with special needs who was a victim in Newtown. It sounds weird to say that I'm proud of Josephine Gay's family, but read it and you'll understand.
Have a great weekend!
Link up your own Seven Snippets below! Be sure to link to your post, not the main page of your blog.
Looking for a Seven Snippets template or graphic? Go here for some quick tools to create your own Seven Snippets post.
This post was inspired by and is linked to Conversion Diary's 7 Quick Takes.