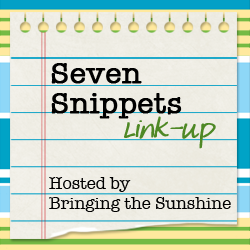 Great news about the Gardner family! You may remember seeing the Reece's Rainbow widget for Keegan in my sidebar. Well, it's gone because the Gardners were fully funded and have Keegan home with them now! I have replaced Keegan's widget with one for Dayna for the Burrows family. In lieu of gifts, Sarah Kate asked her friends to contribute money to Reece's Rainbow instead – she picked Dayna because she has Down syndrome and her (soon to be) older sibling has cerebral palsy.
I'm running the Walt Disney World marathon on Sunday – wish me luck! Actually, I need a little more than luck. I'll spare you the details of my self-pity (since I already lavished them on you aplenty yesterday) and just suffice to say that if I'm forced to either (a) not run, or (b) run a lot slower than I trained for, I will cry.
Guess who else is running this weekend? Both of the kids! Originally, only Nathan and I were making the trip, but Sarah Kate's school has teacher workday on Friday and half of Thursday, so I made a late decision to take her with us. Although we won't be seeing much of the parks, we will be visiting with friends we don't get to see often. How could I deny her? Now I just have to sweet talk the school into letting her make up her work (Mrs. Curry, if you're reading this…expect an email from me over the weekend).
Anywho…Sarah Kate will be running the 400m kids race and Nathan will be repeating the 100m. He ran the half marathon while in the womb, the diaper dash at nine months, and the 100m last year at 21 months. He hasn't missed a marathon weekend yet.
By popular demand, I plan to publish Nathan's birth story. Enough of you expressed interest either in the comments, on Facebook, or in emails to me that I'll jump back on the narcissism bandwagon and let 'er rip. Don't expect it in the next week or two – possibly for his third birthday in March.
Are you working on a 365 project this year? I've just started year three and I'm trying to be a little more relaxed about it this time. I still want to post 365 photos, but I'm trying not to freak out if it's 9:00 at night and I haven't yet put one up for that day. The point is to document our lives, not engage in legalism.
But of course just as I was wavering about whether to continue in 2013, something happened to kick my butt into gear once more. I've been a member of the Capture Your 365 community almost since Day One, and there are many talented photographers over there doing exactly what I'm doing every day. At year end, they posted a small collection of photos, selected by the community as the Favorite Photos of 2012…and one of mine made the cut. You'll have to go over there to see which one. I'm so honored and thrilled.
Speaking of me and photos, a new opportunity has presented itself. Sarah Halstead of In the Moment with Sarah Halstead has asked me to be a contributor to her site. Although she blogs about photography, and I blog about special needs (and faith, and other family stuff), we "clicked" awhile back over our shared interests – photography and having a child with cerebral palsy. I'll announce details at a later date, and will be sure to let you know when I'm posting over there.
And finally…don't forget to pray for Jennifer Fulwiler. You can follow her progress and updates by visiting Conversion Diary.
Have a great weekend!
Link up your own Seven Snippets below! Be sure to link to your post, not the main page of your blog.
Looking for a Seven Snippets template or graphic? Go here for some quick tools to create your own Seven Snippets post.
This post was inspired by and is linked to Conversion Diary's 7 Quick Takes.