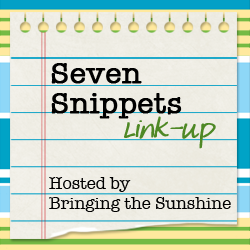 Hart of Dixie is trying to throw me off the scent. Last week's episode there was a reference to "going up to" Mayberry (i.e., my hometown). But I know the truth: Bluebell IS Mayberry.
One of the visible physical characteristics of Down syndrome is a "sandal gap" between the big and second toes. Nathan's sandal gap has become noticeable now that he's slimmed down. In our family, one kid has never been able to wear flip flops; the other one came prewired for them. That's how we roll.
So I'm headed up to Knoxville this weekend, where the weather guys are predicting a "wintry mix." It was sunny and 70 degrees here on Thursday (with more of the same expected for the weekend). I'm a complete and total cold weather weenie so…yeah.
I don't have anything new to share with you about the upcoming taser incident.
I hope he's rethinking this ill-conceived plan, but I'm not optimistic. Mr. Andi's past is littered with ill-conceived plans.
Remember back when I lamented my dream of a 4:45 marathon slipping away?
In case you don't, you can relive
my navel-gazing here
. Well, after
a lot of deliberation
a few days of whining, I'm back on the marathon hunt. If you'll
be in NOLA
next month, I'll see you there.
I'm all for equal opportunities for people with disabilities, but…
I think the world could do it without
this level of equality
.
And finally… I'd love to hear from you about what topics you're interested in, what types of posts you like, and anything else you'd like to suggest for the blog in the coming year. As Nathan would say, "Rea-y, rea-y, rea-y, rea-y…DOH!" (For the uninitiated, that's "Ready, ready, ready, ready…GO!")
Have a great weekend!
Link up your own Seven Snippets below! Be sure to link to your post, not the main page of your blog.
Looking for a Seven Snippets template or graphic? Go here for some quick tools to create your own Seven Snippets post.
This post was inspired by and is linked to Conversion Diary's 7 Quick Takes.