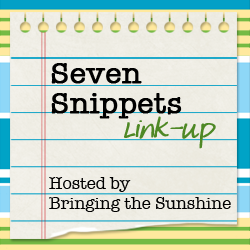 First things first – please pray for Jennifer Fulwiler. If you don't know who she is, I'll tell you: she's the reason the Seven Snippets exist. I was inspired by her "7 Quick Takes" and I still link up over there each week. She needs our prayers because she was hospitalized for pulmonary embolisms on both lungs on Wednesday – and she's pregnant.
The day before her admission, she published a post about how she used the Saint's Name Generator to determine who her patron saint of the year would be and got….St. Michael the Archangel. Hmmm…
After reading Jen's post on Tuesday, I decided to hit the Saint's Name Generator, as well. Not being particularly knowledgable about too many saints, I was mostly just hoping that I was modestly familiar with the one that popped up. Well, I got (drumroll, please…) St. John of the Cross.
I really hope this doesn't mean I'm looking forward to a Dark Night of the Soul in 2013.
My friend Tracy sent me this link a few weeks ago but I'm just now getting around to sharing it. Don't want to confront your co-workers about using the r-word? Use a poster to tell them to buy a dictionary instead.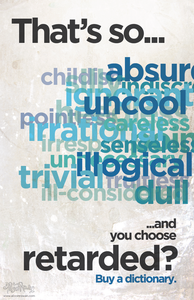 Sarah Kate is in a school play in a couple of weeks. She's playing the part of a banana peel. I find this more than a little ironic.
I have both good and bad news regarding my Research Down Syndrome fundraising adventure. The good news is that I have reached my goal ($500)! Thank you to everyone who supported me in this little endeavor. AND…RDS exceeded their Walt Disney World Marathon race goal ($10,000)! The bad news is that the shirt I will be wearing during the race is ORANGE.
But, hey…if you happen to be at Walt Disney World next Sunday morning, it'll be easy for you to spot me. 🙂
<
p style="text-align: center;">— 6 —
Now that you guys have read Sarah Kate's birth story, I have a burning question for you: Should I publish Nathan's birth story? It's sorta kinda already written, but I'm not sure when or if I'll share it. Thoughts?
<
p style="text-align: center;">— 7—
And finally…we're in the home stretch with our Christmas tree at this point. It's looking a little rough around the bottom but I think it'll make it to Epiphany Sunday.
Have a great weekend!
Link up your own Seven Snippets below! Be sure to link to your post, not the main page of your blog.
Looking for a Seven Snippets template or graphic? Go here for some quick tools to create your own Seven Snippets post.
This post was inspired by and is linked to Conversion Diary's 7 Quick Takes.