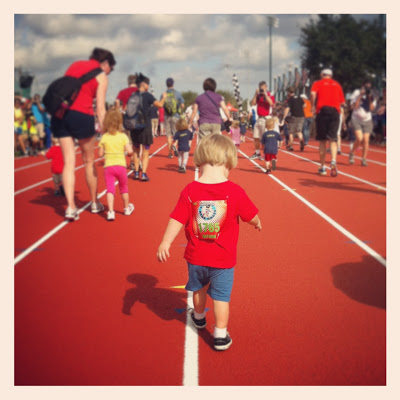 If you saw Tuesday's post, then you figured out that we did, indeed, make it down to Disney for marathon weekend. Nathan hasn't missed one yet (including when he was in the womb), but it was Sarah Kate's first. I didn't plan to take her, but her school had half-day off on Thursday and all day out on Friday, so I opted to cut my trip short so she could tag along. In 2008, she ran her first kids race at Walt Disney World (200 meters) on the now defunct Minnie Marathon weekend, and the following spring she ran the 200 meters again on the inaugural Princess Half Marathon weekend. Friends and family will remember the Princess. I registered Nathan for the 100 meters again this year, and at the very last minute my friend Gina and I registered Sarah Kate and her daughter, Lauren, for the 400 meters. Gina found a great deal on matching "Race You to the Castle" t-shirts.
Nathan's race went about how you'd expect.
He couldn't believe his luck, being allowed to run/walk in a wide open space with a bunch of kids and without having to hold my hand. He trotted down the middle of the track until late in the race when he spotted one of the official race photographers on the left-hand side. He meandered over toward him, grinned, then weaved back to the center. The kid knows about cameras.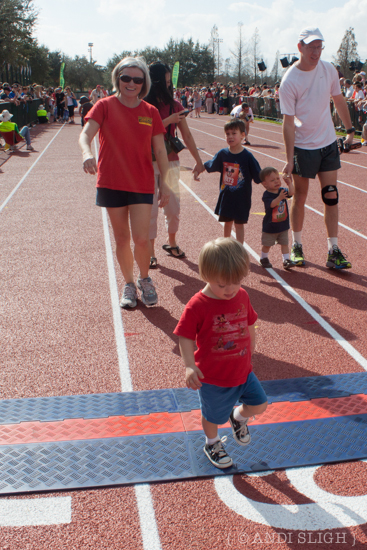 A short while later, Sarah Kate and Lauren lined up for the 400 meters.
They positioned themselves in the back of the final heat, and quickly were off. As expected, the rest of the field sprinted away, but Lauren faithfully jogged alongside Sarah Kate.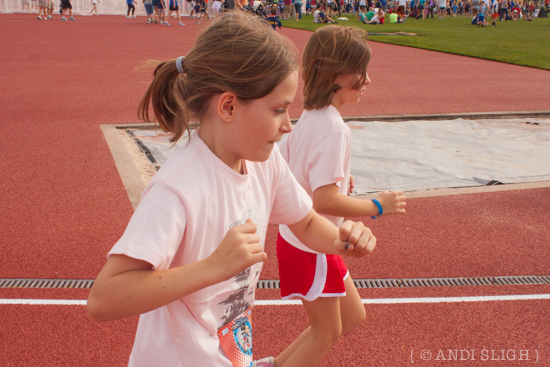 I was impressed – and surprised – at how Sarah Kate looked, and couldn't help but think back to those first races. Much of the time, she held her right hand in a loose fist, rather than splayed; she swung her arms, though not in a completely typical fashion; her running was actual running – she caught "air" ever so briefly as she went. Save her slow speed, she looked almost "normal." After about 150 meters, she stopped to walk, and Lauren stopped with her. As they reached the end of the straightaway at 200 meters, I encouraged her to run again. She ran/walked for the next 100 meters. As we came around the corner toward the final 100 meter straightaway, a group of ROTErs stood by the fence cheering. None of them had kids in the races – they had come out to support our kids only. I encouraged her to run the final 100 meters without stopping. I could see spectators crossing the track up ahead – no doubt they thought all of the runners were finished – and then heard the announcer on the intercom, calling attention to the "princesses" still on the track. Random strangers began to notice them.
And then she tripped and fell.
I grabbed her and pulled her up and told her to keep going. She ran a short distance further and tripped again. I pulled her up a second time and offered to hold her hand, then thought better of it and asked if she'd like to hold Lauren's hand. She reached out and grabbed Lauren's hand, and they took off together.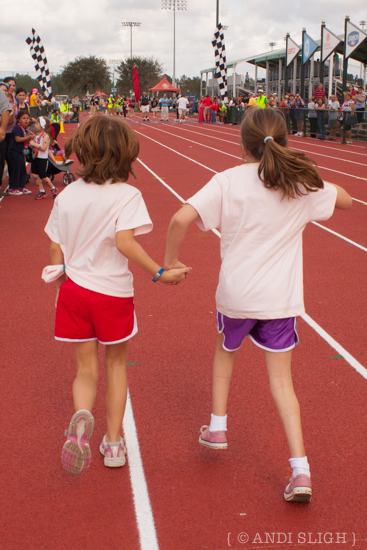 Friends and strangers alike were clapping and calling encouragement. I watched the two girls making their way up the track, hand in hand, and remembered that long ago day when another sweet girl insisted on crossing the finish line with Sarah Kate. I began to cry. I glanced over at Gina, and we both burst into tears and hugged each other, then turned to watch the girls finish the race. Sarah Kate had not tripped again, and I was proud, as I always am, of how she stuck it out and pressed on despite being far behind the others. And then came the highlight of the race.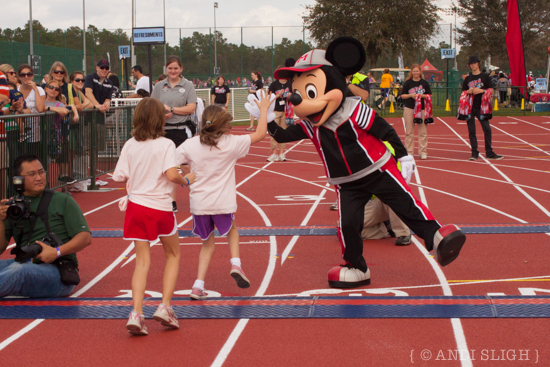 Mickey Mouse himself jogged over to the finish line, ready with a high five for our girls. Sarah Kate dropped Lauren's hand and threw her arms up over her head, running – actually running – toward him. Both girls crossed the finish, high-fiving and hugging Mickey, and received their medals.
Sometimes it pays to be last. 🙂