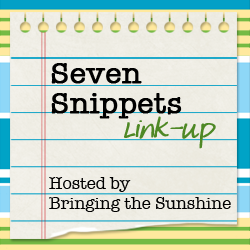 Have you seen this video about Dominique Moceanu and her sister? It isn't new, but I hadn't seen it before. It caused me to ponder what exactly makes a happy life? What about a meaningful life? Is it the achievements, or the struggle faced in the attempt? Good stuff.
I'm happy to report that I'm still getting up early. Getting up early and working out first thing = the bomb! Getting up early and feeling like I can't hold my eyes open another second at 9:30 p.m. = not cool!
So the jury's still out on the Great Early Bird Experiment of 2013.
Best we can tell, the dirt milk isn't doing anything for Sarah Kate. Not that we were all that optimistic, but we wouldn't have tried it if we didn't think there was a possibility of a positive outcome of some sort (I'd settle for something small, like improved digestive function…)
Or is it??? Sarah Kate had PT on Thursday afternoon and the therapist commented that she didn't seem as tight when she was stretching her. Of course, that might have been because I let her sit in the front of the car with the seat warmers on on the drive over.
Are you giving anything up for Lent? I usually pick something diet related (like Dr. Pepper), but I already cut myself off from all of the usual suspects around Christmas when I opted to recommit to strength training and get control of my weight (I'm down nine pounds by the way – WOOT!)
With Mr. Andi's encouragement, I finally settled on giving up lights after the kids go to bed (I read it somewhere on a list of suggestions…can't remember where). It's working pretty good so far, but our hurricane lamp is already out of oil. And it makes me sleepy even earlier.
So I was wearing a long sleeve tech shirt yesterday, and when I was getting ready for bed last night (in the dark…), I pulled the shirt off and heard the crackle of static – not uncommon for tech wear in the winter. But the interesting thing was that not only did I HEAR the crackle, but I SAW the spark! Wouldn't have seen that without Lent! Not that I necessarily needed to see it, but whatever.
Of her own volition, Sarah Kate gave up sweets for Lent. She realized the enormity of her sacrifice yesterday at school when it came time for the Valentine's party. 🙂
Have a great weekend!
Link up your own Seven Snippets below! Be sure to link to your post, not the main page of your blog.

Looking for a Seven Snippets template or graphic? Go here for some quick tools to create your own Seven Snippets post.
This post was inspired by and is linked to Conversion Diary's 7 Quick Takes.