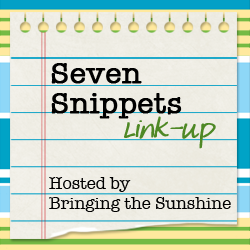 I'm starting off this week's Snippets with a downer. After a rally earlier this week, Nathan is sick again. Or more sick than he was. Again. However you want to say it. He started a third, different cocktail of antibiotics yesterday and we go back to the doctor this morning. I'm beginning to fear a hospital stay is in our future, so I'd appreciate your prayers.
UPDATE: Nathan was admitted at noon today. Pray that a boy gets better and his momma doesn't lose it. 🙂
Thank heaven for small favors. After three weeks of little to no sleep, I can barely write my name, much less a blog post. But I took the time to write down Nathan's birth story a long time ago, so the timing was perfect for publishing it in conjunction with his birthday this week. And even better…it's long enough that it needed to be split up into multiple parts.
A reader has a request and I'm hoping you can help. If you have a child with cerebral palsy and live in North Carolina, could you let me know what medical center you use? Duke? Johns Hopkins?
Have you seen this story out of Texas? Normally I'd post it in Sun-Beams, but I wanted to include a little bit longer comment than I'd normally add there so I'm including it in Snippets. One of the great things about this story, and others like it, is the reaction of his classmates. Everyone in the gym was on cloud nine – because he's been included as just another (albeit special) student. Scenes like these are what I dream of for our future – schools, coaches, players that willingly accept students in sports to the best of their ability because they want to, not because the federal government forces them in.
Did you see this piece by Ellen Seidman on Babble yesterday? I opted not to write my own post about the r-word this year on Spread the Word to End the Word day, but she did allow me to contribute to hers, along with several other awesome special needs moms.
Do you read Pudge and Biggs? If you don't, you need to start, and I'd recommend starting with this post: Any Questions?
Remember when I said that Mr. Andi's family is like the Robertsons on Duck Dynasty? And remember how I said that they aren't just similar, but that each of them corresponds to a specific individual? Well, Mr. Andi is Phil, and on this week's lizard episode, we learned that Phil and Mr. Andi drive the same identical vehicle, a black Toyota Tundra pickup.
Oh, and in case you were wondering, Baby Megan's dad is Jase.
Have a great weekend!
Link up your own Seven Snippets below! Be sure to link to your post, not the main page of your blog.

Looking for a Seven Snippets template or graphic? Go here for some quick tools to create your own Seven Snippets post.
This post was inspired by and is linked to Conversion Diary's 7 Quick Takes.