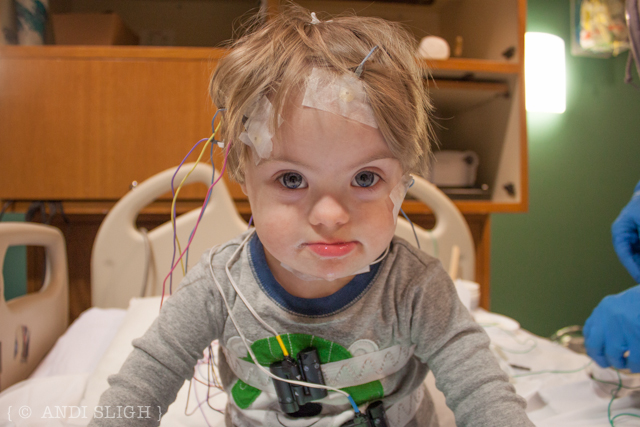 Fortunately, neither of my kids have serious long-term health problems, and Mr. Andi and I are both healthy, too. I would say "I don't know how they do it," referencing parents whose children do have serious problems, but that wouldn't be true, because…you do what you gotta do. I'm proof of that.
But since Nathan's had two hospital stays so far this year, the aggravation of time in the hospital is fresh on my mind, and since I've been suffering from an inability to think very deeply since, oh…Februaryish, I'm gonna give you a rundown of all the reasons I hate hospital stays, rather than a deep post on a complex ethical subject.
You're welcome. 🙂
And I do find it (hilariously? bitterly? strangely?) ironic that I'm posting this list on the same day that I have a call scheduled with a lady from Children's of Alabama to interview me about the kids and how they may fit into their "Child of Children's" campaign. And yes, I do think she'll probably read this so let it be known that my first world complaints are in no way a reflection of the care received at Children's of Alabama. Three stays at three different hospitals in thirteen months tells me that hospital aggravation is universal.
Five reasons I loathe hospital stays:
1. Terrible pillows. Seriously. Back in December of 2002, when I was laying only on my left side for several days trying to stave off premature labor, the most painful part of the week was…trying to get comfortable on that wretched hospital pillow. A decade later, I think the pillows may be even worse.
2. The inability to practice any semblance of personal dignity. That's a given when you're the patient, but it's true for the parent sleeping in, as well. I slept in the bed with Nathan (having learned my lesson about "guest accommodations" during the Chickenpox Outbreak of 2012 and Sleep Study 2013), which meant having strangers lean over me while wearing my pajamas, fumbling in the semidarkness at 2:00 am for the IV on his foot or the arm to check his blood pressure or what-have-you.
3. Multiple people coming in all through the night – checking vitals, asking questions, changing out IV medications, turning alarms off. It's brutal. My personal fave, though, was the nursing assistant who wanted to know at 1:00 am if he'd had any bowel movements that night. Um, I don't know. He's wearing a diaper. I changed him before bedtime and I don't plan to do it again until morning. 
4. Beeps, thumps, and alarms. The IV machine beeps, the pulse-ox meter alarms. Like, every time Nathan would roll over or reposition himself in some way, the pulse-ox meter alarmed. And the thumping? I think it was the IV machine but I never knew for sure. And all of those beeping-thumping-alarming machines have displays that shine brightly during the night, too.
5. Doctors-in-training. Okay, so I know residents are "real" doctors but I can't bring myself to wholly accept them until they've figured out a few things. Like why it's not cool to flip all the lights on and just start talking at 6:00 am when the patient and his mother are fast asleep (finally and miraculously!) No "good morning" or "sorry to wake you". I love Children's of Alabama, but…I don't love that they are located right next door to a prestigious medical school.
What's your story? Anything else to add about why you loathe hospital stays?