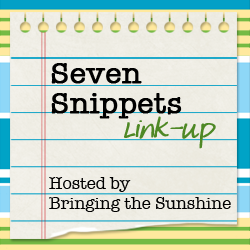 Remember when I said Nathan was getting interested in tee ball? Here's a little video from earlier this week. Notice his "practice swing" – he does it every time.
Speaking of softball, the prospect of 10U is on the horizon. Sarah Kate still loves softball, and although Mr. Andi and I believe the league would probably let her play 8U again next year, we don't think that's a good idea. The problem is that we aren't sure she's ready to play 10U.
We decided it would be good for her to watch a 10U game to see what the reality of it is – wild pitches, walks, getting hit, and stealing – so she and Mr. Andi stayed after her game on Tuesday night so she could watch the late 10U game. Our plan backfired. Not only does she want to play 10U – she thinks she can be pitcher.
We've noticed that Nathan seems to "talk" more by singing. The problem is that most of the songs he knows are pop and country that the rest of the family listens to, so… I need suggestions for some songs that won't drive me nuts for Nathan to learn and sing. It's gotta be something I can pretend isn't an annoying kids song. I am fearful that no such thing exists and I'm doomed to a future filled with Laurie Berkner.
Not everyone agrees with me, but I love the umpire that calls the 8U games. He learns all the girls' names and always keeps his cool, even when we parents yell at him (I am not above some overly exuberant exclamations from time to time 🙂 ). I shot this sweet photo of him tying Sarah Kate's shoe on Tuesday night.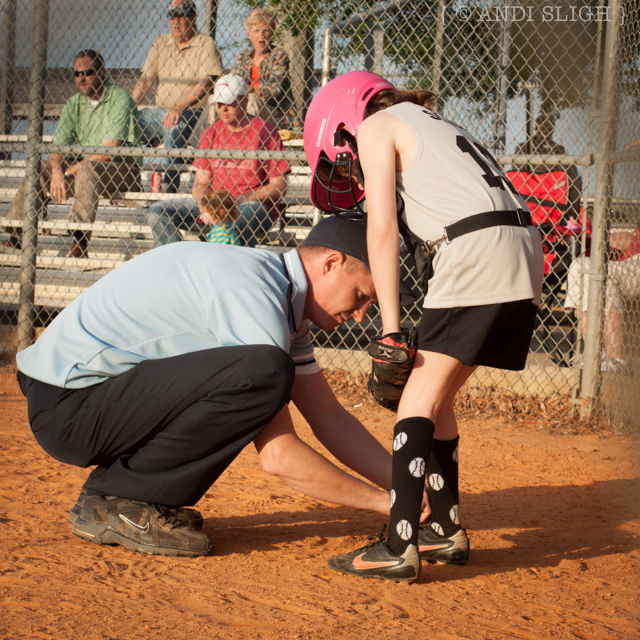 Have you been reading the Special Needs Sibling Week posts? If not, please take a few minutes to check them out. Shasta has the rundown and the linky over at her place.
BlogHer Voices of the Year 2013 submissions are open and I need your help! Bloggers are encouraged to submit a post for possible recognition. I've never submitted before, but I might do so this year. If there's a specific post I've written in the last year that spoke to you in some way, made you laugh, or pushed you to think, can you let me know in the comments? Don't worry if you don't remember the name of it – if you tell me the gist I can probably figure out which post it was.
And finally, pray for Gavin.
UPDATE: Please pray for Gavin, but most especially for his family, as the end is nigh.
Have a great weekend!
Link up your own Seven Snippets below! Be sure to link to your post, not the main page of your blog.

Looking for a Seven Snippets template or graphic? Go here for some quick tools to create your own Seven Snippets post. This post was inspired by and is linked to Conversion Diary's 7 Quick Takes.