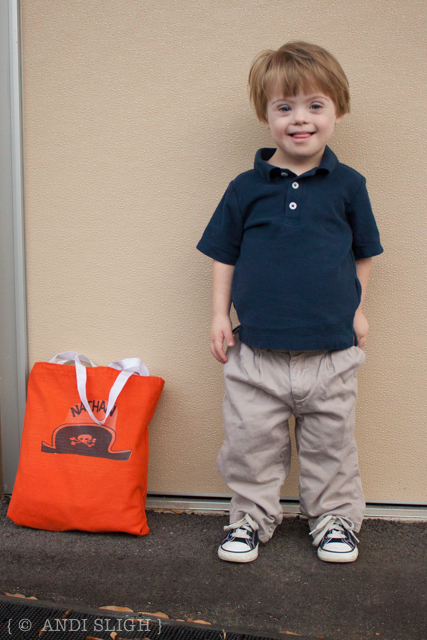 Despite the apparent forcefulness of last Tuesday's rant on the Robert Ethan Saylor case, I struggled with the decision to post about it. The story picked up a lot of steam following the grand jury's decision not to indict, but I'd been watching the case for weeks. In fact, I had a draft written several weeks ago that I discarded, and even after the grand jury findings were released, I wanted to lay low.
Like Courtney of Pudge and Biggs, I think the case is murkier than the outrage in our community would have us believe, and in many ways I'm willing to accept that it's "just" an unfortunate tragedy. But there is enough doubt in my mind – based on our society's attitude toward disability in general and Down syndrome in particular – that I also can't wholly accept that the officers weren't responsible. Which brings me around to a subject that's been bugging me for some time.
We want to be treated like everyone else…except when we don't.
A lot of the outrage in the Saylor case is about how the deputies should have received training in dealing with individuals with special needs, while also focusing on the alleged violations of standard protocols of restraint (i.e., cuffing him while he was face down on the floor). I have to ask: if it's wrong to cuff someone when he's face down on the floor, what difference does it make that he had Down syndrome? There are other questions, of course, but I want to move on from those for today and ask a different one.
Is it right for the special needs community to expect special treatment?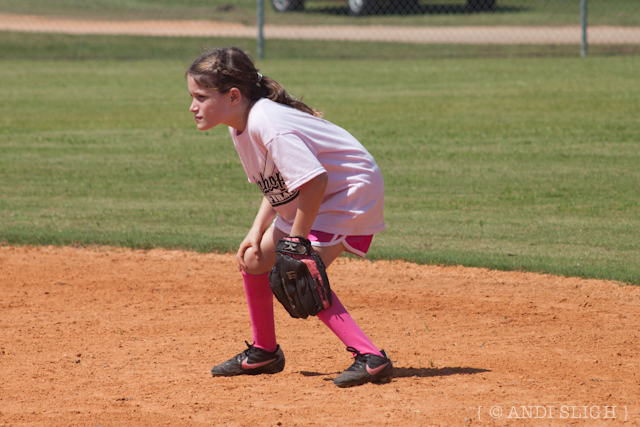 I wanted Sarah Kate to be able to enjoy softball and I didn't think she would if she played 10U, so we asked for an exception for her to play down in 8U for another year. She hits, fields, and practices like all of the other girls on her team, and she's the same size as the average 8U girl, so she doesn't look older. I want her to be treated like the other girls, and she is…except for that one big rule that applied before she even showed up for the draft.
Because she's different and she needs special treatment.
Then there's Nathan. I enrolled him in private preschool last year because I wanted him to learn and play alongside typical peers, just as he will be expected to do for years to come. The preschool welcomed him with open arms, no questions asked and no concerns expressed (not everyone with special kids is so lucky). But then I brought them a cheat sheet of sign language, and I asked if the Early Intervention therapists could come observe and work with him in class, and the therapists asked the teacher if she could do X, Y, and Z with him when he's there.
Because he's different and he needs special treatment.
And then there's me. I say I'm just like other moms, but I'm not. I don't have a lot of patience for people who complain about things that, in my opinion, don't matter. I don't want to hear that a mom was "devastated" that her baby was a boy and not a girl, because what I hear is "spoiled and ungrateful." Is that fair? Probably not, but there it is. And if we are to be friends, you've got to remove the r-word from your vocabulary. A slip up or two I might let slide, but beyond that I'm done.
Because I'm different and I expect special treatment.
It's a fine line to walk, and as I mulled over the Saylor case, I felt like a hypocrite. Are my children (and I) entitled to special treatment because they have things a little tougher than the typical crowd? It felt icky to think of it in those terms.
But the more I thought about it, the more I realized that I'm right back where I was when I was a female working in a male-dominated field. Back then, I didn't try to be like the men, and I didn't expect special treatment. Sometimes my femaleness meant I got the shaft, but other times it gave me a leg up. All I wanted then was to feel confident that the people I worked for and with acted in good faith.
I stand by what I said last week about the Saylor case, not because I think that Ethan Saylor should have been given special treatment due to his Down syndrome, but because I'm not convinced that all of the people involved – the theater lackey, the off-duty deputies, the bystanders, and the grand jury – acted in good faith.
I expect kindness, compassion, and honesty for my family.
Whenever those things exist, the details will work themselves out well enough.