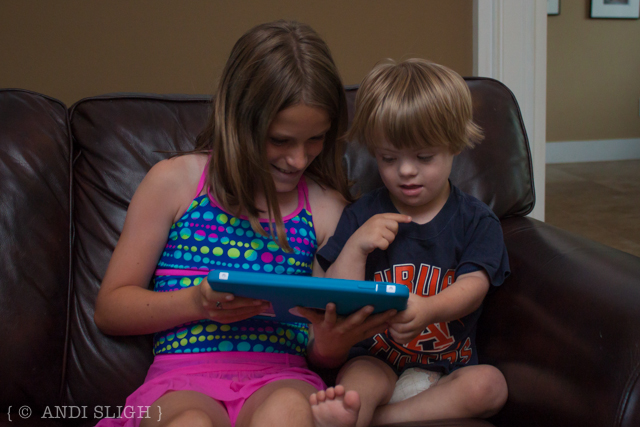 Okay, so the title of this post is pretty terrible, but I couldn't resist.
I don't watch Lifetime movies, but I do like to look at the movie titles on the guide. They're usually a title that sounds very similar to a real blockbuster (like "A Decent Proposal" sounds like "Indecent Proposal"). But none of what I've said so far  has anything at all to do with today's post – I just wanted to throw that out there in hopes that others will throw in with me that, "OMG, I've noticed that, too!"
So on with the show…
Both of the kids are now out of school for the summer, though Nathan will be doing two days a week at his private preschool. Since he won't be getting any speech therapy through school I've been researching private therapists – getting recommendations and trying to figure out how to work it into our summer schedule without summer feeling so…scheduled.
In the meantime, I found a couple of new apps that Nathan has gone gaga over. Learn to Talk is a collection of interactive audio flash cards – each one shows an image and a word or phrase. When he swipes the screen, a voice says the word or phrase, which is also printed on the screen under the image. There's more, but since this post isn't sponsored I'm not obligated to tell you all that stuff. Let it suffice to say that it's a great app (there are actually two versions).
And the first time he played with it, I realized that he knows a lot more words than I thought he knew.
His speech isn't clear but for a lot of words we can tell what he's saying because he also uses the sign; for words without a known sign, it's a lot tougher to understand him. But with a flash card it's really easy to figure out what he means…and to realize he's saying a lot more than we think he's saying.
He's been using the app for several days, but he especially loves it when someone sits with him while he plays. He loves the instant feedback! As I was sitting with him the other day while he shot rapid-fire through 100 digital flash cards, I wished his speech therapist could see him. She got excited one day when he identified a handful of animals (he's been doing that at home for over a year) – like with his classmates and teachers, he doesn't talk to her.
A few more days went by and I watched him with the new apps some more. Suddenly it dawned on me: these apps might do more for his speech this summer than a weekly session of speech therapy with a new person he doesn't know (and probably won't talk to right away…), and they are a heckuva lot cheaper and more convenient.
Another couple of days went by. Sarah Kate finished the first Harry Potter book and wanted to watch the movie, which she did. Then the next day she watched it again. And now she's begging me to get the other movies and the other books and I'm pretty sure there was some wizardry going on in the backyard  yesterday afternoon with the neighbor kid.
And that's when my genius plan was hatched.
Sarah Kate loves her brother. Sarah Kate loves the iPad. Sarah Kate loves playing with the iPad with her brother. Sarah Kate needs money for Harry Potter books. Pay Sarah Kate to go through the Learn to Talk flash card apps with her brother. 
So that's my genius summer speech therapy plan: pay Sarah Kate an hourly rate (well below the minimum wage, I might add…) to do the Learn to Talk flash card app with her brother for 30 minutes a day.
I think it's brilliant.