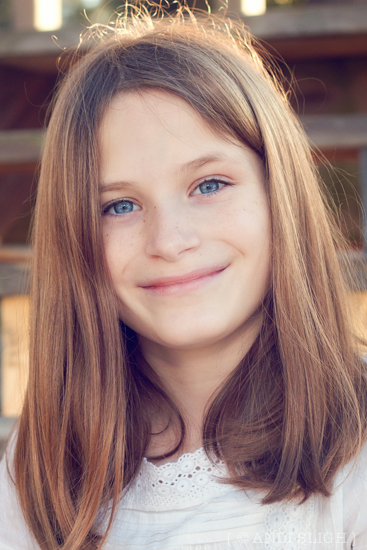 When I agreed last week to let Sarah Kate write a guest post for me, it hadn't occurred to me that she hasn't been taught any creative writing in school yet. 😉 Many of you were enthusiastic about reading what she had to say, so I'm sticking by my original decision to post her thoughts today. Thankfully, you all also told me some things you'd like to know from her, so she used that as her guide to write the following post. Here it is, completely unedited, (except for the headers added by me and the italicized notes).
On Staring
Most of the time at school kids that I don't know just stare as I walk by. When I first noticed this I was surprised and I felt uncomfortable. If someone feels uncomfortable just pretend like I'm a normal person like I do when people stare at me, I pretend they aren't staring at me.
On Braces
My braces have foam on the inside. They have Tweety Birds on them. Because of the foam they make me really swetty after school. They help me keep my legs straighter. I don't have to sleep in them. It is a little uncomfortable when I wear them. I don't like wearing my braces to school because people pound me with questions that are hard to explain, and stare at me. I wear pants to over my braces so people can't see my braces.
On Other Kids
One time at elementary school our class passed by some of the kindergardeners. They started pointing at my braces, and whispering to each other. That day I felt really uncomfortable. I also feel uncomfortable when we pass through the 5th and 6th grade halls. I'm afraid they will laugh at me and make fun of my braces and my form. It makes me scared when I have to walk down their halls. I'm afraid they'll laugh at me, and bully me.
On Night Splints
My AFOs help straighten my legs at night when I'm asleep. I don't wear them every night though. I only wear them if I want to. Sometimes I don't wear them because sometimes they are itchy. They wrap around my legs and have metal bars in them to keep them straight. I'm not sure what AFO stands for. I don't really like wearing them because it's hard to sleep comfortably. If I wear my AFOs at night I don't have to wear them at school the day after.
Note: When Sarah Kate says AFOs, she doesn't mean AFOs, she means night splints, and when she says "them" in the last sentence she means her braces. I didn't realize she didn't know the difference until she wrote this post, so I left it the way she wrote it. If you aren't familiar with AFOs, that stands for ankle-foot orthotic (i.e., her braces).
On Friends
My friends take care of me, and make sure I don't get hurt. One of my friends named Jerry helps me out a lot to make sure nothing happens to me. I'm really happy my friends care about me.
On Socks
My socks are sometimes really tall, others below my knee. Although really tall, in the summer and early spring they don't make me hot. But they do make me sweat even though I'm not hot at all. I like wearing them to school because they are cute on me. I occasionaly get some comments from usually students from other classes besides mine.
On Blogging
I think writing a blog is a great way to express my feelings with others who don't know about me as well as my family and friends. I also think writing a blog is good for my creative writing skills later in life.
Is there anything more  you'd like to know about any of these topics that she covered? I know there's not a lot of detail here, but I hope it was enlightening just the same. 🙂