One of my pet peeves is when I see news articles that refer to Down syndrome as a "disease." Most of the time I let it slide and just fume a little about it inside, but this week a story popped up in my reader and I couldn't resist leaving a comment about the headline – "UC Davis to study new treatments for fatal childhood diseases". I took a screenshot of the page (shown below) and left a comment.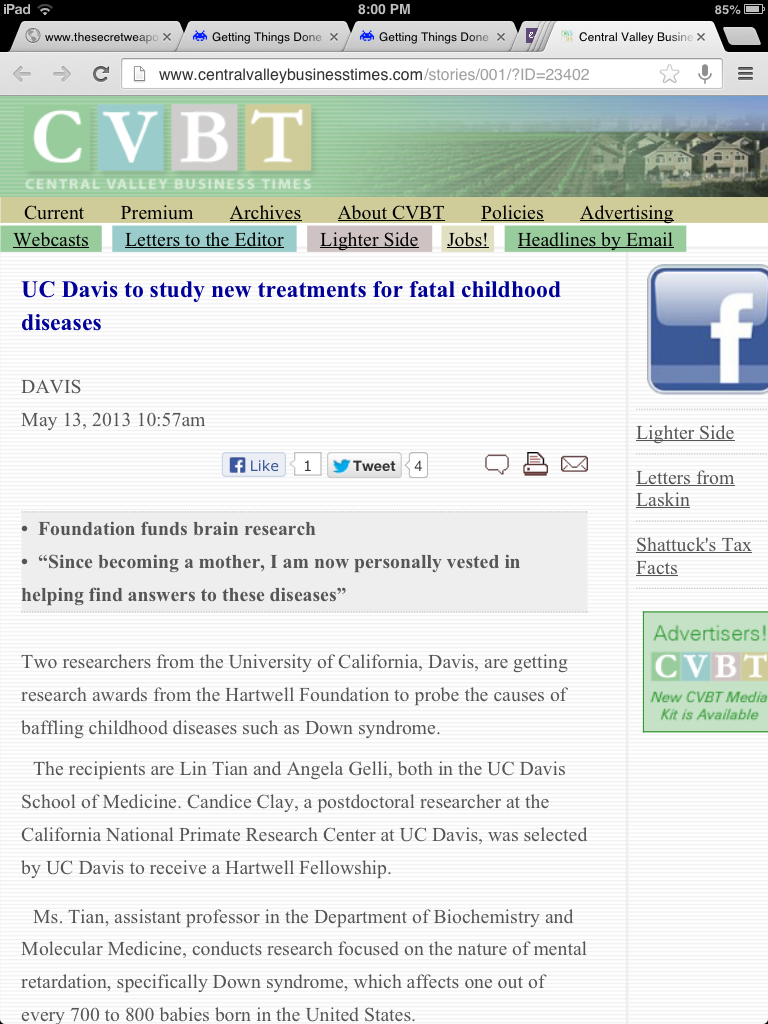 Because it just wasn't acceptable to me to let it go – Down syndrome is not fatal, not a disease, and not limited to childhood.
So as I was typing these snippets I decided to check the article again and see (a) if the comment I left was published, because when I submitted I got a response that it would have to be approved, and (b) if the headline had been changed based on my comment. The answers are yes and yes, but I don't think the revision is all that stellar, either.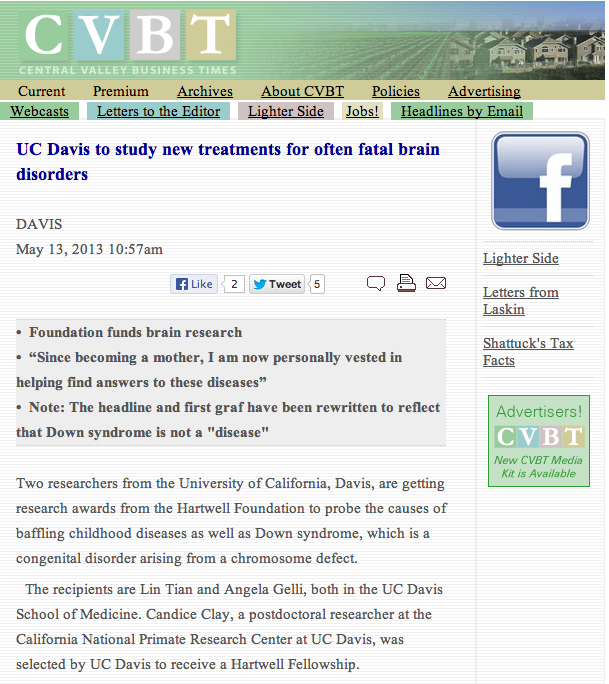 Oh, well.
As promised, I give you video of Wednesday night's bike expedition. More on the bike next week – in short, it's so awesome that I've already finished a post about it.
Recently, I asked my friend Sarah whether or not she drives (Do you read her yet? If you have a kid with CP, you should!). I don't even remember why I brought it up, but she graciously answered my questions and even went a step further and wrote a full post about it.
I don't want to spend too much time on the whole Abercrombie & Fitch debacle, but Kristen Lamb had another great piece this week on the dustup. Worth the read just for the entertainment value!
School is (almost) out for summer – do you know what that means? Time to get serious about potty training. I have been dreading this event (and procrastinating for months…) but I can't put it off any longer. He's had a few successes, but mostly he just likes to sit on the potty for a few minutes, give me a gigantic grin, then move on to other things.
I think it's time to pull out the big guns – moving the potty to the living room and going pants-less in the yard. Is there a patron saint of potty training? I need some intercession. STAT.
And just a reminder about Seven Snippets: I'm discontinuing them effective this week. The linky tool is gone, but if you want to keep on snippeting you can link them in the combox.
Have a great weekend!
This post was inspired by and is linked to Conversion Diary's 7 Quick Takes.