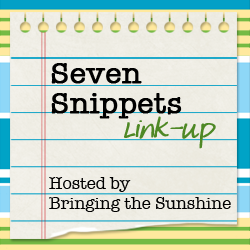 Thank you to EVERYONE who commented on Sarah Kate's premiere blog post this week. I will admit feeling that the quality was a bit cringeworthy before I put it up, but I was proud of her for making the effort – and proud of her strong showing in the punctuation, grammar, and spelling arenas. It wasn't perfect, but it was pretty dang close. Not sure if she'll become a recurring feature or not yet, but she did enjoy reading what people had to say.
The adenotonsillectomy recovery is almost complete. Now we just have to wait a few weeks until it's time for the overnight pulse-ox monitoring. I am not allowing myself to look past that because if it doesn't go well the next step is not a step I'm willing to entertain. C-PAPs are not for wild-arse preschool-age boys.
Tonight is the last Friday night for softball, and the last game is on Tuesday. The end of the season can't come soon enough for Mr. Andi and me. For a lot of reasons, this season hasn't been nearly as much fun as last spring (or even last fall), though I do think Sarah Kate has enjoyed it. She may have reached the end of the softball road, though. We've told her if she plans to play next year she'll have to move up to 10U and she'll need to start in the fall.
With her great hand-eye coordination, I'd really like for her to try golf. Of course, for that to happen I may have to try golf, too, because Mr. Andi hates to play.
Coincidentally, Mr. Andi scored two tickets to the final round of the Mobile Bay LPGA Classic, and he's going to take Sarah Kate. She seems excited so we'll see if that spark lights a fire in her to want to try golf. If she really gets into it (and yes, I know, cart/horse and all that…) I think there's a chance I could arrange for her to meet a certain female golfing legend who broke down barriers of her own who shall remain unnamed but is AMAZING and super nice.
Did you see the Call the Midwife episode with the baby born with spina bifida? I love the show, but that episode was one of my favorites. It's set in London in the 1950s, when institutions were common, and that's all I'm going to say because I don't want to spoil it. Very powerful. Even if you don't regularly watch the show, watch this episode. You won't regret it. You can find the full episode online here at PBS.org.
I have become that mom who has a Kidz Bop playlist. Despite a hearty effort, I just can not get myself to listen to much of anything that bills itself as children's music. While looking for an expletive-free version of Payphone, I stumbled across the Kidz Bop version. I searched through the extensive collection of Kidz Bop titles and determined some of them weren't half bad.
That's not to say they were half good, either, of course.
And finally, two minutes and four seconds of pure delight. Or torment. Which one depends on how you feel about Gangnam Style and parents who post videos of their young children dancing to it. You're welcome/I'm sorry. There may be a bit of dropping it like it's hot. 🙂
Have a great weekend!
Link up your own Seven Snippets below! Be sure to link to your post, not the main page of your blog.

Looking for a Seven Snippets template or graphic? Go here for some quick tools to create your own Seven Snippets post. This post was inspired by and is linked to Conversion Diary's 7 Quick Takes.