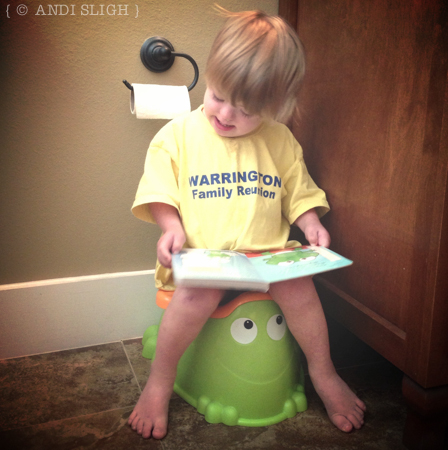 Yep. I'm really doing it this time.
Potty training started this week in earnest. After six months of procrastinating and at least that long of considering my training options – because, as you know, I'm terribly indecisive – I decided to follow the same plan I used for Sarah Kate. Which is to say, not really a plan but more like house arrest for as long as it takes.
I did a little research on different methods, both for typical kids and kids with Down syndrome, and discarded the "toilet training in one day" for a variety of reasons but mostly because I don't think Nathan would give a good hot d@mn about a peeing doll or a potty party. I also did some research on what age is appropriate to potty train a child with Down syndrome and the range I found was 18-84 months. So anywhere from a year and a half to…second grade?
Not. Helpful. At. All.
So I picked a week that we were mostly not doing a lot of stuff away from the house and brought the potty to the living room and I'm sitting his booty on it every hour all day long until it sticks. It was a little challenging when we had to go to Publix but I was a seriously speedy shopper so all was well.
I had hoped when we started cloth diapering that potty training would be easier because the claim is that cloth-diapered kids can feel when they're wet and all that jazz. But…we had to give up the cloth diapers a few months ago because Nathan was peeing through them every few hours. So…whatever. I made it almost three years exclusively cloth, so…WIN.
And yes, I know that pull-ups are basically just like diapers and kids really should go straight into underpants but OMg I can not deal with Cold Turkey Underpants so pull-ups it is. For now. I'm struggling mightily to overcome the fact that I have a Potty In My Living Room (!!!). A mom who's not as sweet as she used to be (Hello, 43!) can only handle so much, amiright?
We started first thing Monday morning.
It went mostly poorly but he didn't fuss about sitting on the potty so I figured that was a win. We watched Potty Time
at least a dozen times – all of us can sing and sign the songs in our sleep now – but whatever it takes, right? We survived Monday and he peed in the potty a few times – the first one was an accident, I'm pretty sure, and he didn't exactly signal he was finished the other times, but again…WIN.
Day 2 (Tuesday) was something of a respite day for me – Nathan had preschool for four hours where he was somebody else's Potty Problem, and I went to dinner with friends Leaving Mr. Andi To It for the last couple of hours before bed. A few more pees in the potty, so…WIN.
Day 3 (Wednesday) started off great – three hours, three pee-pee potties. Woot! And he even stood up when he was done…signaling that he is, in fact, "getting it" at least a little. Double Woot! But I started to realize that perhaps I made a crucial miscalculation in my potty non-plan. Over the weekend, as a warm-up to the main event, I encouraged Nathan to sit on the potty several times. He was born with ants in his pants so getting him to stay still more than a few seconds was a challenge. Books merely delayed the inevitable by a few more seconds.
Enter the iPad.
Like I said, by Day 3 of Potty Boot Camp, things were going pretty well in terms of pee-peeing and being willing to sit on the potty. Unfortunately, Nathan now asks for the iPad every time he sits on it. So instead of a well-trained preschooler I may come out on the other side of this week with a Little Old Man With a Morning Constitutional.
Win? I'm not sure. But it if gets the potty out of my living room…