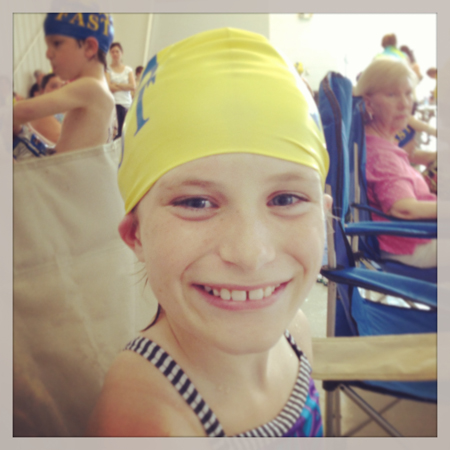 My friend Carol Beth let me know that in Houston you can take a 4-hour class and the city allows you to give citations to vehicles parked in disabled parking spots without tags. A lady she knows in the area has a ticket book and she gives tickets! I shared that info with Mr. Andi so he has now been calling me Barney all week and suggesting that the chief might give me a bullet.
But since I'm not Barney and it's more important to be kind than right, I'm taking a different approach. I spotted a teenager parked next to me when I came out of swim practice on Wednesday, and since her window was SO close to where I was loading Nathan in the car, I had a few minutes to consider what, if anything, to do. I finally gestured to her to roll the window down and asked her if she had a disability placard, to which she answered, "No, but I was just running in for a minute."
Of course.
I replied that doing that was "not cool and not legal" (do teenagers even know what "cool" means? I'm old so I don't know…). Anyway, her eyes got big…and then she thanked me.
On Thursday, I knocked on another placard-less lady's window, and again asked her sweetly if she had a disability placard. She answered that yes, she did, but she had forgotten to bring it with her, and that it was for her eight-year-old son…who has Down syndrome. We exchanged pleasantries and business cards and I made sure to clarify that if she visited my blog she would find a post about a lady in a black sedan and that she was, in fact, NOT The Black Sedan I was referring to in said post (and she really wasn't…just a coincidence).
So I think that's two wins for Blue Tag Barney this week, don't you think? I didn't accuse anyone unjustly, I met a potential new friend, one person may have been educated, and I didn't get shot. Yay, me. 🙂
— 4 —
Megan asked what Sarah Kate thinks about the video I posted of her this week. I sat her down to watch it with me yesterday and here's what she had to say:
When I watch it, I think CP makes things hard for me, but not impossible, and how much different I was with my CP than I am now. It just amazes me. I feel like the harder I try, the better I am. I liked that Mom put in the softball because not many people with CP would be as successful as I was in softball. I wish that I could show people another way that's fun and helping my CP – riding my bike.
— 5 —
Outtake #1 from the various and sundry video clips I shot this week for the updated SDR video. Click to see Sarah Kate Jumping:
I guess it's not really a true outtake but more like footage left on the cutting room floor. But regardless and believe it or not, it is an impressive feat.
Outtake #2 is a for-real outtake. I initially tried to film Sarah Kate running in the backyard, but for various reasons decided that was a bad idea. You can probably guess what one of those reasons was, but in case you can't, click to watch.
The first swim meet of the season – the intrasquad meet – was held on Thursday night. I am So. Over. swim team already and I wasn't expecting much. Sarah Kate seems less interested this season in improving and more interested in just relaxing in the water…which is fine, if we weren't doing the meets. She swam two events – the first event was 25 Back and she was S-L-O-W. I was 100% certain she wouldn't come anywhere near touching her personal record on the 50 Free, because her PR is crazy faster than any other time she swam that distance. And I was right. Really, really slow.
But an amazing thing happened. She didn't finish last.
Have a great weekend!
This post was inspired by and is linked to Conversion Diary's 7 Quick Takes.