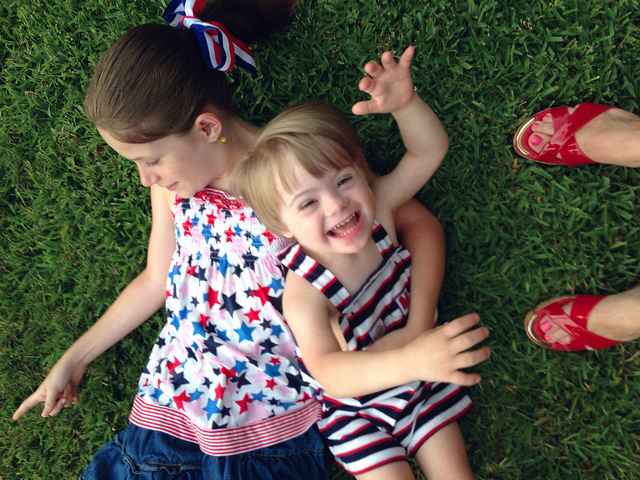 News broke recently that a University of Massachusetts Medical School research team has found a way to suppress the expression of the extra chromosome in people with Down syndrome, making it at least conceivable that some of the typical manifestations of Down syndrome could be treated – maybe even prevented altogether if treated in utero.
When I first read about it, I was encouraged.
Since 1958, when Jerome LeJeune identified the cause of Down syndrome as a trisomy of the 21st chromosome, the attitude of most of the scientific and medical community has been that Down syndrome couldn't be treated due to its complexity, so few dared to try. In fact, the current level of funding devoted to Down syndrome research – even that targeted at narrow aspects of the condition, like cognition – is far outpaced by funding for less common conditions such as cystic fibrosis and fragile X syndrome, so I was happy to hear that someone somewhere cares enough to study Down syndrome.
But I was wary, as well.
As firm as I am in my assertion that Down syndrome is "something Nathan has, not what he is," it's not quite that simple. While I'd love for his struggles with speech to disappear, I don't think I'd be willing to sacrifice the monster hugs he shares all 'round. I'd like for him to be smart (not just clever, which he already is), but would I have to give up his mischievous grin to make that dream a reality? I'm not sure, but I wouldn't want to if so.
It's natural to wish he wouldn't struggle, and to see Down syndrome as the root cause of his struggles, both now and further down the road. But is the extra chromosome really the problem, or is it the people who view Down syndrome negatively? What difference does it make if Nathan is short? Does it really matter if he doesn't earn a college degree? Most of the things that characterize Down syndrome aren't diseases or even conditions – they're just different ways of being.
To be fair, I also had to ask myself: What if a cure was developed for cerebral palsy?
Thinking about Sarah Kate and her abilities, I do think I'd want to cure her if I could – but my feelings are complicated. Sarah Kate has gained a lot on a personal level by having cerebral palsy. Her life hasn't been as easy as that of her peers, and she's had to work hard to achieve things that most kids take for granted. Those challenges build character. But does she need to continue to have cerebral palsy to benefit from it?
I don't think so, but does that mean I'd want to cure her? I'm not sure.
I think I would, but I posed the question to her, and she answered – without hesitation – "no". She doesn't want a cure. But even if she felt differently, cerebral palsy is only one aspect of her, and comparatively simple. It's a different way of being, yes, but unlike Nathan, cerebral palsy will – without a doubt – create health issues for her in the future that are wholly independent of other people and their opinions. If her CP was taken away today, she would still be the same kid. If Nathan's T21 was taken away, would he be? I don't think so.
Tell me what you think. Would you want to cure your child?