And all the angels sang, "Hallelujah!" when they heard the good news that school is back in session!
I kid, I kid … sort of. 😉 I will miss the freedom of the summer days but I'm also happy that we're getting back into a routine. I'd be lying if I said that I don't relish the opportunity to have a few free hours each week with … silence.
So, as per custom, I took a First Day of School photo of Sarah Kate.
It did not reflect the natural beauty that is my firstborn child, which might have something to do with the fact that I scolded her for already having something on her shirt before we left the house (I mean, really? How does that happen? I think it was toothpaste but I'm not certain.) She also has morning bags under her eyes and a posture I'll simply describe as "reluctant subject."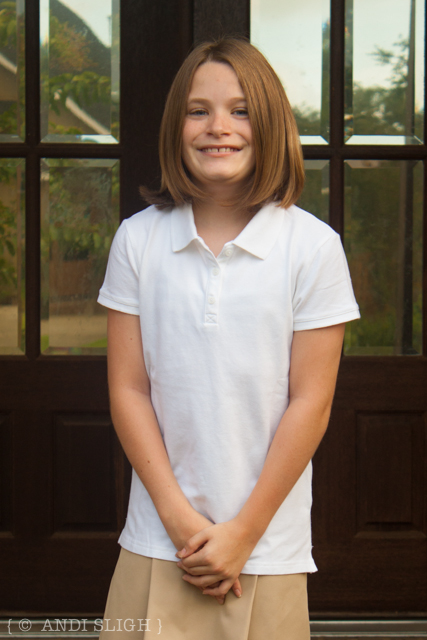 The dropoff went pretty well – long lines, as is typical for the first couple of weeks before a large number of people come to their senses and decide the bus is SO WORTH IT and become carline dropouts. She flung her car door open before the whistle – a major carline faux pas! – but she's the size of one of the newbie fourth graders so she got away with it. Otherwise … uneventful.
Nathan's dropoff and obligatory photo were a bit more touch-and-go.
I decided I'd rather take his First Day of School photo at the school with his teacher, so I grabbed my camera and we headed over. I timed our arrival to be a little late (I thought, wrongly…) in hopes of being the last one to arrive so I could brief her without the other parents. I rehearsed a few points in my mind as we walked into the building and then hit her with both (okay, three..) barrels.
Andi (tentative smile): I just have a few things to tell you about Nathan.
Teacher (warm smile): Sure, go ahead!
Andi: He's a runner. Like, he'll sneak out and run away.
Teacher (still smiling): I'll keep the doors closed.
Andi (glancing over at doorways): He knows how to open handle-type knobs and regular round ones. Just FYI.
Teacher (still smiling): Okay.
Andi: I don't know how he's going to do with the potty. He goes both poo poo and pee pee in the potty at home, but he didn't go in the potty at school all summer. Oh, and you'll have to make him go, too. He won't tell you.
Teacher (looking bemused): So what does he do? Hold it?
Andi (hesitating): Um … no. He'll just go in his pants. And when you send him to go potty, you'll have to make him sit there for a few minutes.
Teacher (still looking bemused): Okay. I'm sure he'll be fine!
Andi (now serious): And don't assume that because he doesn't talk that he doesn't know what you're telling him.
So … yeah. I crossed my fingers and left. Oh, and I forgot to take his First Day of School photo.
I decided to try again when we got home.
There was just one problem. The cute green outfit inexplicably paired with un-matching red shoes? Not the First Day of School outfit.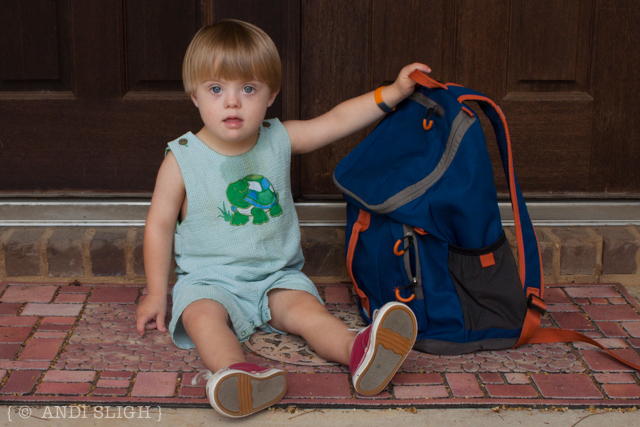 The First Day of School outfit came home in a baggie. Exploding poo that got all over both articles of clothing and required one of the "floater" teachers to take him down the hall to get cleaned up because the three-year-old class is "not equipped to handle that."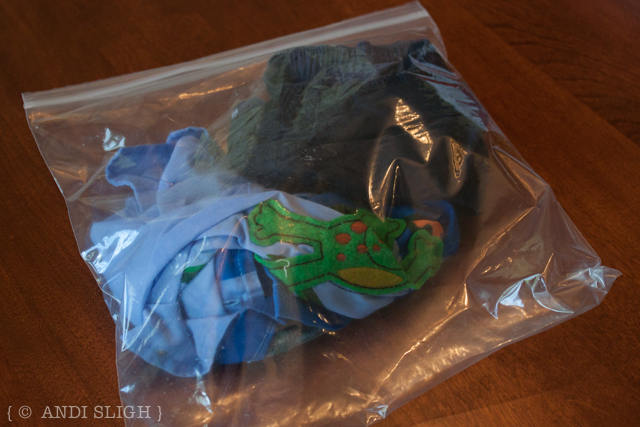 But his teacher did say, "He had a great day!" which I hope means that we can look forward to many more Great Days to come and which I hope even more doesn't mean that she told the director as soon as I walked out the door that I'm a lying liarpants and that he has to go. In what is probably a futile attempt to sweeten the pot a little, I did drop off a giant rolling cart full of old Creative Memories inventory (GIFTS! FOR THE SCHOOL!) when I came back for pickup. Perhaps I'll get lucky and it'll buy me a few more weeks to convince Nathan that it is absolutely as cheer-worthy to go potty at school as it is at home.
But back to Sarah Kate…
I tried again for a decent First Day of School photo when she got home, and things went a little better (though not great) the second time around.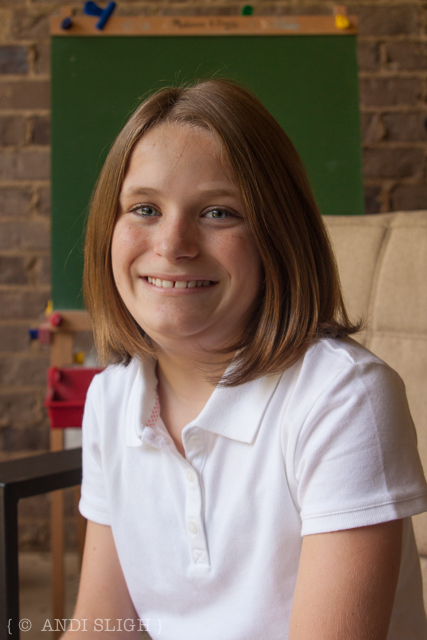 It helped a lot when the dog photobombed a few times and got her all giggly.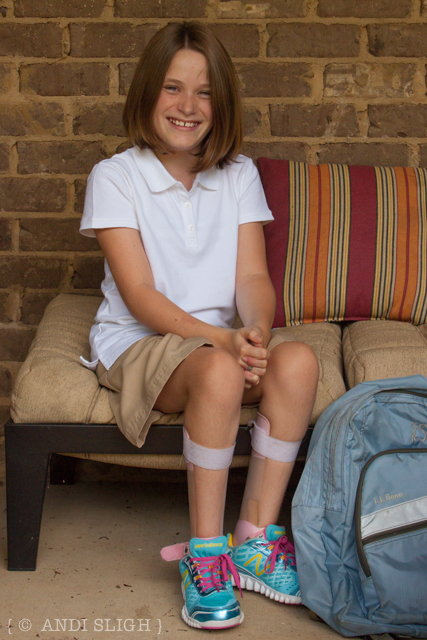 Did you notice anything about the braces? No Tweety Bird this year. She's reached the age where she'd prefer to go CPI (cerebral palsy incognito – and yes, I just made that up), and I think the brightly colored sneaks help.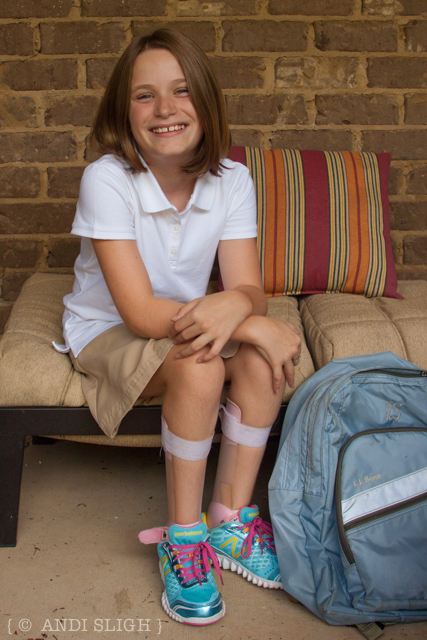 So all in all, a hit and a miss for the first day of school. Nathan starts the developmental preschool tomorrow (complete with school uniform..) so I'll get another shot at a First Day of School photo.
Has school started in your neck of the woods? Tell me about it below or share your First Day photos on my Facebook page!