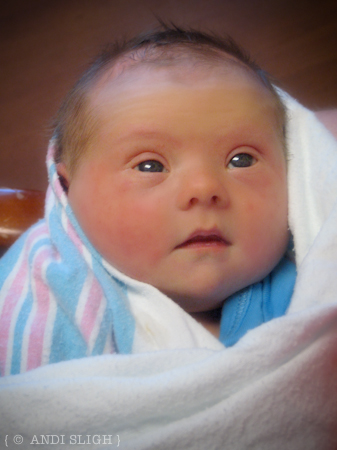 It was bound to happen sooner or later.
On Monday morning, a kind soul notified me that a photo of Nathan had been stolen from this blog and was being used to solicit gifts on an online "wish" site. The individual claimed she'd had a baby boy and needed items from her baby registry at Wal-Mart. Above her "wish" was a photo of Nathan that was taken at the hospital when he was two days old; it is found in this post and if you search "baby with Down syndrome" it's on page 1 of Google images. My name and copyright symbol were clearly watermarked in the bottom left corner.
Another recent incident involves my Flickr page.
All of my images are marked "All Rights Reserved", but my photostream isn't private. From time to time, I receive requests to add photos to different groups – Dogs Named Daisy, Education Orthopedic Brace, Kids With CP and so on – and sometimes people I don't know favorite an image of mine.
A few weeks ago, a stranger (with the default avatar – a red flag in social media) favorited three photos of Sarah Kate – in all of them, her braces were visible in the photo. Over the weekend, the same three photos were favorited again by another Flickr user, also with the default avatar. I was curious, so I checked out both user's Flickr pages. One of them had no photos, only favorites, and the other had both – and many of the images were disturbing and, to put it delicately, not safe for work.
It occurred to me that these anonymous Flickr users may have a fetish for females with visible physical disabilities.
Several years ago, Sarah Kate was featured in a newspaper story. She was wearing a dress that fell below the knees in the photo. The reporter contacted me after the story was printed because she had received an email from someone whose interest in Sarah Kate and what she was wearing set off alarm bells. Nothing else happened, and we've since moved over 350 miles away, but it did give me pause.
I'm not the first parent to share a photograph of my child on the Internet, only to have it stolen and/or misused. Many others have gone before me and in some cases, the outcome was much, much worse than a scammer requesting baby gifts. It's a risk I've chosen to take, with full knowledge, because I'm doing something here that I believe is good.
But at times, I question whether it is worth it.
I've mentioned before that I have a Post-it next to my computer that reads "Don't listen to people who aren't saying anything" – it's a constant reminder to let it roll off my back When Trolls Attack. I can choose how and to whom I respond, and although I do it very rarely, I can delete comments whenever I want. When a photo of Nathan was used (with permission) by the IDSC last year and went viral on Facebook, not all of the comments were kind, but I was okay with that, because the message was clear – they just didn't agree – and I approved of the way the photo was being used.
But I can't control what people do with an image of my child.
Maybe I shouldn't care, but then I think of Heidi Crowter, and I am afraid.
Like last week's post – and unlike most others on this blog – I won't be wrapping this one up with a bow. I don't have an answer. My head tells me that the greater good is for me to keep on going, for the benefit of other parents who may need to hear what I have to say, and to push back against the darker forces in the world, but my momma heart tells me that I need to go dark and hide my babies away from the world to keep them from getting hurt.
For now, I plan to keep going, and I said a prayer for these people I don't understand.
NOTE: I left a warning comment on the wish for anyone who might be considering donating to the individual, and contacted the site's security department about the stolen photo. Site security responded immediately by removing not just the photo, but the entire wish page.