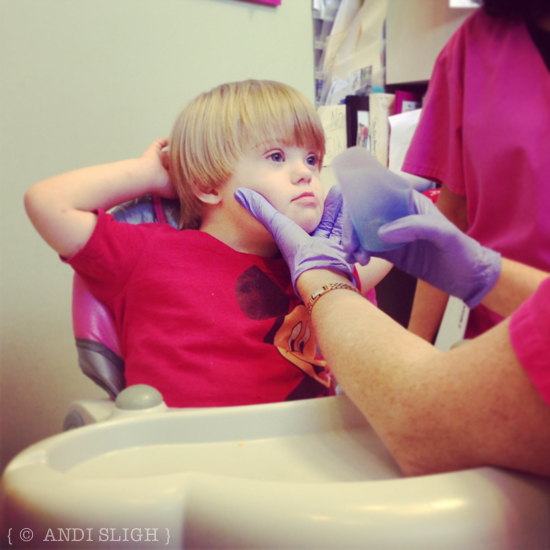 After months and months of agonizing and second guessing and discussing, we decided to send Nathan to private speech therapy. He receives speech twice a week at his developmental preschool, but even though he has been making progress, it's slow and tedious. I'm not sure what private therapy might do for him, but something needs to be done.
The thing is, he talks. A lot.
Even though he tends to be quiet at school, he's a chatterbox at home. Sometimes he goes out in the backyard and talks to no one while gesturing wildly – he looks like a traveling evangelist preaching a hellfire-and-brimstone sermon to a sleepy congregation of grass. The problem with his sermons – and all of his other vocalizations – is that much of it is garbled and difficult to understand.
In short, what he's been working on isn't working.
As with many disciplines, multiple schools of thought exist about what is effective speech therapy. Some people adhere to a hardline perspective – "In order to improve speech you have to work on speech!" – which discounts any possible benefit from oral motor exercises.
Oral motor exercises are non-speech movements like blowing bubbles, chewing rubber tubing, sucking thick liquids through a straw, etc. The basic premise is that these actions form the foundation of all of the various sounds that are used in articulation. I'll be the first to tell you that I have no idea if it'll work. I've read opinions both for and against and I know what the evidential claims are.
I'll readily admit that I'm not expert. I'm not a speech language pathologist and I don't pretend to be. But I have watched Sarah Kate progress through physical therapy over the years and if a therapist had insisted she work on running before she learned to crawl, I would have wondered if we needed a new therapist.
So I went with my gut this time.
Eight years ago, selective dorsal rhizotomy (SDR) was only being performed in a few places and even fewer neurosurgeons had a lot of experience with the procedure. Fortunately, one of those more experienced doctors was only a short drive from where we lived, and after a bit of research, debate, and prayer we decided to go ahead with the procedure. Looking back, we (and "we" includes the doctors) can see that Sarah Kate was an ideal textbook case for SDR – it would have been a huge mistake to forego it. That decision was a lot tougher, because the risks were significant; blowing bubbles is unlikely to do Nathan any harm.
And it just might work.