First time caller, long time listener! The kids and I listen to "Seize the Day" with Gus Lloyd on The Catholic Channel on SiriusXM 129 in the mornings on the way to school. This morning, he was talking about people who have family members with "challenges" and he was speaking primarily about disabilities. I asked Sarah Kate if she wanted me to call in and she said yes. She was out of the car by the time I made it on, but if you were listening to Gus Lloyd around 7:30-7:40 central time on Thursday morning (or 10:30-ish on Thursday night), the Andi he talked to was me.
I took Nathan through a car wash for the first time this week. He was amazed and astounded. 🙂  I remember loving going through the car wash when I was a little kid (I hated it when the ones that made you get out and go inside while the car was being washed became popular), and I enjoyed watching him enjoy it, too.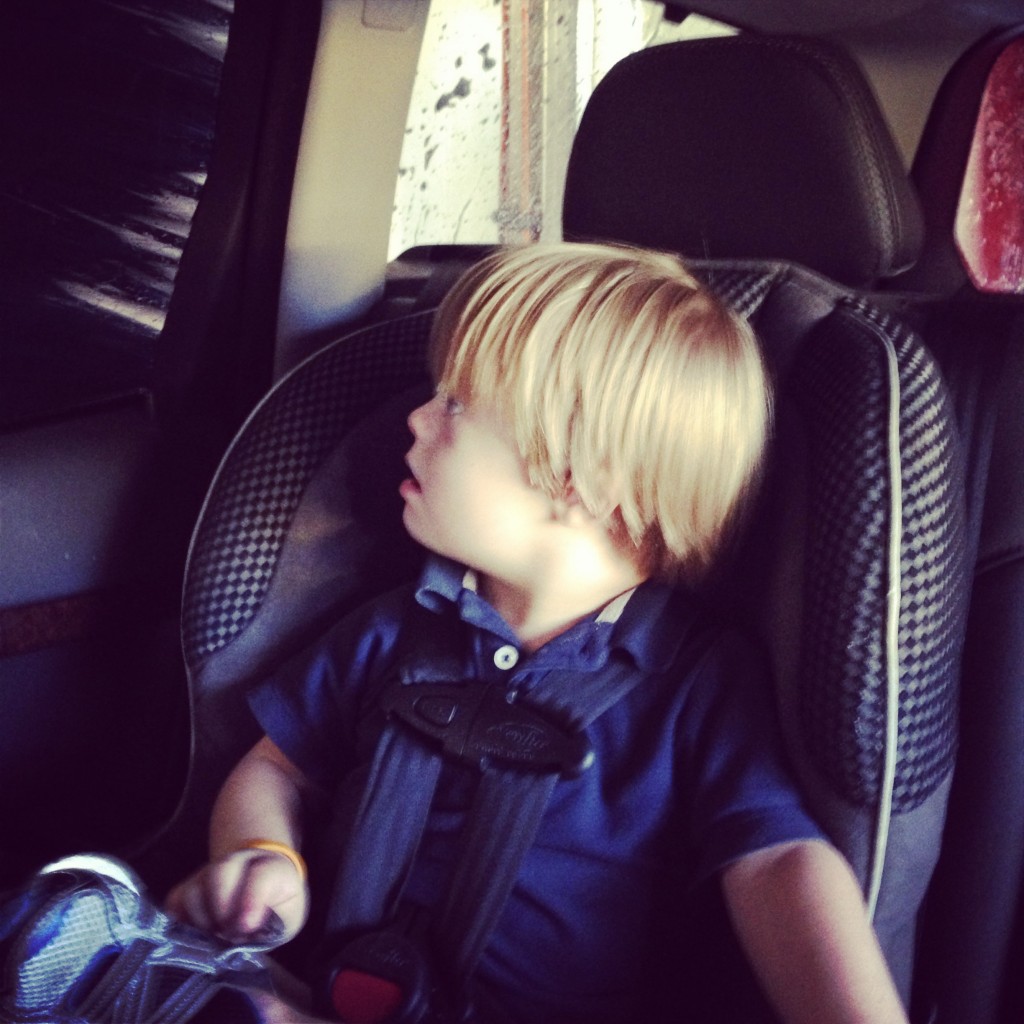 By the way, are you following me on Instagram? I don't have a subscribe button here on the blog for Instagram, but I'm alive and well over there and posting more frequently than I used to be. Come say hello 🙂
— 3 —
I finally formed Nathan's Buddy Walk team. Yes, I am a slacker. Sadly, the only people on the team right now are Nathan and me because I was too lazy to sign the whole family up. Our walk is October 19 – join us if you like!
— 4 —
Never in a million years did I expect to utter the words, "Sarah Kate stole a base," yet here we are. She stole second on Monday night and stole both second and third last night. The great irony of her achievements is that being slow may actually have helped her. In 10U, the fielders are trained to stop the lead runner because (obviously) she's the most likely to score (yes, stealing home is allowed) and then get the ball to the pitcher in the circle to stop play. Sarah Kate is so slow that she barely makes it past the halfway point (and therefore doesn't catch the pitcher's eye) by the time the pitcher gets the ball in the circle, and (so far, anyway) it hasn't occurred to them to look for her.
So like I said on Tuesday, 10U is fine. I wouldn't say it's fun, but it's fine.
— 5 —
Who's up for another guest post from Mr. Andi? He took the kids dove hunting last weekend while I was in North Carolina and has some thoughts and photos to share. Be looking for it next week.
Calling all fans of "Sweet Home Alabama" – the new season is filming now! The show got pushed to the back burner, at least in part due to a little dustup involving the neighbors of the filming locations, but it's back and filming now right here in Mayberry. If you've ever been curious about this little town we call home, watch Season 4 when it premieres in November.
By now, everyone's heard about the changes at Disney parks for those with disabilities. At first I thought I'd write a blog post about it, but my recent survey indicated you guys don't mind a soapbox post every now and again but you don't want me to make it a habit. Since I'm inclined to give Disney the benefit of the doubt, I decided this was a soapbox I'd rather avoid for now.
I do have two things I want to say about it, though:
I resent the way the story has been portrayed in the media. People with disabilities do not automatically go to the front of the lines, and while often our wait times are shorter when we have Sarah Kate with us, sometimes we have to wait longer.
It makes me very sad that Disney has had to take this action. Disney isn't the problem – it's the people who care not a whit that kids like Sarah Kate spend their entire lives "swimming upstream" in a world that's not made for them and then begrudge them the tiny advantages that come along once in a blue moon.
Years ago, a friend of mine's daughter was dying of an inoperable brain tumor and the family went to Walt Disney World with Make-a-Wish. They were in line to see a character – I think it was Mickey – and it was time for his break. As he and his handler started to walk away, they spotted my friend's daughter and made a special point to visit with her before leaving. A mother in line a short distance away started railing about how "unfair" it was.
"Unfair" isn't having to wait a few extra minutes for Mickey or Space Mountain. "Unfair" is a child who battles cancer for half of her life and dies at age ten.
Now. Go and have a great weekend. Really.
This post was inspired by and is linked to Conversion Diary's 7 Quick Takes.