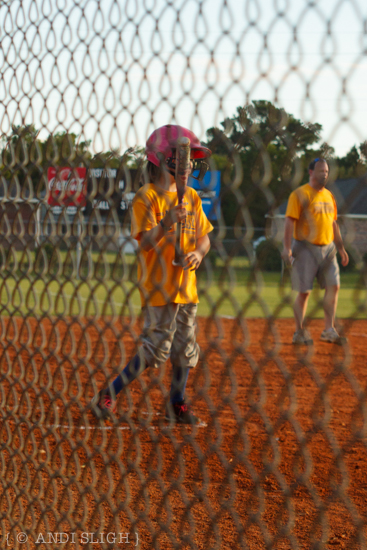 At the end of the spring softball season, I didn't want Sarah Kate to keep playing softball. I didn't think it would be fun, I didn't think she'd be able to do it, and I was pretty sure it was "different" from 8U. I did allow a little bit of doubt, though, based on the fact that at first I didn't think she could do swim team or play 8U softball, either, and those turned out just fine.
Well, guess what? I was wrong again.
Make no mistake – Sarah Kate isn't a great player. She'll need a miraculous intervention by the Almighty to ever make an all-star team. But she's got one critical skill that made a difference in the first game on Monday night: a good eye.
Mr. Andi wasn't able to go to the game so I had Nathan by myself, it was hot and humid, we had gone directly from school to physical therapy to Chick-fil-A drive thru to game, and I was dreading the whole ordeal. Sarah Kate is still struggling with a growth spurt (I hope that's really what it is…) and she had complained from the time I picked her up at school that she felt bad.
In other words, we had all the makings of a miserable night.
We (the "Fury") batted first, and I could see right away that running is a highly valued skill in 10U. We hit the mercy rule of six runs in the first inning and only one girl had a hit – walking and stealing are the name of the game. After watching the first few at-bats I was dreading Sarah Kate's turn, knowing that she'd never be able to steal home (or any other base) like the other girls, and that she might hold up the girls behind her from stealing, as well.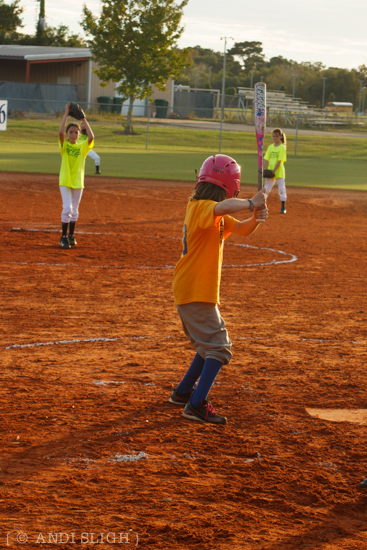 Her turn came, and I held my breath.
One of her teammates attempted to steal home and she couldn't back out of the batter's box to get out of her way. It was painful to watch.
She reached a full count: three balls, two strikes. I wished and prayed for a fourth ball … and it came, sailing high and wide. She took her base.
With batting out of the way, one hurdle was behind her, but the hard part was still to come. She would have to run to advance, and it wasn't looking good. The runners ahead of her attempted to steal, and one of them was headed for home. I honestly don't remember if she made it or not. What I do remember is how the opposing team's players didn't bother to check for another runner to throw out – why would they? – and completely missed Sarah Kate trudging quietly and slowly toward second base.
Yes, people! SHE STOLE SECOND!
Almost as amazing as stealing second (but not quite), she also made it to third, though not on a steal. She didn't have an opportunity to score, because she was stranded on base due to the six-run-per-inning mercy rule, and she didn't get another chance at bat.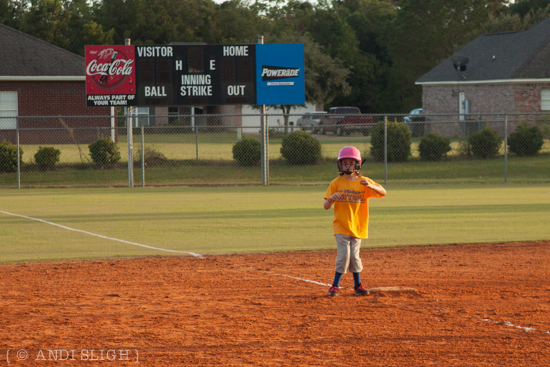 In the moment, I was surprised to see her ninth on a batting lineup of twelve girls, but I realize now why she wasn't last.
She doesn't swing at junk.
Sarah Kate's cerebral palsy is a disadvantage in softball in every way but one: she doesn't swing at pitches that are too high or too low or too far outside. She instinctively knows not to reach for a wild one, because if she does she'll fall down. She may hesitate to swing at some of the good ones – her two strikes weren't swinging – but she never swings at the bad ones.
I don't expect to love 10U softball. I'm sure that as the pitchers get better the games will be less interesting, because there will be fewer wild pitches and therefore fewer opportunities to steal. The girls will get better at fielding, which will decrease Sarah Kate's chances of getting on base. That's just how it is.
But I was wrong about 10U. It's going to be just fine.