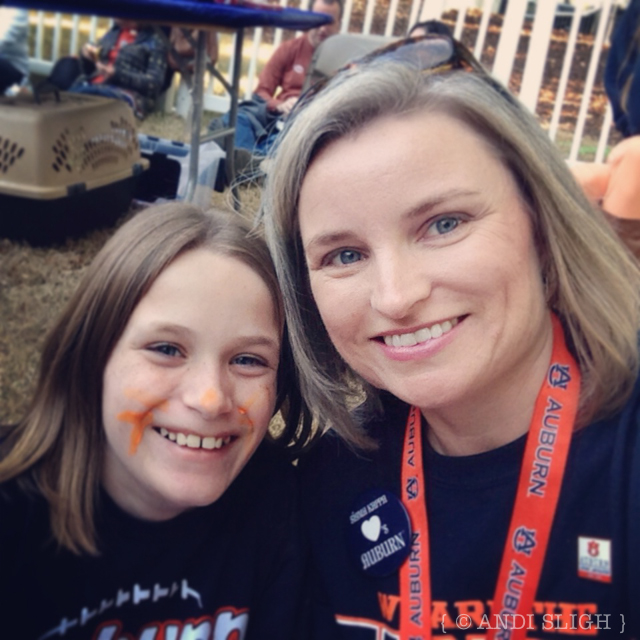 Mr. Andi and I are both graduates of Auburn University, and back in the day when we didn't have kids and lived two hours away (instead of three and a half) we had season football tickets. But a little over a decade ago we had Sarah Kate and moved and gave up those tickets. We've been to a game here and there since then, but never with Sarah Kate and not at all since Nathan was born.
At the end of last week, a friend offered us four tickets to the Auburn (AU) vs. Florida Atlantic (FAU) game on Saturday night. FAU isn't part of the SEC – in fact, they haven't even been Division 1 for long – so it wasn't a "big" game, making it a good choice for a first game for the kids. No sooner than we said YES! I began to fret. Where will we park the car? … Will she be able to walk from the car to the stadium? … If we bring the wheelchair, will she be allowed to use it inside the stadium? … How will Sarah Kate navigate an 87,000+ seat stadium? 
In our family, few things are easy, and spontaneity is a luxury.
AuburnTigers.com allayed my fears – free disabled parking exists not far from the stadium and shuttles are available. One box checked. Then I began to worry about how Sarah Kate would get around once inside. I wasn't sure where our seats were located, but I hoped for something in the lower deck. I didn't care if it was on row 1 in the end zone behind the hedges.
The tickets arrived on Friday afternoon: upper deck.
I faxed a copy of our disability hangtag to the athletic event office along with a request for an elevator pass. Two boxes checked. It looked like our seats were going to be on the bottom row of the upper deck, about the 40 yard line – perfect for watching the game! But a new panic arose and I ran to the computer to Google images of Jordan Hare Stadium in hopes of finding something to reassure me that my three-year-old with a penchant for bolting and climbing wouldn't go toppling over the rail onto the heads of the spectators dozens of feet below.
I almost backed out of going.
But on Saturday morning, we loaded the car and headed out. When we got within about a half hour of Auburn, Mr. Andi and I played the fight song and various other AU cheers and ditties while the kids ignored us from the back seat of the station wagon. It was a classic Clark and Ellen moment.
When we arrived, we walked over to Momma Goldberg's (the original, for those who've eaten there in other cities) for lunch. The food is good, but we went there for the nostalgia and the plastic cups that Mr. Andi still uses daily. My Wayback Moment came when I saw the nachos Sarah Kate ordered – pepper jack cheese melted on nacho cheese flavor Doritos. We met our friend Hannah, a student (and Sigma Kappa sister!) and a couple of her friends there.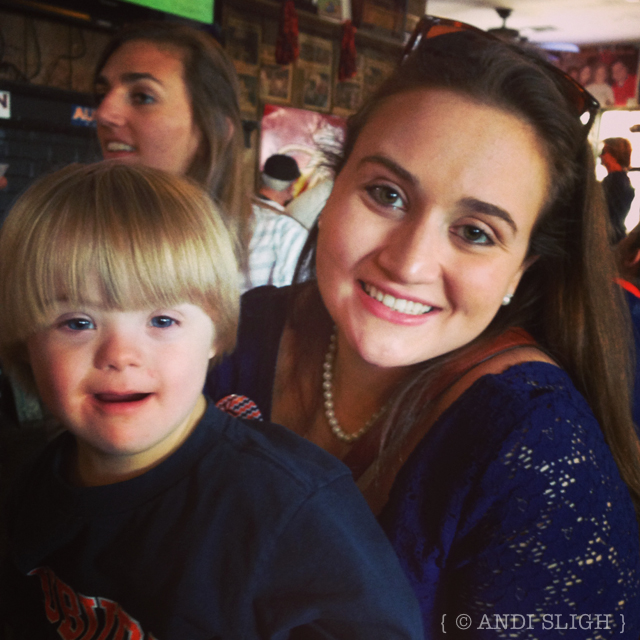 Hannah walked us over to the dorm and let us into the Sigma Kappa chapter room. The sororities don't have houses at Auburn, so as an alumna I can't just walk into the student dorms and demand to see stuff. 🙂 Sarah Kate was excited about seeing it and the chapter charter, which has my name on it since I was a colony member of the chapter at Auburn.
I don't think the reality of it met her lofty expectations.
We booked it out of there pretty quickly after Nathan grabbed an orange marker and wrote on every single piece in an entire row of white chairs.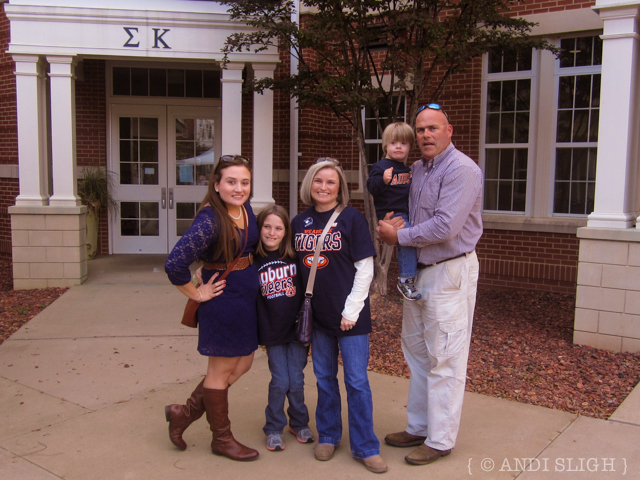 From there, we moved on to the AU Alumni Association tent – a first not just for the kids, but for Mr. Andi and me, as well. Sarah Kate immediately spotted the giant chocolate chip cookies.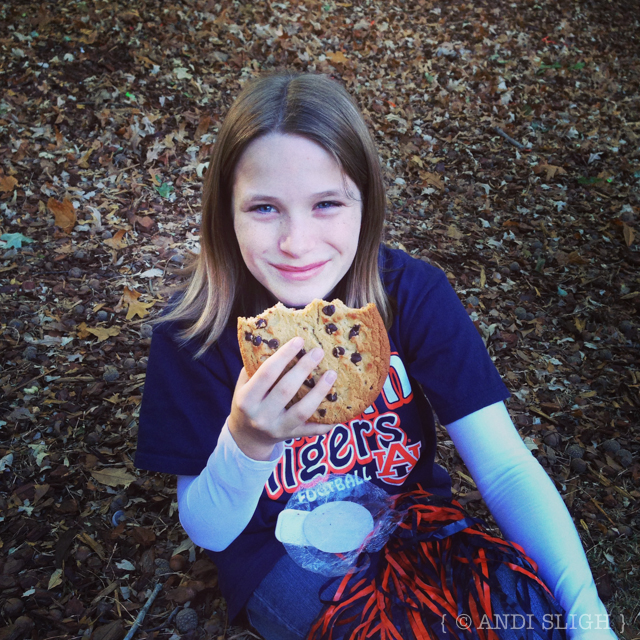 And the whole family enjoyed checking out this beautiful owl, as well as other raptors on display who are under the care of the Southeastern Raptor Center. We Auburn folks have a special place in our heart for raptors – particularly eagles. Although our mascot is the tiger, our battle cry is "War Eagle!" and an eagle flies over the stadium, landing at midfield, before each home game.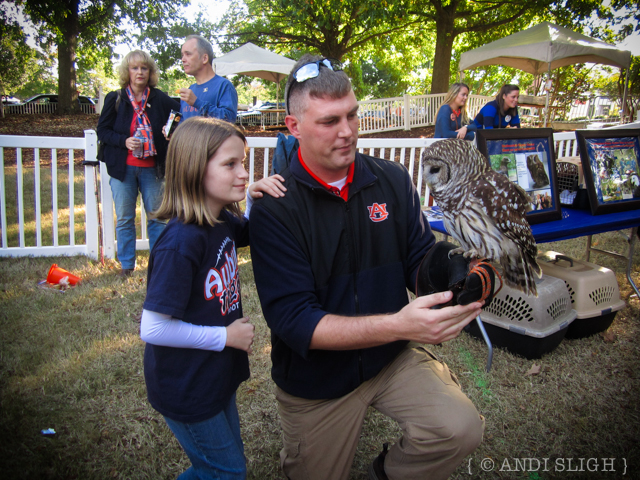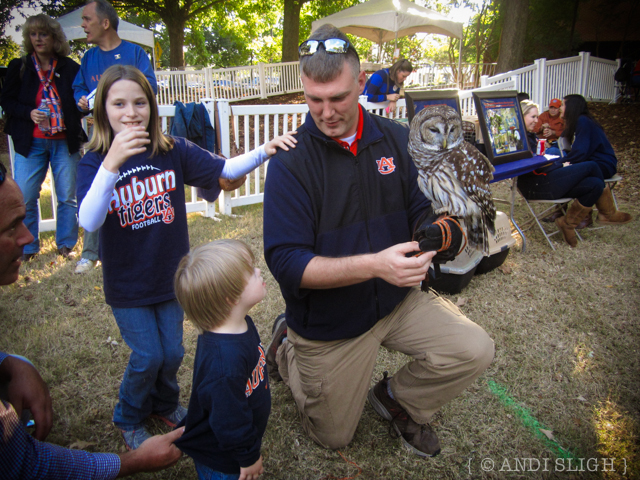 After the giant cookie and the raptors came tattoos and face painting.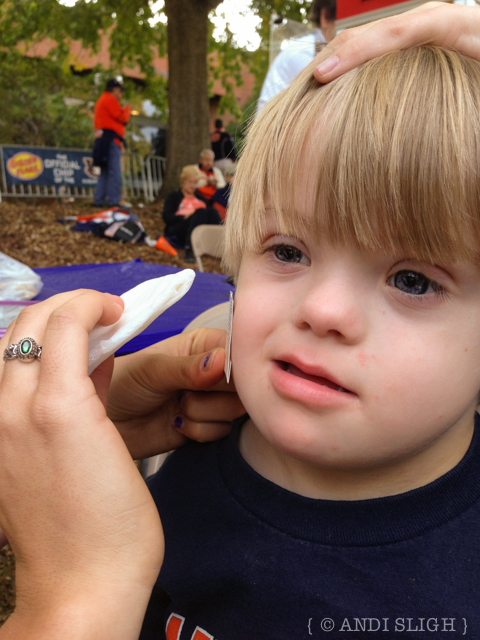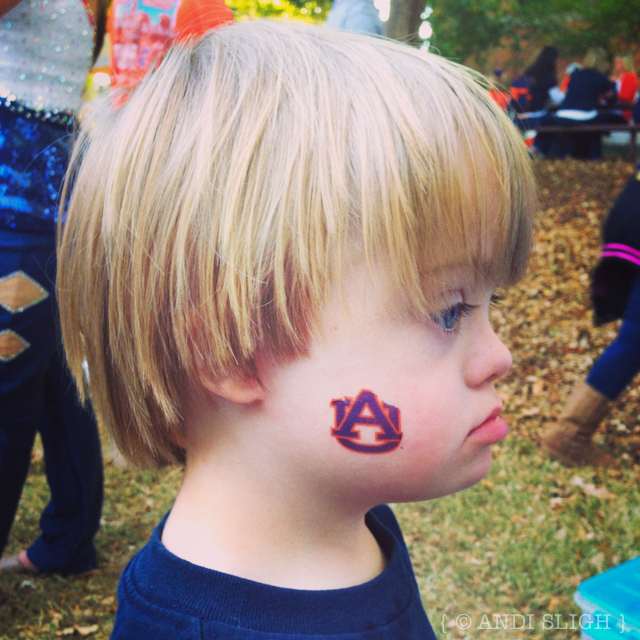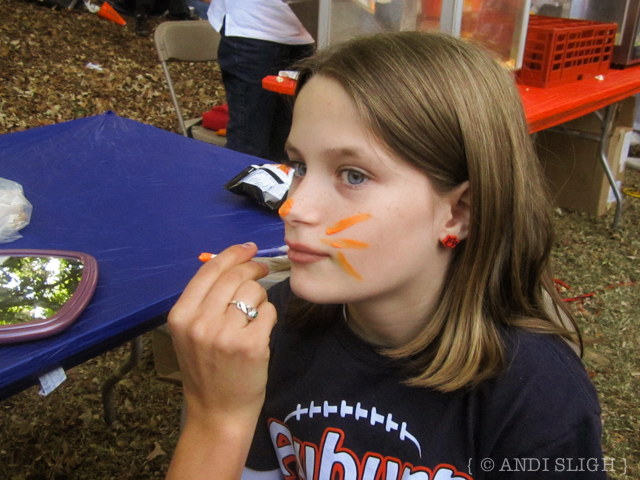 And sprinkled in between all of it were shakers … lots and lots of shakers.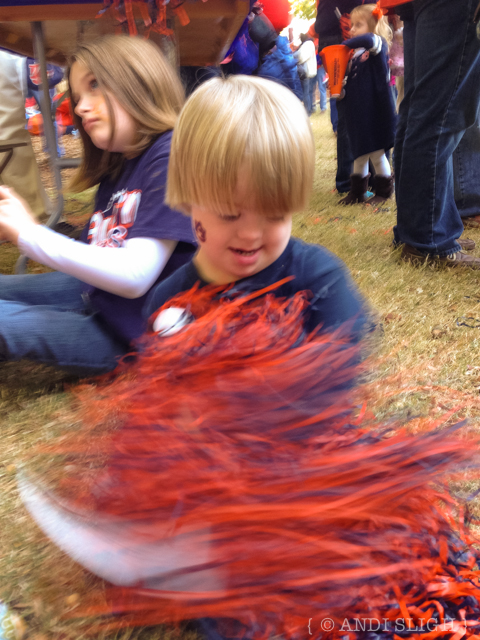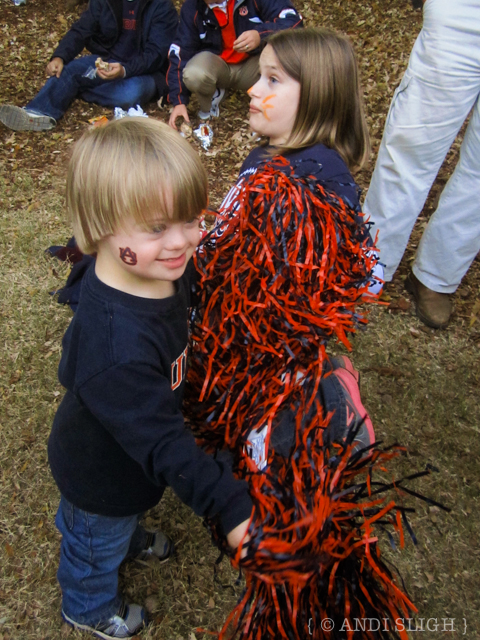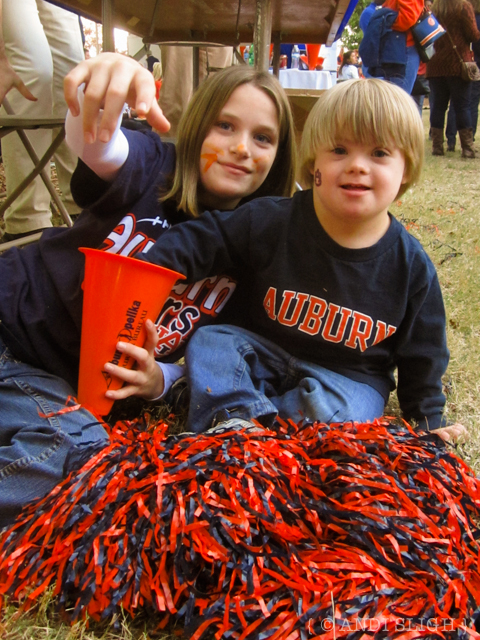 The weather was beautiful – sunny and cool – and the kids were enjoying themselves. I was looking forward to their faces when it came time for the Main Event – their first ever college football game. I expected their eyes wide with wonder.
What I didn't expect was the tears that would fill my own.