Did you miss part 1 on Tuesday? Go here to get caught up.
Do you know what's on the other side of that concrete rail?
That's right. NOTHING.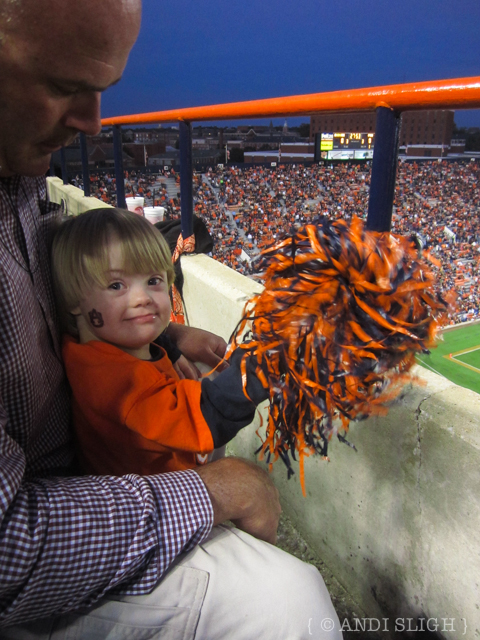 I'm not going to sugarcoat things and claim that once we got to our seats I wasn't nervous anymore. I was scared witless. Mr. Andi tried very hard not to roll his eyes at me while I tried equally as hard to convince him that I was indeed NOT KIDDING about being fearful that Nathan would plummet to his death onto the spectators below.
Thankfully, there was no plummeting, although an unsuspecting football fan was surprised with a gift from on high  (the shaker pictured above) before the night was out. Sorry, Unidentified Fan in the Lower Deck Near the 40 Yard Line.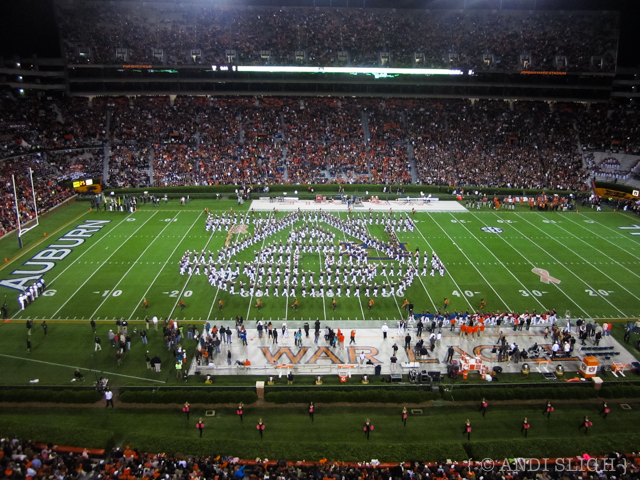 The pregame festivities brought a flood of memories.
The marching band with the trademark "AU", the sight of thousands of fans donned in navy blue and burnt orange, and the familiar "Bodda Getta" cheer, which I realized Sarah Kate had never learned, engulfed me, and it was topped off by a special ceremony honoring the 1983 team. In 1983, I was thirteen and a devoted fan of the Tigers. I wrote an editorial to The Birmingham News about that team; it was printed and I received a letter from then-Head Coach Pat Dye in response. 1983 was the first year that I knew in my heart I wanted to attend Auburn University.
Five years later, I moved into the dorm next door to the stadium.
It wasn't just nostalgia, though, that hit me like a ton of bricks. It was wondering if there's any chance my children will have the same opportunity to love Auburn that I had. We navigated Game Day successfully, but we confined our movement to a tiny sliver of campus, and that sliver was a challenge. I loved my big-college experience, but I wonder if a big college is practical – or even possible – for Sarah Kate.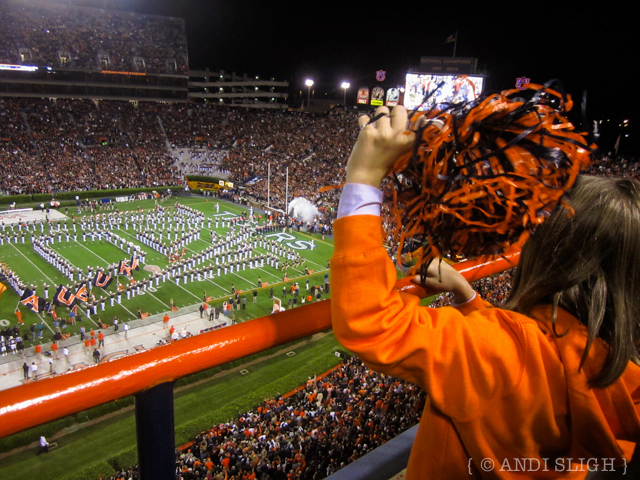 Then there's Nathan.
It doesn't take a college degree to be happy or successful. I know in my head and accept as fact that a college education is not for everyone. But for someone who spent over three decades being the "smart girl" destined for the "career track", that knowledge is a tough pill to swallow when it comes to my own children. Not everything about my four years of college was positive, but at the end of it I had grown as a person, made lifelong friendships, and was a part of something bigger than myself.
But it's not just my kids' prospects that upset my apple cart on Saturday.
Going "home" to Auburn, where so much was so familiar and everything from Momma Goldberg's to the eagle to the band to the fight song, reminded me of everything that I gave up to become who I am today. Eleven years ago, I was a young urban professional with an executive mentor, a bright future, and an expanding baby bump. Today I write for a medium-ish blog, fold laundry, spend hours in therapy waiting rooms, and try not to look too hard at the two diplomas hanging on the wall near my desk.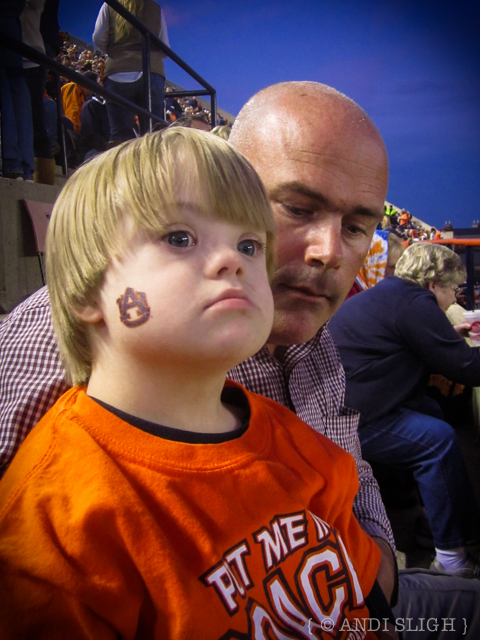 But just as quickly as the tears formed in my eyes, they were gone.
I made up for lost time in teaching Sarah Kate the rules of college football, tweeted for a chance to be featured on the jumbotron when she asked me to, and laughed as Nathan screamed "GO!" over and over again – during the warmups. I chatted with the folks behind us, asked Sarah Kate to pray for the FAU player who was injured in the first half, and admired the loyalty of the microscopic band of FAU fans gathered in support of their team.
I ceased my preoccupation with the future and the past, and resolved to live in the present, even if just for a few hours.
And in those few hours, I remembered another dream that I had back when I was a college student: that one day I'd return with my family to enjoy the sights and sounds of Game Day, belting out the fight song and brandishing our shakers, proud to be Auburn Tigers.
That dream came true.