Remember way back in October of 2012 when we moved Nathan into a toddler bed and I had to lay down with him in my bed every afternoon to get him to take a nap because if I didn't he'd stay awake all afternoon playing in his room?
I'm still doing it.
Every afternoon, Nathan and I – along with both of the dogs, my iPad, my Macbook, a glass of tea, and my old lady glasses – head for my bedroom for "snuggle time." I turn on Disney Junior – progressively decreasing the volume over anywhere from ten minutes to well over an hour until he falls asleep. While he watches TV, I catch up on blog reading and email, but sometimes a Momma doesn't want to read and would prefer to listen to something other than Special Agent Oso, Doc McStuffins, or that gosh-awful Sofia the First.
For a few months now I've had my eye on a pair of headphones – not earbuds, because I've got those coming out of my ears. 🙂 I wanted some for-real on-ear headphones that would not only pipe some non-preschool sounds into my brain but also slow the rush of child-themed ambient noises.
My desire for a pair of headphones started this July when I was attempting NaNoWriMo, because I wanted some classical music (sans vocals!) to listen to while I was writing. I don't like to write (or do much else other than sleep) in total silence, but with two little people, two dogs, and a husband, sometimes there's just too much noise in my house for me to think straight, much less collect my thoughts enough to write. So when I heard about the opportunity to review a pair of Monster NTunes Headphones I jumped at the chance, willing the Powers That Be to PICK ME! PICK ME! PICK ME! for this opportunity.
I was giddy when the package arrived with my beautiful new ORANGE NTunes Headphones (War Eagle!)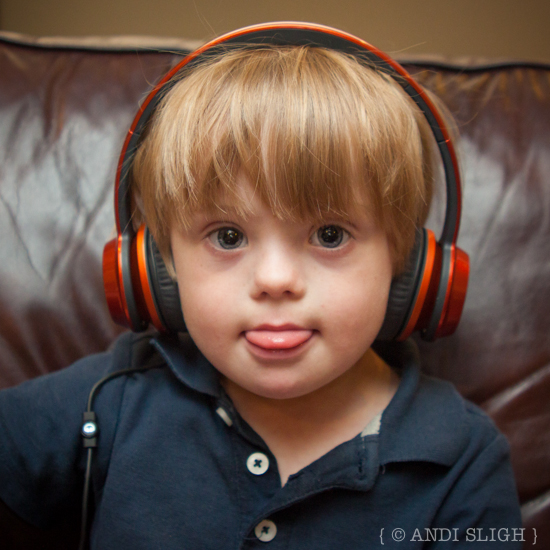 I got them before I flew to Charlotte last month, but I was afraid of losing my new Precious so I opted not to take them with me on the plane. Instead, I waited Four Whole Days to try them out during snuggle time. I used iTunes' new Radio feature and tried out the "Chill Out – Classical" and the "Smooth 80s Pop" stations (because I'm a child of the 80s – no apologies!)
The NTunes are billed as noise isolating, not noise canceling, which is good because I want to retreat from the chaos, not be oblivious to it. 🙂 Even at a low volume level, they do a good job of isolating the music from the surrounding noise without eliminating it completely, which was reassuring.
The NTunes seem to be durable and of high quality – they are semi-flexible, which is a huge relief for this Momma with a wild and rowdy preschooler who likes to grab my things and run with them, and they come with a soft fabric pouch so I can hide them away from little fingers.
Because I'm a sucker for stuff that's cool and/or cute, of course I'm in love with all of the colors. The NTunes are available in five "Candy" shades: blue, green, purple, red, and orange. Who doesn't love color, right? I have to admit that I am a little bit jealous that some tweens and teens are going to be gifted these awesome headphones for Christmas this year for listening to their music – we didn't have stuff this cool back in the 80s!
Want a chance to win a pair?
To win your very own pair of N-Tune headphones (valued at $150), read all about the Monster headphones here and let me know in the comments of this post which color you prefer. The comments on this post will be aggregated with the comments on the posts from the other bloggers participating in this review, and 25 pairs will be given away. This giveaway will close on Nov 1.

Sweepstakes Rules:
No duplicate comments.
You may receive (2) total entries by selecting from the following entry methods:
Leave a comment in response to the sweepstakes prompt on this post
Tweet (public message) about this promotion; including exactly the following unique term in your tweet message: "#SweepstakesEntry"; and leave the URL to that tweet in a comment on this post
Blog about this promotion, including a disclosure that you are receiving a sweepstakes entry in exchange for writing the blog post, and leave the URL to that post in a comment on this post.
For those with no Twitter or blog, read the official rules to learn about an alternate form of entry.
This giveaway is open to US Residents age 18 or older. Winner will be selected via random draw, and will be notified by e-mail. You have 72 hours to get back to me, otherwise a new winner will be selected.
BlogHer will pool entries from participating blogs and select a sweepstakes winner at random and will contact the winner with details about fulfilling the prize.
The Official Rules are available here.
This sweepstakes runs from 10/2/13 – 11/1/13.