A new reader shared with me a video that he recorded about the r-word in poetry. It's a different take on advocacy (and it's had over 70,000 views).
So here's some good news: Nathan isn't receiving "nonverbal" in his preschool folder anymore.

WOOT! We've moved on to "mimic" and "jargon" which, though still qualifying as delayed, represent progress.
Unfortunately, the preschool folder isn't all sunshine and rainbows.

We've added a new adjective to the "My Day Was…" descriptor list. "Happy" is now accompanied by "impulsive." Who could have seen that coming?
Sarah Kate has a  new activity: running club! It meets at her school one afternoon a week; her first day was Wednesday. They did sprints and the mile and discussed technique. Never did I ever think I'd see my daughter in a school running club. Mr. Andi asked her what she liked best about it. She told him her favorite part was being last during the sprints because her friends were all waiting and clapping for her as she finished.
No guts, no glory, right? 😉
Megan is no longer the only Sigma Kappa volunteer to have met the whole family. We're starting a new chapter at Spring Hill College next semester and I'm helping out. My dear friend Laura (and several other sisters) were in town this week to help get ready and Mr. Andi drove the kids over just so Laura could meet them. I don't know if they lived up to their advance billing, but they had a good time and scored some cool shades.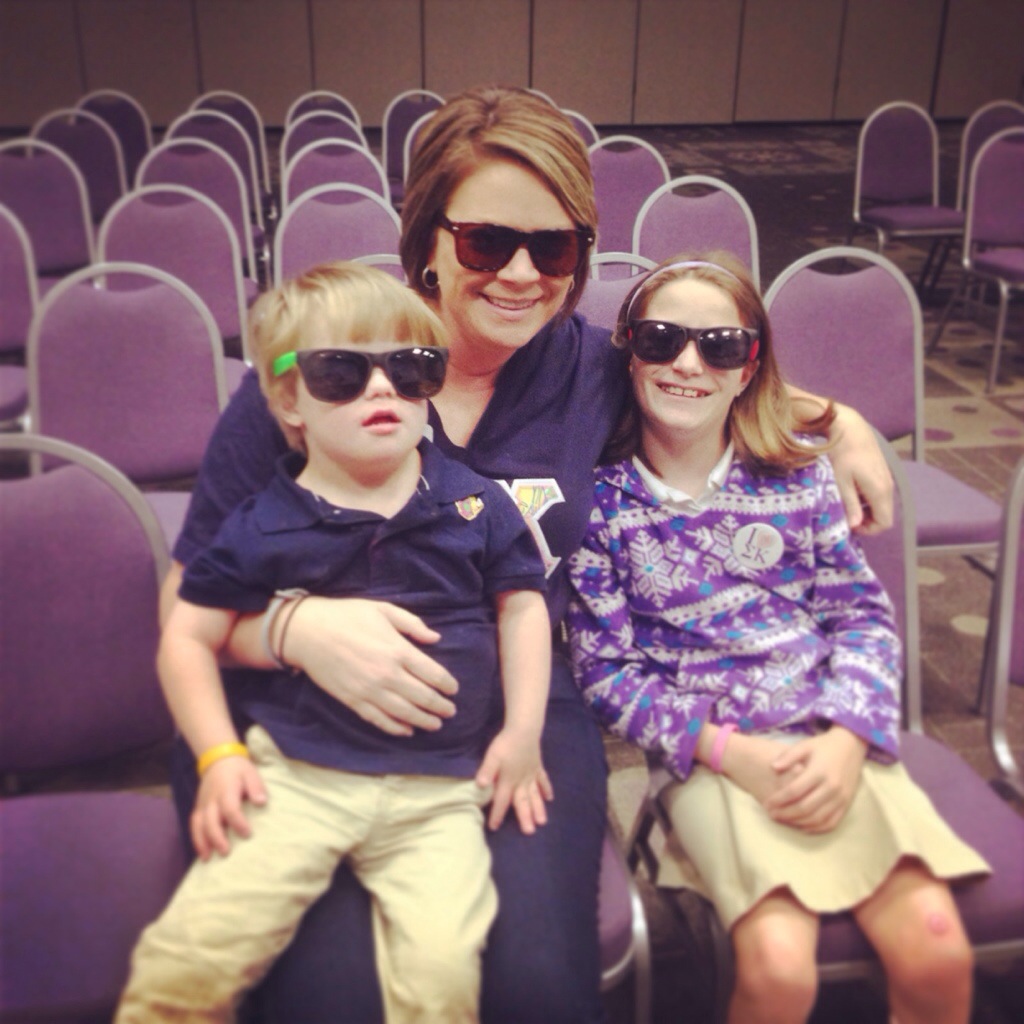 Did you see the story that Today's Savannah Guthrie did this week about her uncle with Down syndrome? I watch the Today show almost never, but I got tipped off to this neat installment of a week long #InspiredBy series. Go read about them here or click the video to watch the full story.
Reader Amy did a cool thing after she read yesterday's post: she left a comment on the BtS Facebook page and tagged her daughter's former therapist to thank her. If you (okay, your child…) has had a great therapist, take a minute to go do the same. I'd love it if we could get a parade of shout-outs to all the great therapists we know! Find the link here.
Have a great weekend!
This post was inspired by and is linked to Conversion Diary's 7 Quick Takes.