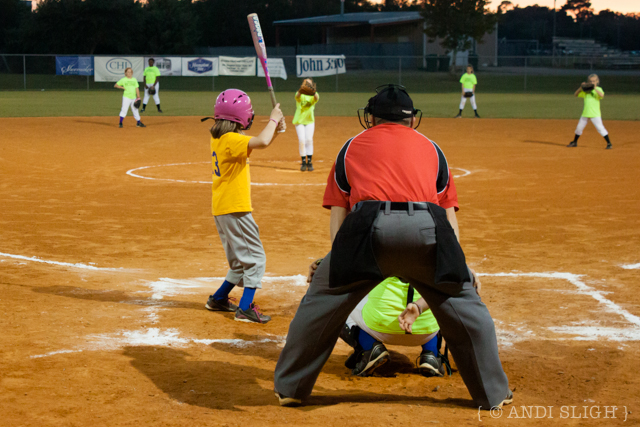 At last Monday's softball game, Sarah Kate got walked. It's been a recurring theme this season in 10U. It's the first level at which the girls pitch – fast pitch, no less – and they aren't that great at it. Only a few girls have gotten a base hit, and even less have done it more than once. Sarah Kate's main advantage in batting is an ability to not swing at junk, so she's been walked over and over.
And we're all good with that.
A few times, she's been able to steal bases. For those who aren't familiar, 10U is all about stealing, and players can try to steal home if the catcher misses the pitch (which happens often because lots of pitches are wild). Until last Monday, every time Sarah Kate stole a base there was a girl on third trying to steal home at the same time. At this level, the pitcher and catcher are taught to protect home, not worry about whoever else is on the field who might be advancing at the same time – there's just no time for a double play.
Except when Sarah Kate is the one trying to steal.
She's been able to steal because it never dawned on the other players that she was still out there running. They simply didn't notice her. She's made it as far as third base on more than one occasion, but hasn't had a chance to score.
Last Monday, Sarah Kate was walked and was ready to run on first. The pitcher threw a wild one that got away from the catcher, and Sarah Kate headed toward second, trying to steal. I was watching from directly behind the catcher with my camera. The catcher turned toward the field, ball in hand, as Sarah Kate plodded along, pulled her arm back to throw, and … hesitated. At the exact same time that she hesitated, I heard a quiet murmur of "no" from the opposing team's stands. The catcher threw the ball to the pitcher. Sarah Kate reached second base.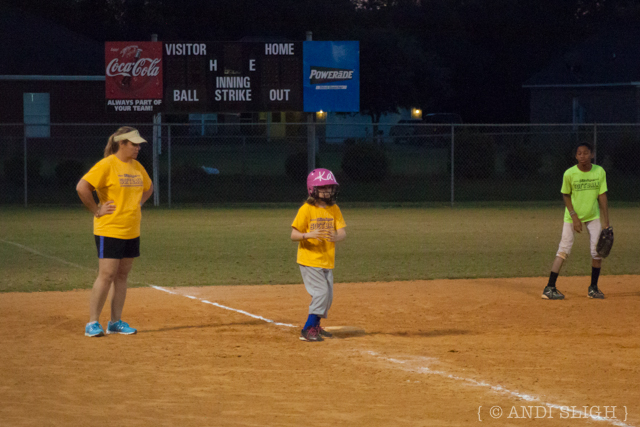 The next morning, I opened my blog reader to see my friend Ellen Seidman's post, Should kids with special needs get special sports treatment? The topic was timely, because for awhile all of the stories about special needs kids scoring honorary touchdowns and winning rigged wrestling matches have bugged me. These stories have become so commonplace that I've begun to view them as inspiration porn.
But after what happened on Monday, I wondered if I was being too cynical.
So I left a comment. As is so often the case, an "anonymous" commenter felt the need to tear me down a little – not in a nasty way, but enough to give me pause. Anonymous stated that the other team chose to see Sarah Kate as a nonentity, robbing her of a great opportunity.
I asked Anonymous what that opportunity was. I never got an answer.
Prearranged touchdowns and wrestling matches bother me because I wonder what the motivations are behind them. Do the players and coaches involved want to do something nice for their player with a disability? Or are they primarily motivated by a desire to appear benevolent, or to pat themselves on the back for bestowing favors on someone less fortunate? I suspect that in many cases it may be all of the above, to varying degrees.
But when it comes to inclusion, don't we have to start somewhere? Many critics of Special Olympics complain about the segregation aspect, but without that first step taken by Eunice Kennedy Shriver, would inclusion in sports be as far long as it is today? I have my doubts. So I continue to post links in Sun-Beams and whenever I see those articles I read between the lines, hoping to find the key to equality – evidence of peer acceptance of the person with a disability.
But Sarah Kate's situation last Monday doesn't fit that mold.
No one planned beforehand for her to steal that base. The coaches didn't confer. The players weren't looking for an opportunity to "let her" do something she wouldn't have been able to do otherwise. I don't know what the catcher was thinking when she hesitated. I don't know if she made a split-second decision to let Sarah Kate reach second, or if she doubted her own team's ability to make the out. Throws from home plate to second base happen … almost never. For all I know, she was afraid of giving up two bases. For that matter, I was behind her and I'm not even certain that she saw Sarah Kate. There's no doubt in my mind, though, what the opposing spectators were thinking.
They wanted her to make it.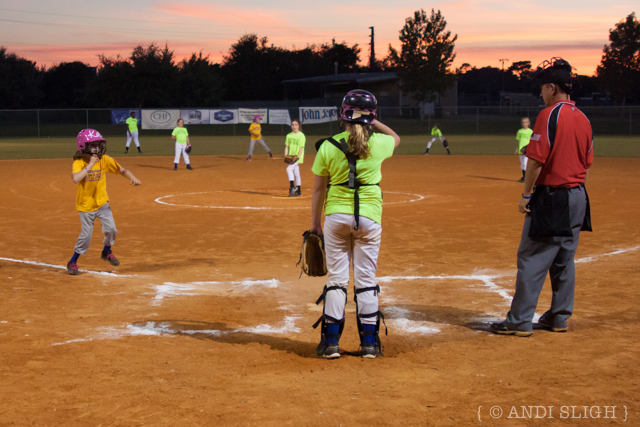 Two batters later, she trotted across home plate on another walk, scoring her first run of the season, and our fans weren't the only ones clapping. Instinctively, they rooted for the underdog. How can I fault them for that?
My answer is that I can't.
———
What are your thoughts? Do stories like the ones I mentioned bug you or encourage you? Should kids with disabilities get special treatment in sporting events? Why or why not?