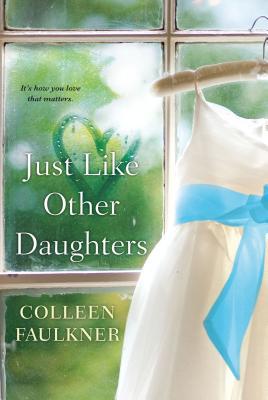 Three years ago, when Nathan was only seven months old, I watched the HBO premiere of Monica & David
, a documentary about a couple with Down syndrome who marry. The film begins on their wedding day and follows the first year of their marriage, viewed from the perspective of both the couple and the family members who support them.
As a mom who had just entered the world of parenting a child with Down syndrome, the movie affected me deeply on many levels, but the pivotal scene in the movie was when Monica's mother said, "as parents, we want people to look upon our children with special needs like anyone else…And yet because we want to protect them so much, we are typically the first ones who treat them poorly by subconsciously denying them their rights to have a normal life."
Powerful stuff, that.
I don't know what motivated author Colleen Faulkner to write her new novel, Just Like Other Daughters, but based on a passing reference to the film that I noticed in the book, I wonder if she was moved by the same scene that affected me. Following is a synopsis of the book's premise:
Alicia Richards is a single mother and college professor trying to do her best for her twenty-five-year-old daughter, Chloe, who has Down syndrome. Chloe attends daycare, watches Disney movies, and goes on outings once a week with her father. Chloe's content. Until the day she meets Thomas at daycare…and falls in love.

Alicia's friends and acquaintances, Chloe's father, even Thomas's mother, insist Chloe and Thomas have the same rights as average men and women. They have the right to love, to marry, to have sex. Alicia fights a sense of impending doom and gives her daughter the wedding she wants. But the adjustment is far from smooth, and Alicia and Chloe both will face heartrending challenges…
When I was given a copy of the book to review last week, I flew through it. Although a few minor details tripped me up [1], I found the book – written from the perspective of the mother, Alicia – to be honest and true to the experience of being a mother of a child with special needs. Faulkner clearly did her homework.
Alicia's and Chloe's situation can't be universally applied, but the questions the story prompts are thought-provoking. Are there limits to what people with intellectual disability should be allowed to do? How much paternalism is too much? What about issues of sexuality and fertility? Are independence and autonomy worth the risk, no matter the cost? As the mother of a child with Down syndrome, I'll admit that it's questions like these that keep me up at night, even as I fight to put them out of my mind.
I've struggled with how to review the book without spoiling the plot, and in the end I decided to reveal nothing more than what's in the synopsis above. The simple truth is that I enjoyed Just Like Other Daughters because it made me feel, think, and question – what I consider to be the three essential qualities of a great book.
Just Like Other Daughters
is available in paperback, Kindle and Nook formats.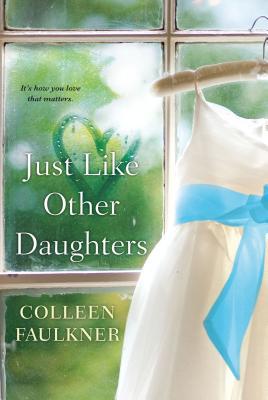 DISCLOSURE: I received an electronic copy of the book from the publisher for review, with the understanding that a positive review was not guaranteed. I have received no other compensation and the opinions expressed are mine and mine alone. The links to the book are Amazon affiliate links.
---
[1] The main thing that tripped me up was the lack of people-first language, but upon reflection I wondered if I wasn't in the wrong. Chloe is 25 years old in the book – was people-first language on anyone's radar two decades ago, when the fictional Chloe would have been born? Probably not. Many times since Nathan was born, loving friends and family members of adults with Down syndrome have talked to me and not used it. The other thing that I struggled with was a scene involving an organization that I strongly oppose. However, the scene also reflected a likely reality, so I can't fault the author for including it.