Last week, I opted for Halloween pics instead of more snippets on Myers-Briggs personality types. But never fear! I'll coming back to it this week. Mr. Andi has been calling me Vladimir Putin, Vlad, or some variation for the past few weeks.
My friend Tracy posted an infographic on Facebook showing the Myers-Briggs personality types for Star Wars characters. I eagerly clicked on it, hoping for a Leia or Yoda for myself, and anticipating a Han Solo for Mr. Andi. I was half right. He was, indeed, Han Solo, but I was the Emperor Palpatine. Let's just say I prefer the Putin/Madonna comparison to the Palpatine/Han Solo one.
Once we got Star Wars involved (note: there's a Harry Potter version, too), Sarah Kate got interested in the whole thing and wanted to know what her personality type was. She's an ENFP, which puts her in the company of performers like Will Rogers, Carol Burnett, Robin Williams, and Sandra Bullock.
Oh, and Charles Manson. Moving along…
As expected, 10U softball this fall hasn't been all that fun (I'm talking about for me, of course 🙂 ). With mostly wild pitches and stolen bases it's kinda boring. Innings end about as often on a six-run mercy rule as they do on three outs. By now, Sarah Kate and I have both figured out that the main things she needs to do are (a) not swing at junk, and (b) get out of the way when she's at bat and there's a runner on third. I'm proud to say that she mastered both.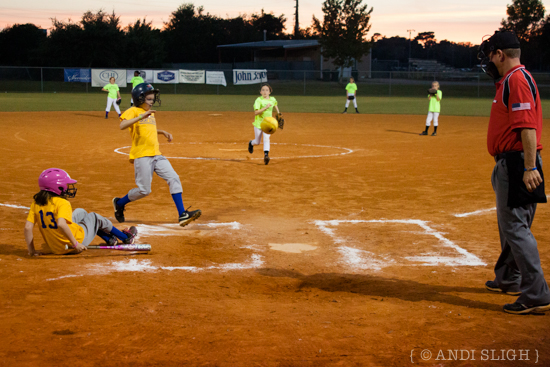 Speaking of softball, the season ended last night. Sarah Kate emerged from the dugout and pronounced loudly to me that she doesn't want to play 12U. I told her she didn't have to play 12U – she can do 10U instead – and then she started to make excuses for not playing 10U, either. I'm not sure where that came from – Mr. Andi and I have encouraged her to do well but she's under no delusions that we WANT or EXPECT her to play softball. Perhaps she was trying to convince herself?
I don't know what's up next for Sarah Kate. She needs to do something but we aren't sure what. This fall brought the onset of puberty-related rapid growth, and it's been challenging for all of us. Six months ago, she was more flexible than she'd ever been; this fall she's been tighter than she's been at any point since her rhizotomy almost eight years ago. The next few years scare me, and I'm more thankful than ever that she's short – if she were tall like Mr. Andi, it would probably be a lot worse.
Have you noticed that the Reece's Rainbow graphic in the right sidebar has changed? Last year, for Sarah Kate's birthday, she asked her friends to donate to the adoption fund for Dayna in lieu of gifts. We didn't know the family who intended to adopt Dayna; Sarah Kate chose her/them because they already have a child with cerebral palsy and with Dayna's adoption would have one with Down syndrome, as well.
Although the Russian government halted Russian adoptions late last year, we hoped and prayed that it would be temporary and that Dayna would only be delayed briefly in gaining a new family. Unfortunately, that didn't happen, and now it is too late. Please say a prayer and do whatever else you can to help these lost children.
Have a great weekend!
This post was inspired by and is linked to Conversion Diary's 7 Quick Takes.