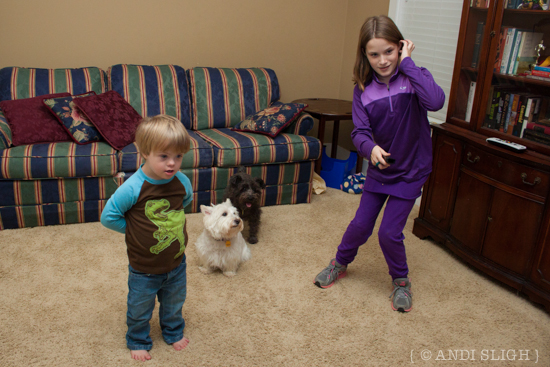 As a kid who struggles with balance, anything that would help her improve and not seem like therapy was a technology I wanted. Despite not being a gaming family, we were early adopters of the Wii when it came out years ago.
Not all of our games are physical ones, but we try to steer Sarah Kate toward the ones that'll encourage her to move, stand, and wiggle her booty. 🙂 We've got plenty of those, but some of our favorites are the dance ones by Ubisoft: ABBA You Can Dance
, Just Dance 4
, and Just Dance Disney Party
. Even Mr. Andi has been known to shake a booty to ABBA … badly, I might add, but that's half the fun.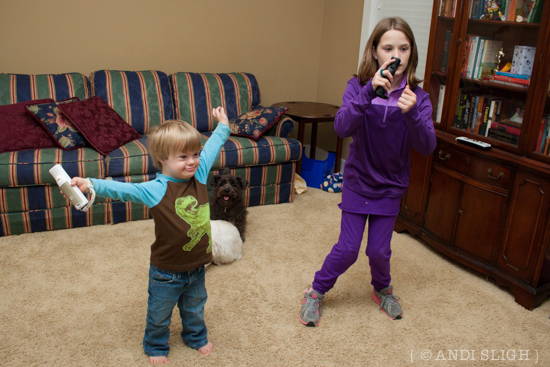 Another big part of the fun? The youngest booty wiggler, of course.
When the UPS man dropped it on our doorstep, Sarah Kate whooped and hollered, ripped the packaging off right away, and took off for the Wii. As if the dogs weren't already fired up enough by the sight of the UPS man… Just Dance Kids 2014 has a good mix of songs for little kids, tweens, and parents. Sarah Kate was delighted to find both "Footloose" and "Get Down On It" which are crazy-old but both are on the playlist I have going in the car a lot of the time. Don't judge me.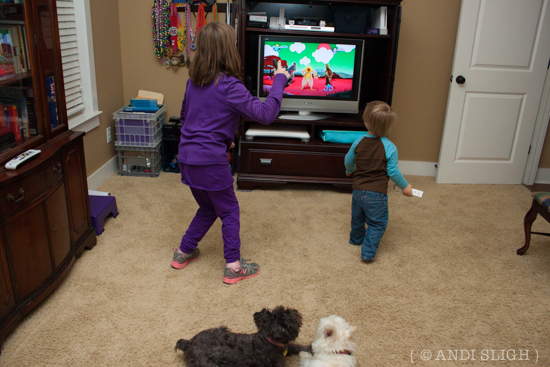 Is it just me, or do the dogs look like they're clinging to one another in fear?
Nathan, on the other hand, was delighted that Sissy was dancing and singing with him, although I'm pretty sure he'd have been delighted no matter what because … the boy was born to boogie.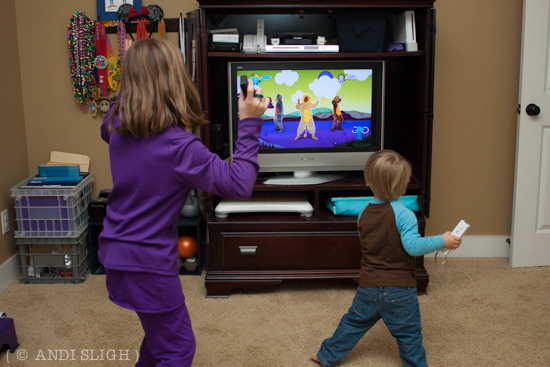 Just Dance Kids 2014 is available at Amazon.com
, Game Stop, and other retailers. Be sure to keep up with all of the news on the Just Dance series of games on the Ubisoft blog.
——–
I was selected for this opportunity as a member of Clever Girls Collective and the content and opinions expressed here are all my own.