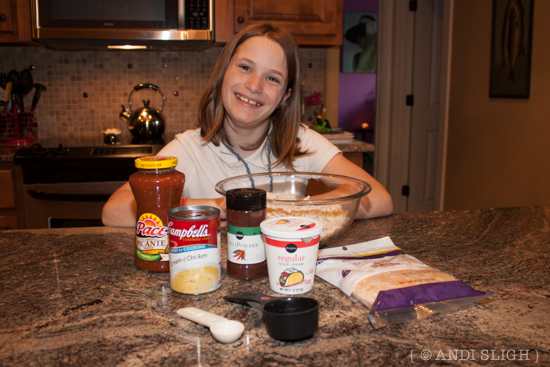 For weeks, Sarah Kate has been asking me to teach her how to make tacos.
Mom teaching daughter how to cook is one of those iconic moments, but… tacos? I've got a binder full of great recipes and none of them are tacos. Don't get me wrong – I love me a good taco, but that's the kind of thing I throw together on an emergency basis because I stocked up on a kit the last time they were BOGO at Publix. 🙂
But the good thing about the taco deal? Easy.
So I decided on a compromise – something simple that doesn't come in a boxed kit and would still have a Mexican(ish) flavor. At first I thought we'd go with one of my fave ol' standbys – King Ranch Chicken. But food baked in muffin tins is big right now (and c'mon, people – it's cute, too!) so I went with a similar taste in a muffin tin, Mini Cheesy Chicken Enchiladas.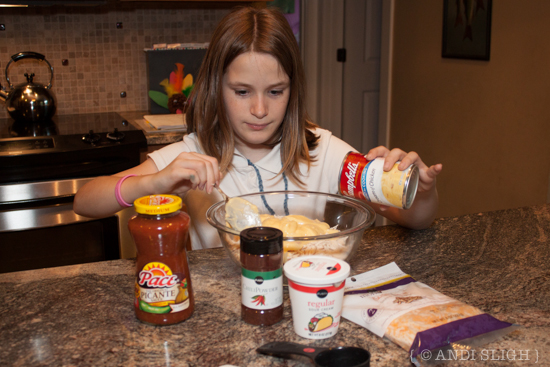 The recipe is super simple, with ingredients most people probably have on hand all the time – cooked chicken, Campbell's Cream of Chicken soup, picante sauce, sour cream, chile powder, and cheese. Toss it all in a bowl then form tortillas into a little cup in a muffin tin.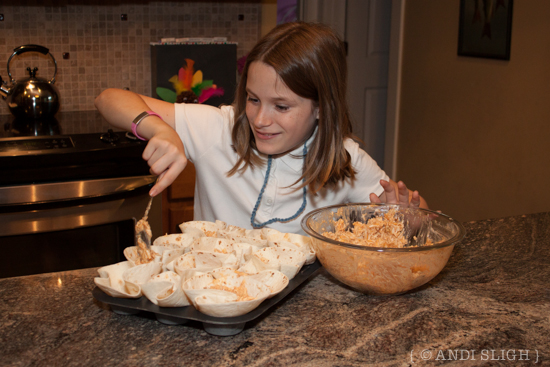 Bake them for a little while and top them with extra cheese, green onions, diced tomatoes, or whatever you like. We did cheese and green onions. The full recipe is at the bottom of the post.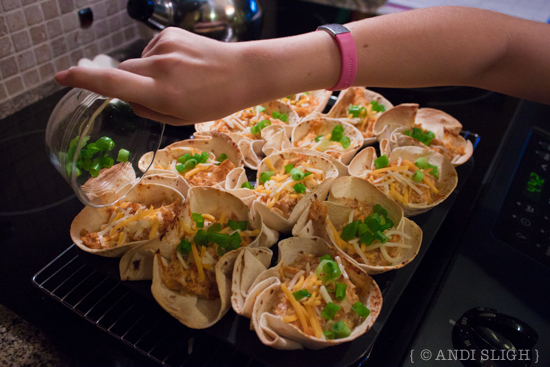 I'll be honest. I have never wanted to deal with teaching Sarah Kate to cook, because I was sure it would be a big mess, she'd probably be bored, and I'd get frustrated. Optimistic always – that's me! The reality greatly exceeded my expectations. Just one more way that my little girl is growing up… But moving along (sniff sniff) … they were delicious! Sarah Kate was proud of her "creation" but she also loved the taste and has already asked about making them again.
Highly recommended!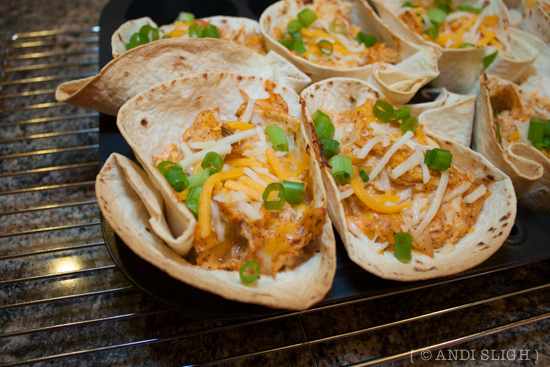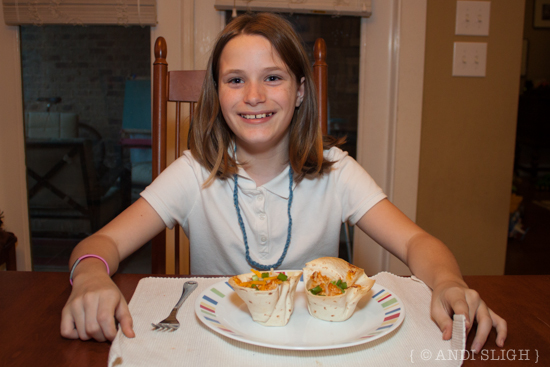 Mini Cheesy Chicken Enchiladas
12 flour tortillas (6-inch), warmed 1 can Campbell's® Condensed Cream of Chicken Soup 1/4 cup sour cream 3/4 cup picante sauce (we used Pace® medium) 1 teaspoon chili powder 3 cups chopped cooked chicken 1 cup (about 4 ounces) shredded Monterey Jack cheese (we used a cheddar-Jack blend) Chopped tomato and sliced green onion 1. Heat the oven to 350°F. Press the tortillas into the bottoms and up the sides of 12(2 1/2-inch) muffin-pan cups. 2. Stir the soup, sour cream, picante sauce, chili powder, chicken and cheese in a medium bowl. Divide the chicken mixture among the tortilla cups. 3. Bake for 20 minutes or until the chicken mixture is hot and bubbling. Sprinkle with additional cheese, if desired. Let the enchilada cups cool in the pan on a wire rack for 5 minutes. Top with the tomato and green onion before serving, if desired.
For more delicious recipes using Campbell's cooking soups, check out their recipe site (sure to please even the pickiest eater!). With the help of The Wisest Kid in the Whole World™, Campbell's soup is offering delicious recipes your kids won't be able to refuse! From fresh twists on classic faves to totally new recipes, Campbell will give you inspiration just when you need it at Campbellskitchen.com.